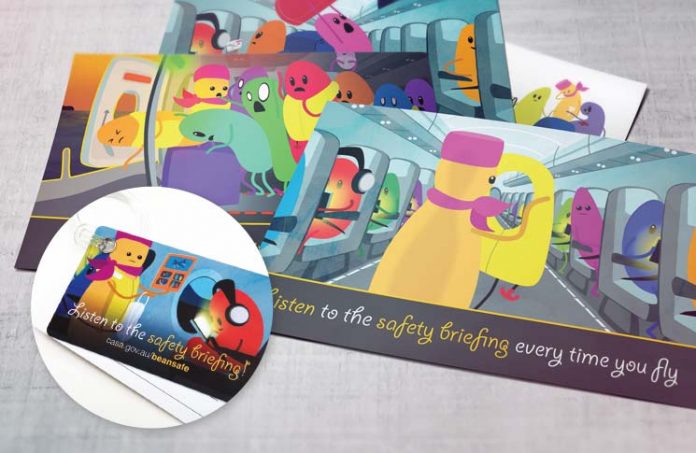 A little humour, and the promise of free jelly beans have helped an Australian air carrier reduce its burden of overweight cabin baggage and slash the number of lithium batteries carried on board.
CASA recently worked with Cobham Aviation Services Australia to further promote and raise awareness of issues such as:
Leaving luggage behind in an evacuation
Listening to the safety briefing every time
Limiting carry-on luggage.
CASA provided Cobham with promotional products including the ATOM-award-nominated Bean safe animation, baggage tags, postcards, jelly beans and lithium battery posters.
All passengers were given a postcard with their boarding passes and any passengers who had cabin bags found to be overweight were given a bag tag,' Cobham pilot and chair of the company's safety action group Cassandra Cooke said.
'This meant we could identify them at future check ins, and the ones whose bags were compliant got jelly beans.'
'What we very quickly found was there was peer pressure to get the reward. We had burly miners asking us, "why didn't I get my jelly beans?"'
'Once we informed them of the reasons for the carry-on baggage weight limit—that it is important to prevent injuries from baggage falling out of overhead lockers in an emergency or turbulence—we had a really positive response.'
In the second week of the campaign the ratio changed from 75 per cent baggage tags to 80 per cent jelly beans. 'In other words, the overweight baggage rate went from 75 per cent to 20 per cent,' Cooke said.
An education program on lithium batteries reduced the monthly count of lithium batteries in Cobham's checked baggage from 19 to three.
Cooke said several aspects of Cobham's fly-in-fly-out passenger group made it particularly receptive to safety messages. We see mostly the same 10,000 people every week; they are used to a safety culture in mining; and they can be held accountable for their behaviour on the aircraft,' she said.
She said a similar approach could work in the wider airline world where a combination of 'humour, peer pressure and information could go a long way'.
'Sometimes the message gets lost and people don't see the big picture. But once you explain things, usually they're fine. As soon as we made our passengers aware of the possible consequences of their actions we had a really positive response,' she said.
If you are an operator and feel that you could benefit from a promotion like this, please contact our cabin safety specialists at cabin.safety@casa.gov.au