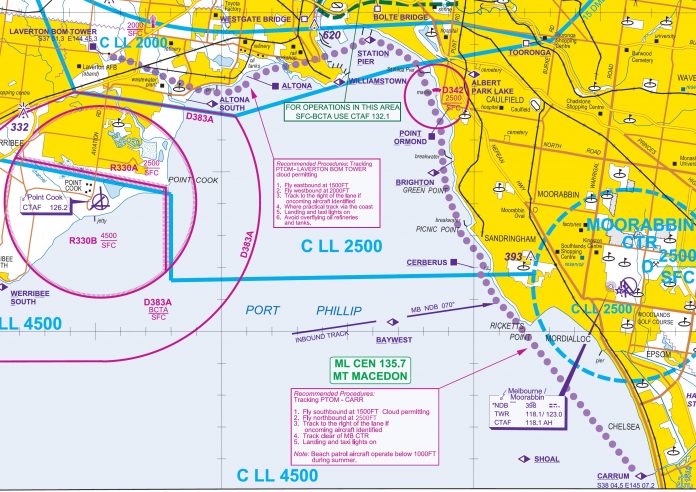 After concerns raised by industry, airspace changes that came into effect on 8 November for the Melbourne Port Philip Bay VFR route have been modified.
Class C airspace remains lowered from 2500 feet to 2000 feet under the approach and departure path for Runway 34 at Melbourne Tullamarine airport to accommodate a Category 1 ground-based augmentation system landing system (GLS) approach.
But changes made to the direction and recommended altitudes for VFR pilots flying the coastal route between the Laverton BOM Tower and Carrum, and vice versa have been superseded.
The new procedure recommends:
Between Point Ormond and Laverton BOM tower, fly eastbound at 1500 feet and westbound at 2000 feet
Between Point Ormond and Carrum, fly southbound at 1500 feet and northbound at 2500 feet.
The changes will take place on 28 November at 0200 AEDT. The arrangements are similar to those in place before 8 November but accommodate the new Class C lower limit.
Recently issued charts will not be updated until May, meanwhile pilots must check notams and the AIP supplement before every flight.