While Qantas' A380s continue to hibernate in the Mojave Desert in the USA, the staff who flew these magnificent birds are not sitting idle.
Pilot Andrew Reitsma has seized the COVID-19 standdown as a catalyst to venture forward into the world of unmanned flying.
'When the pandemic hit, it was tough, but I also just thought it was the perfect opportunity to start my own drone photography business, Aerial Aperture,' he says.
'I consider myself extremely lucky. A lot of other pilots are doing it really tough, particular the younger pilots who might not have something else to fall back on.'
Andrew said he's always had an interest in photography and filming, making videos as a kid using his Dad's old wind-up Super 8 camera.
'A couple of years ago my friend was writing a script for a movie and it needed some aerial shots – this was in the early days of the [DJI] Mavic 2 Pros, which had just been released,' he says.
'This sparked my interest as I had also been flying model helicopters for years and experimenting with them, like installing GoPros under them to get aerial footage.
'So, I sort of went from there and got my drone pilot licence and worked my way up the ranks to fly heavier drones such as the DJI Matrice 600 as well as the S1000. I'm now also a drone instructor with OVRL.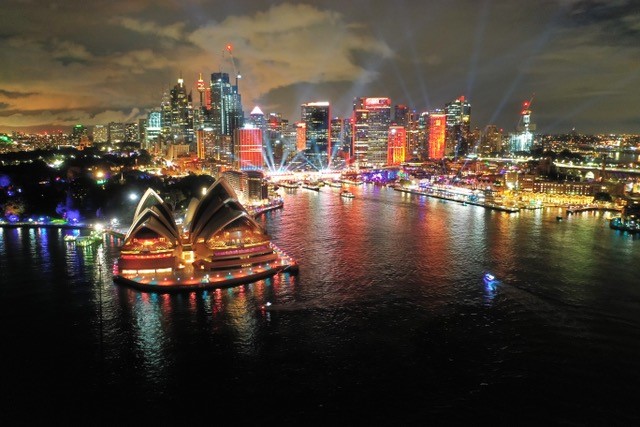 'I've gained some incredible drone flying experience. It's been such an interesting journey and while I still fly the drone helicopter for fun, for now I'm really focusing on my drone business, and I just love it!'
Andrew is optimistic that he will be back flying the A380s 'sooner rather than later' and is maintaining his currency by training in the sim every 3 months.
'What's that old saying, "If you don't use it, you lose it?", so being in the simulator is a great way to reconnect with the crew,' he says. 'We also have to prepare for when those international borders finally open because people are going to be absolutely crazy to go on a holiday somewhere outside Australia.
'I aim to keep flying both manned and unmanned aircraft as long as I possibly can, provided I can keep enjoying it.'
Andrew says that with 36 years with Qantas and a current casual job in patient transport with NSW Health, safety and compliance is paramount and 'flows in my veins'.
'If it's not safe and if it's not legal, I won't do it,' he says. 'I adopt that principle and I have lost a couple of drone jobs because I'm not willing to compromise on breaking the rules. I'm not prepared to take that risk just for a drone shot.
'So, my advice for drone flyers is to familiarise yourself with the CASA rules – they're there to keep you and others safe.'