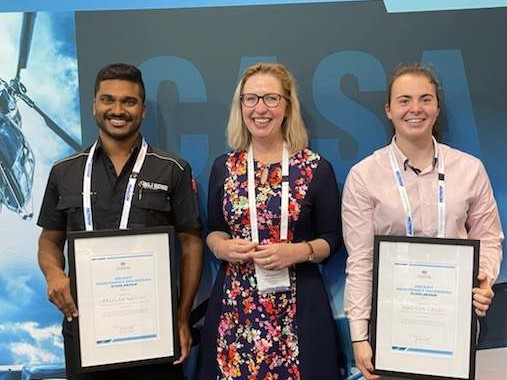 We're excited to announce the recipients of our first-ever aircraft maintenance engineer (AME) scholarships.  
Preelan Naidoo, Madison Candy, Daniel Catterall, Deborah Dewar, James Doyle and Frank Watkins will each receive a $5000 scholarship to help them get their Part 66 licence.  
Rob Walker, Executive Manager for Stakeholder Engagement, said it was a tough job to narrow down the field from 65 applicants.  
'We were all so impressed with the passion that the applicants demonstrated for aviation safety,' Rob says. 'Some told us they had literally doorknocked on hangars just to try and get a foot in the door in this industry.   
'We've designed the scholarships to provide financial support and help up-and-coming AMEs in their training and achievement of a CASA Part 66 licence. 
'Our focus was on applicants who've already started their structured training towards a licence outcome or AMEs who have not gone through a structured training program but are currently working in the industry gaining experience. 
'We really want to help those who have demonstrated an interest in aviation maintenance, made progress through their initiative and portrayed a high standard of aptitude and safety culture. 
'During the interview process, one applicant mentioned that applying for the scholarship had reinvigorated his aspiration to complete his licence. 
'While $5000 is a significant sum, we understand that it doesn't cover the overall associated costs of AME licence training but, during this current COVID-19 climate, we believe every little bit helps. We hope the scholarship will help the winning individuals to continue their education and training towards getting their licence. 
'We think it's a reflection on the quality of the applications that originally only 3 scholarships were to be awarded, but we doubled that to 6. It's a fantastic achievement and evidence that the Australian aviation industry is great hands with our next generation of AMEs.' 
Two scholarship recipients, Preelan Naidoo and Madison Candy, were awarded their certificates by Pip Spence, CASA CEO and Director of Aviation Safety, at Rotortech in Brisbane today.