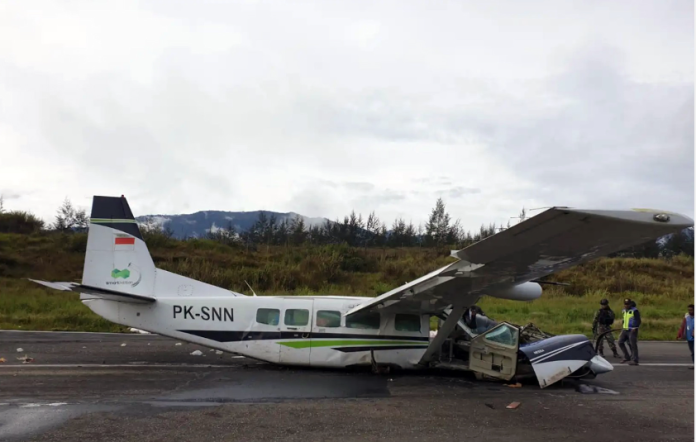 Date 25 September
Aircraft Magni M24 Orion
Location Butzbach, Germany
Fatalities 2
Description Italian-made gyrocopter crashed under unknown circumstances killing pilot and passenger.
Date 28 September
Aircraft Rockwell 690B Turbo Commander Location Hilles, Wisconsin, US
Fatalities 3
Description ADS-B data showed survey aircraft slowing to 93 knots at 15,600 ft. Witness on ground saw aircraft in nose-down rapid spin. Wreckage contained in a 50-metre radius.
Date 3 October
Aircraft Robinson R44 Raven Location Lytkarino, Moscow region, Russia
Fatalities 3
Description Training aircraft crashed under unknown circumstances en route.
Date 05 October
Aircraft Dassault Falcon 20C Location Near Thomson-McDuffie County Airport, Georgia, US
Fatalities 2
Description Aircraft struck trees and terrain on approach to runway. ILS glide path inoperable at time of crash.
Date 10 October
Aircraft Let L-410 Location Menzelinsk, Russia
Fatalities 16
Description Twin turbine engine aircraft carrying skydivers crashed while returning to runway after one engine failed soon after take-off. Four survivors.
Date 15 October
Aircraft Paramotor Location Yokkaichi city, Japan
Fatalities 1
Description Aircraft landed in sea a few metres from shore after pilot reported engine problems and drifted into tetrapods near an industrial wharf.
Date 17 October
Aircraft Robinson R44 Raven II Location Near Buchen, Germany
Fatalities 3
Description Aircraft crashed during cruise flight with wreckage found over a large area. Official report concluded mast bumping from low-G manoeuvre had caused break-up in flight.
Date 20 October
Aircraft Robinson R66 Location Ponta Porã, Brazil
Fatalities 2
Description Aircraft carrying cargo of cocaine crashed under unknown circumstances. Burned remains of two occupants found in wreckage.
Date 25 October
Aircraft Cessna Caravan I Location Ilaga, Papua, Indonesia
Fatalities 1
Description Freight aircraft crashed on landing attempt in foggy conditions, coming down hard just past runway threshold.
Date 2 November
Aircraft Antonov An-26 Location Juba, Sudan
Fatalities 5
Description Freight aircraft carrying diesel drum fuel seen to climb slowly after take-off before crashing near airport. Crew and one passenger killed.
Date 3 November
Aircraft Antonov An-12 Location Irkutsk, Russia
Fatalities 9
Description Freight aircraft crashed after a go-round in low cloud and snow conditions.
Date 7 November
Aircraft Wag-Aero 2+2 Sportsman Location Kodiak, Alaska
Fatalities 1
Description Light sport aircraft crashed immediately after take-off, killing the pilot.
Date 13 November
Aircraft Britten-Norman BN-2A-6 Islander Location Beaver Island, Michigan, US
Fatalities 4
Description Air taxi flight crashed short of the destination runway. One survivor.
Date 19 November
Aircraft Unknown Location Venezuela
Fatalities Unknown
Description According to Venezuela's FANB Strategic Operational Commander's Twitter account, two aircraft suspected of drug running were 'neutralized' after turning off their transponders and illegally entering Venezuelan airspace.
Date 23 November
Aircraft Diamond DA42 NG TwinStar Location Tvedalen, Norway
Fatalities 3
Description Training aircraft crashed into wooded hill. ADS-B data showed descent rate of 8,200 fpm before impact.
Date 7 December
Aircraft Evektor Sportstar Location Bronkhorstspruit Nature Reserve, South Africa
Fatalities 1
Description Light sport aircraft crashed during cruise flight. Reports of turbulence in area and photograph suggest wing separated during flight.
Date 10 December
Aircraft Swearingen SA-226AT Merlin IV Location Manchester New Hampshire, US
Fatalities 1
Description Aircraft crashed on night ILS approach into river short of runway 9 seconds after pilot reported engine failure but did not say on which side. Right propeller found feathered, left propeller lacked rotational damage.
Date 15 December
Aircraft Gulfstream G-IVSP Location Santo Domingo, Dominican Republic
Fatalities 9
Description Pilot reported unspecified issue and diverted to nearby Santo Domingo Airport where aircraft crashed attempting emergency landing.
Date 23 December
Aircraft Shorts 360-300 Location Near Shabunda, Democratic Republic of Congo
Fatalities 5
Description Aircraft crashed into forest under unknown circumstances 9 nm from destination airport.
Date 27 December
Aircraft Learjet 35 Location El Cajon, San Diego, California, US
Fatalities 4
Description Air ambulance crashed into residential area 2.6 km from runway while on approach to Gillespie Field airport. No-one on ground killed.