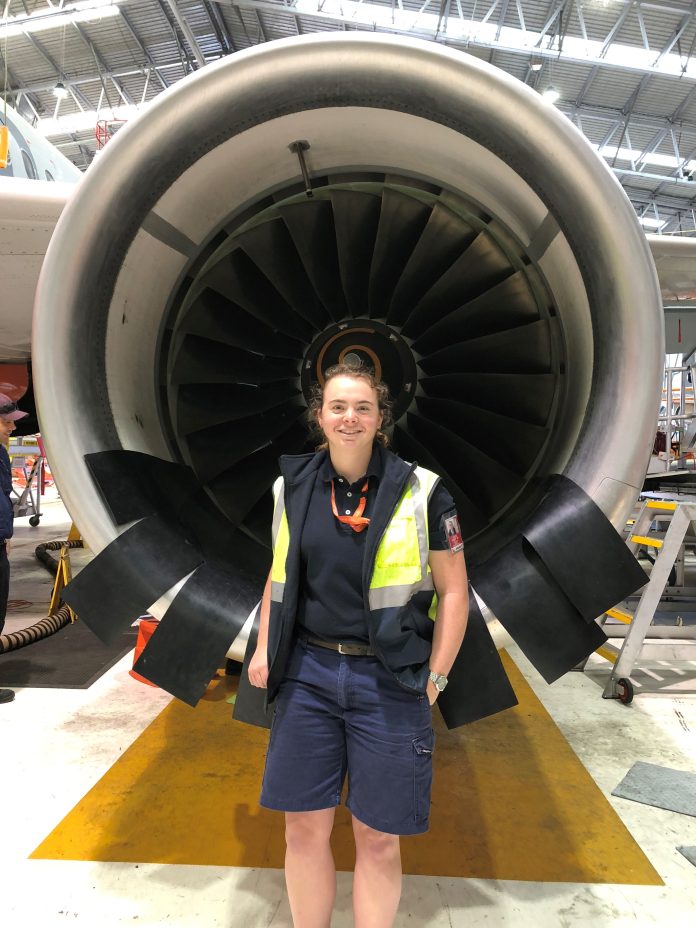 Jetstar Airways aircraft maintenance engineer Maddy Candy couldn't recommend a better career if she tried.
Maddy is one of our 6 CASA 2021 scholarship holders currently working on their Part 66 AME licence and, like all our candidates, had to demonstrate a commitment to achieving the highest of professional standards.
She had an interest in aircraft from a very young age.
'My dad is a pilot and despite never having much of a passion for flying them, I always had a deep desire to know how they work, what they are made of and to learn how to fix them,' Maddy says.
'Heading down the path of becoming an aircraft engineer was just straightforward to me.
'I commenced an apprenticeship with Jetstar in 2016, finishing my theory and practical subjects along the way to completing my apprenticeship in 2019.
'I have enjoyed every second of my career. From the people I have met to the experience I have gained, I wouldn't change it for a second.
'Every day is different from the last and that's what makes it so exciting!
'There isn't really such thing as a normal day for me. I could be coming to clean windows or to change an engine and everything in between.
'Every day presents a new challenge that has to be worked through and that's what makes this such a dynamic and interesting industry.
'My career has taken me all over Australia with my employer fixing aircraft.
'One of my highlights has definitely got to be receiving my apprentice of the year award. It is something I'm extremely proud of.
'But most of my memorable moments come from the incredible people I have been fortunate enough to meet over my career.'
Maddy's advice for aspiring engineers is to get out and try some work experience and see if it is the right fit for you.
'I believe if you have a passion for fixing or tinkering with things and a general interest in aircraft or mechanical work, you will be successful as an aircraft engineer.
'For other females thinking about entering the industry think: I'm possible, not impossible.
'It is a great industry to work in and I personally recommend jumping in and giving it a go.'
Maddy also says the CASA AME scholarship has been one of the most amazing things she has received.
'It is very humbling to receive such an accolade, especially in its first year on offer.
'I will be using my scholarship to fund my first type licence.
'My future career goal is to be a Licensed Aircraft Maintenance Engineer and obtain my A320 type rating.
'This industry has given me so many opportunities to excel myself in what I do, and I have met some of my best friends along the way doing what I love, which is fixing planes.
'Being able to get people from point A to point B safely fills me with pride and I couldn't recommend a better career if I tried.'