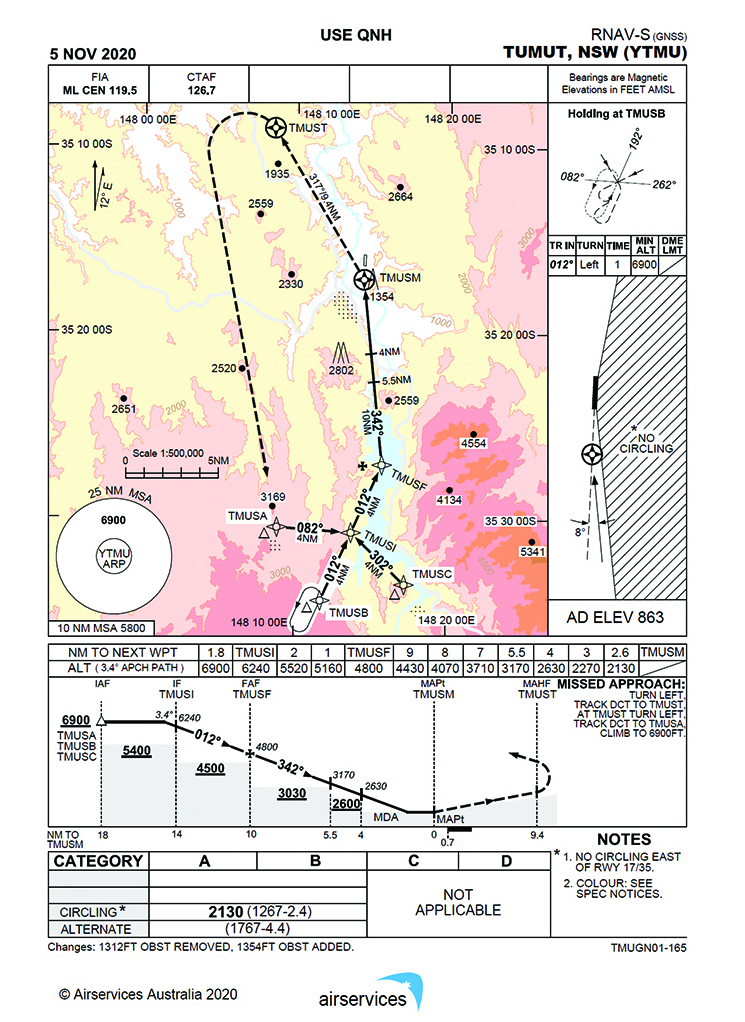 1. Refer to the YTMU RNAV-S Approach. You have joined the approach at TMUSA in a Category B aircraft. Other aircraft on the CTAF have indicated that the wind is blowing from the north but that the visibility is below VMC. What is the lowest altitude you can descend to on this approach?
2030 AMSL
2080 AMSL
2130 AMSL
2180 AMSL
2. You are operating IFR in class G airspace and not identified. You receive a RAIM warning. You should:
operate in DR mode and notify ATS after one minute
notify ATS immediately and land as soon as possible
navigate visually or by reference to ground based aids until RAIM is restored
advise ATS within 5 minutes of RAIM loss
3. To avoid a thunderstorm, you divert from your track at point A by 20 degrees and travel for 20nm to point B. As an alternative to using GRID LSALT, what area should be considered to calculate your LSALT at position B?
a 10 nm radius around B
a 9 nm radius around B
5 nm surrounding 15° splays either side of the line from A to B and then a 10 nm radius around B
5 nm either side of the line from A to B and then a 5 nm radius around B
4. You are planning a flight to Merimbula (YMER) in winter. Using the TAF information:
TAF YMER 072321Z 0800/0900
14008KT 9999 SHOWERS OF LIGHT RAIN BKN025
FM080800 VRB03KT 9999 NSW FEW025
FM081200 VRB03KT 2000 MIST SCT001
FM081800 VRB03KT 0500 FOG BKN001
BECMG 0822/0900 30005KT 9999 FEW010 SCT020
INTER 0804/0808 4000 SHOWERS OF MODERATE RAIN BKN 010
PROB30 TEMPO 0802/0806 VRB20G30KT 2000 THUNDERSTORMS WITH MODERATE RAIN BKN010 SCT030CB
PROB40 0814/0818 0500 FOG BKN001
RMK T 22 24 25 20 Q 1013 1010 1008 1009
Which of the following ETAs is possible without any operational requirements?
080015
081000
080115
081100
5. You are operating in controlled airspace in IMC near Canberra and receive a RAIM warning. After three minutes, ATC requests your distance from the CB VOR. Your reply should be:
26 GNSS CB VOR DEAD RECKONING MODE
distance not available, ETA CB 0546

 

26 GNSS CB VOR NEGATIVE RAIM
26 DME CB
6. Planning a flight from Walgett (YWLG) to Bathurst (YBTH), you are concerned about freezing levels. Which route selection would give you the lowest LSALTs for your trip? 
AGETA H202 MUDGI W 575 BTH
AGETA 822 DU W 540 BTH

 

YWLG DCT YBTH
AGETA W 822 ONUMA W717 BTH
7. You file a flight plan as follows: YSDU – DU – YPKS – CWR – YCWR. What is the lowest route segment LSALT for the trip? 
4000
4100
6100
3900
8. What is a suitable method for checking an IFR altimeter is within limits prior to take-off? 
set TAF QNH and check that altimeter reads within limits
set published field elevation on the primary altimeter
on the runway threshold and with AWIS QNH, check against AD chart data
at the holding point with ATIS QNH, check altimeter readings against ARP elevation
9. The item G in section 10 of a flight plan notification requires what entries at section 18?
NAV/RNP2; PBN/O2S1
NAV/GNSS; PBN/RNP APCH
NAV/RNP2; PBN/RNP APCH
NAV/GNSS; PBN/O2S1
10. On a flight to Canberra (YSCB) in IMC you have been cleared to track direct CB on W137 at 5000 clearance limit 15 nm CB. At 17 nm CB you are instructed to turn right heading 240°. You then suffer a radio failure. What are your initial actions?
squawk 7600, maintain 5000 and hold at 15 nm CB for three minutes
squawk 7600, climb to 5900, maintain heading 240° for two minutes
squawk 7600, maintain 5000 and immediately fly one complete holding pattern
squawk 7600, descend to maintain VMC and track direct to the field.

 
11. What is the definition of the circling area and minimum obstacle clearance for a category C aircraft positioned 3 nm abeam the approach threshold?
1.68 nm / 400 ft

 

2.66 nm / 400 ft
4.20 nm / 400 ft
5.28 nm / 400 ft
12. You have a flight planned from YSWG to YSCB at 9000 via W 148. At 40nm CB in IMC you encounter icing. To what level can you descend? 
5900
6100
6500
6200
Answers:
(d) refer AIP ENR 1.5 5.3.4
(d) refer AIP ENR 1.1 4.2.7.1 c.
(b) refer AIP GEN 3.3 4.5
(c) refer AIP ENR 1.1 10.7
(c) refer AIP ENR 1.1 6.3.5
(b) refer ERC LO and note W540 has different LSALTs north and south.
(c) refer AIP GEN 3.3 4 and the CAUTION note on the front of ERC charts
(c) refer AIP ENR 1.7 1.1
(a) refer AIP ENR 1.10 Appendix 1
(b) refer ERSA EMERG 1.5.4 g. and AIP ENR 1.6
(c) refer AIP ENR 1.5 1.6.6 Notes 2 and 3
(c) refer TAC Canberra and AIP ENR 1.7 3