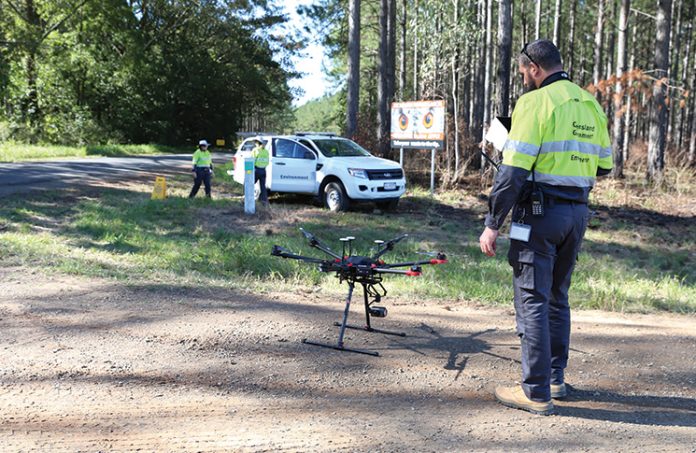 Who says public service jobs are boring? For Brett Glosko, who started his career in the Queensland Government 23 years ago, the benefits of working in a semi-large organisation means there are often interesting work opportunities.
'Initially I was a ranger with the Queensland Parks and Wildlife Service, however our organisation provides many opportunities to apply for roles and receive training to successfully deliver a variety of tasks. I've had opportunities in many business areas, including human resources and information technology, and now I find myself as the organisation's chief remote pilot,' Brett says.
'I got into drone technology as a very good friend of mine is a professional photographer and he's been working in the excluded sub 2 kg category for some time. When he purchased his first drone a few years ago, I was able to assist him with setting it up.'
'I'm lucky, as I have received a couple of his hand-me-downs that I use to fly recreationally. We've also dabbled in using drones for fishing, unsuccessfully I might add.'
According to Brett, the Queensland Government has used drones in day-to-day operations for quite some time.
'When I managed a waste compliance taskforce, I had put forward to use drones in our waste operations and use them in dangerous areas or where we just couldn't send people.'
'What we demonstrated was a low-cost solution—dipping our toe in the water so to speak—and not spending too much of the tax-payer money to demonstrate just how well it worked. Well we've proved that drone technology works and is also very cost-effective.'
'We now have 15 pilots under our remotely piloted aircraft operator's certificate (ReOC), with 67 pilots in total. Quite a number of our pilots fly in the excluded sub 2 kg category, mostly in our Queensland Parks and Wildlife Service, such as rangers and wildlife staff who operate predominantly over national parks, state forests and marine parks.
'We primarily use the small classes of multi-rotor tech, such as DJI Mavics and Phantoms, and utilise Phantom 4 RTKs for site surveying. We also have a small number of the slightly larger Matrice 200 and 600 series aircraft for some of our more specialist tasks, and have been trialling the Wind 4 to support the development of specialist water quality monitoring by our Science and Technology Division.'
The process of becoming a chief remote pilot is relatively straightforward. A business designates a person responsible for their operations and CASA issues that person with an example job to prepare a job safety and risk assessment. Once this is complete, a phone interview takes place to discuss the safety assessment and explain the chief pilot's responsibilities.
Brett admits his journey in becoming a chief remote pilot has had its challenges, but says, 'it was a largely positive experience'.
'I undertook a whole heap of reading to make sure I understood all the legislative requirements,' he says. 'Although there may have been a little bit of freaking out in anticipation for my interview, and then keeping my fingers crossed that we would actually get our approval!'
'My understanding of the role is to be competent and compliant in our drone activities, so I certainly still do a small number of the jobs myself. Initially I was also the only one trained to operate our larger, heavy-lift aircraft, but we are slowly training some of our pilots in our Science and Technology Division to use the bigger, 25 kg plus drones.'