There seems to be a common theme occurring in aviation at the moment: former manned aircraft pilot sees a golden opportunity to fly drones for a living and surprise, surprise—actually likes it.
Take the case of Wayne Condon, Chief Remote Pilot and CEO of Air Support Queensland and UAV Training Australia. He has an extensive background in manned aircraft but freely admits that he now just doesn't have the same passion for conventional flying like he used to because 'working in drones is ever so evolving, dynamic, challenging and exciting'.
'Within our organisation we actually have a few former commercial airline pilots including three A380, 777 and 787 captains now flying drones instead of conventional aircraft because their aviation skillsets such as navigation, radio operations in both controlled and non-controlled airspace, aeronautical management requirements, flight planning, using NAIPS, meteorology are so similar,' Wayne says.
'But some of these pilots find it harder to transition because they are no longer in a cockpit and are instead standing on solid ground trying to control the aircraft both holistically while drawing on the skills mentally without the use of a pilot operating handbook when something goes wrong.'
Wayne has delivered specialised training for larger government and commercial drone organisations such as Insitu Pacific (Boeing), Royal Australian Air Force, Australia Army and various Queensland government agencies, but saw a gap in the market to create a business that could cater to individuals, small businesses and students.
He says the opportunity to become a commercial drone pilot was heightened when the manned aviation sector was at a standstill.
'The biggest issue we are finding is that we just can't find enough flight crew, but we are very selective,' he admits.
'A lot of people can get into entry level, but our organisation also requires people who understand specific aviation components such as human factors, fatigue and safety management systems and airspace management.
'You can see with CASA's new Manual of Standards (Part 101) that the changes are strict regarding training standards and requirements and I believe that's a really good thing.'
With September officially the start of the fire season, Wayne is excited that Air Support Queensland and UAV Training Australia will be working closely with Queensland Fire and Emergency Services (QFES) and HQ Plantations – Forestry Queensland in using drones to monitor fire-prone areas.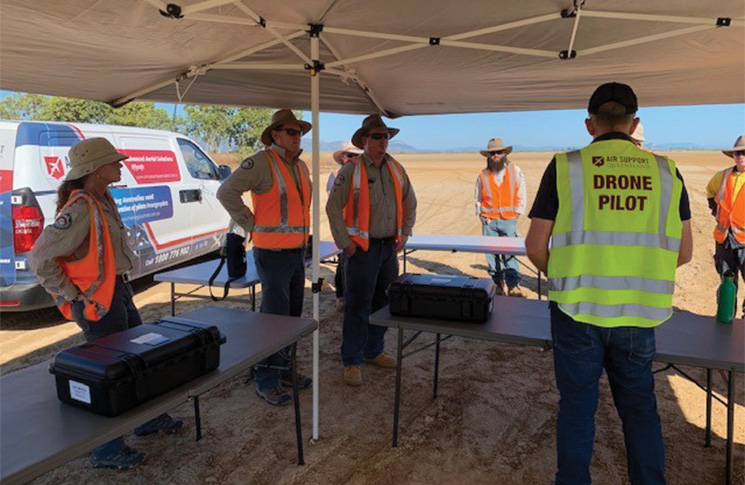 'This type of work is brand new and our expectation is that during the fire season, we will be either called up to go out with the fire crews in their vehicles or work in a pre-operational capacity,' he says.
'Our pilots understand how airspace works so communication between drone pilots, the chopper crews and tanker crews will be vital.
'We will also have mission commanders who will oversee the mission to coordinate that safety in the air. The drones are all flown according to CASA rules and standards, so always in visual line of sight and no higher than 120 metres.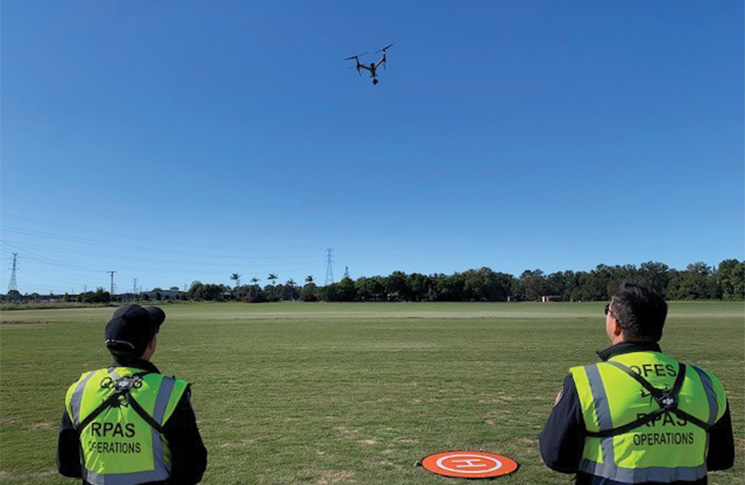 'Our drone suite includes octocopters, hexacopters and quadcopters—they're quite expensive and the laser range and thermal cameras even more so with the addition of our new DJI Matrice 300RTK. But compared to manned aircraft, drones use fewer resources and can be deployed more frequently at a fraction of the cost.'
Wayne says in terms of safety, all drone operators—whether professional or recreation—should always plan to fail and have a sound plan in plan when this does occur
'It's the one point I really emphasise with everyone', he says.
'And I am also all about procedure, procedure, procedure. Because if you don't follow procedures, that's when you will make a mistake. A lot of recreational pilots need to better assess the risk around them when they are flying.'
Images supplied by Wayne Condon
Drone registration and operator accreditation are now open – Get accredited. Register your drone.