Mitigating the mosquito issue with drones – reducing risk and cost and improving efficiency
The City of Bayswater Council is working closely with drone specialist OmniDrone to combat mosquito breeding within the Berringa and Baigup wetlands.
This issue is affecting locals and is now part of the city's mosquito management plan. Mosquitoes can carry dangerous viruses, so it's important the issue is addressed for the health of the community.
The City of Bayswater is the first local government in Western Australia to trial the use of drones for mosquito control and the revolutionary idea was initially pitched to the council in 2020 by OmniDrone.
Christian Sieber founded OmniDrone in 2016 as a survey and photography business. However, as drones started to become more popular in Australia and the market became more competitive, Christian felt the need to reshape his business. From 2018, he began moving into agriculture and environment.
OmniDrone has 9 drone pilots working at a time to meet the high client demand and business needs.
Christian and his team recognised the issue with mosquitos in Perth and could see the council attempting to control the issue by foot, damaging the flora and fauna of the wetlands in the process.
'We knew there was a better way,' he says.
After 2 years of extensive testing and research, OmniDrone was brought onboard to begin the trial.
Speaking to Christian and his tight-knit team of certified drone pilots about this method they have developed, he explained how it reduces risk and cost and increases efficiency.
'With assistance from CASA, we developed safety management plans and environmental plans, coming up with different concepts on the safest way to use the drones in this area,' he says. 'Once approvals were granted, our method has since been proven by its success. Even environmentalists are patting us on the back. Our herbicides are even environmentally friendly.'
OmniDrone use 2 DJI T10 drones to spray the area (8 hectares) which takes approximately 8 hours each session. This is repeated weekly or fortnightly depending on the climate and how quickly the mosquitoes breed. Regular larvae counts are conducted to measure the necessity for spraying.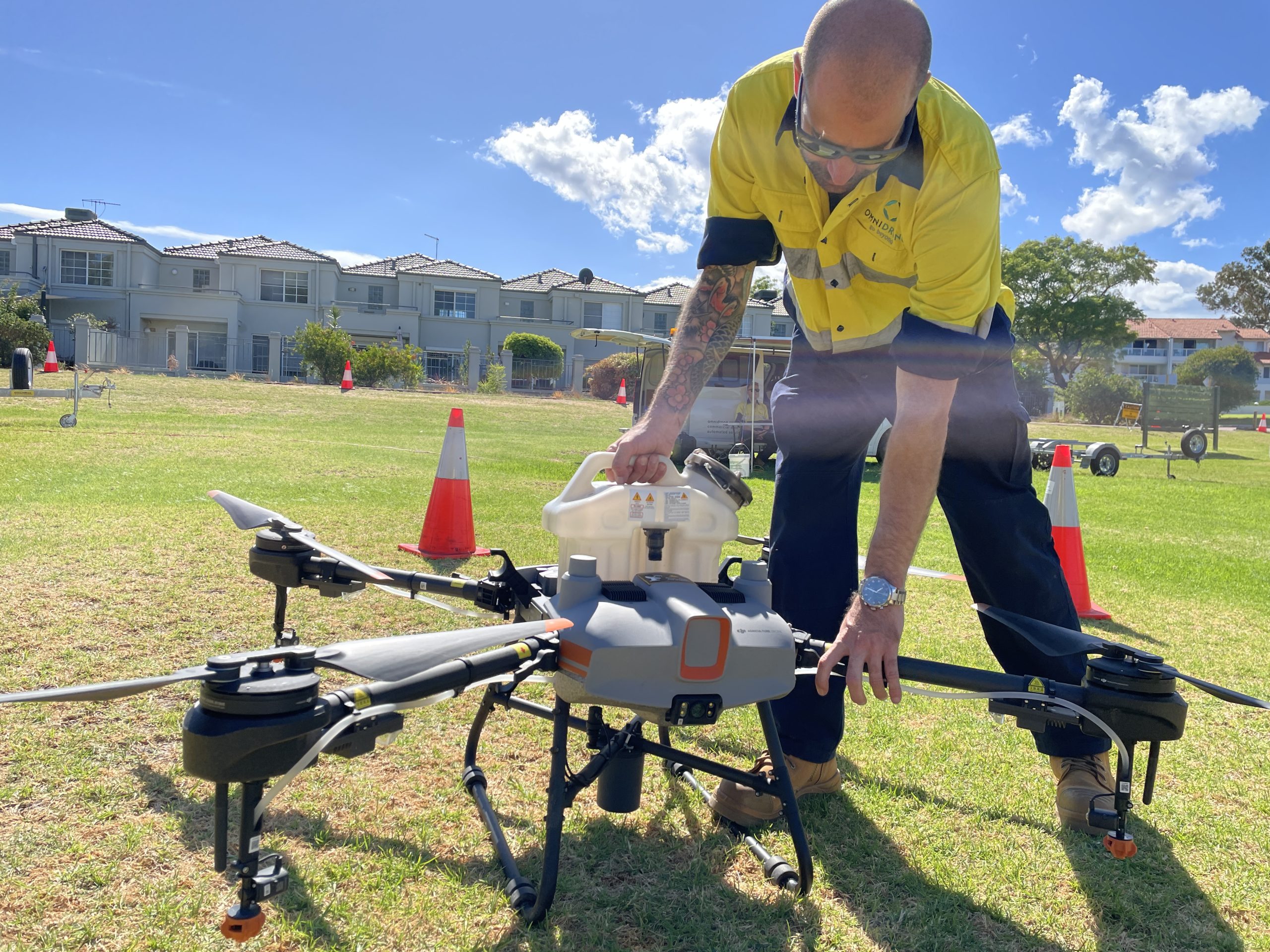 First, a small sub-2 kg drone is flown to map the area; often they use the DJI Phantom 4 RTK and DJI Mavic for this step of the process. This information is then transferred to a large commercial drone – the DJI T10 or T30 –  which has capacity to carry up to 30 L of mosquito larvicide at a time.
The program has now progressed from the trial phase and is expected to extend to other areas around Australia including Darwin and soon across to the east coast of Australia.
We asked Christian and his team about their experience and if they had any tips to share with other emerging drone pilots. They agreed that 'Safety is a big thing that can't be taken lightly – a professional attitude should always be applied'.
When asked about the future of drones, Christian said, 'It would be great to see, in the next few years, this profession being recognised as a trade, as I can't imagine many industries without drones anymore.
'It's a good feeling working together as a team, flying these drones every day is fun.'