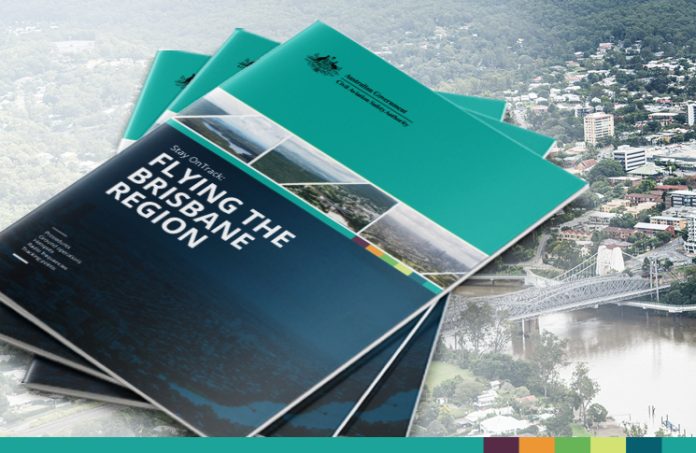 Stay OnTrack: Flying the Brisbane region is the latest in a series of guides being developed by CASA to help pilots navigate busy metropolitan areas around Australia.
Flying in these areas can be challenging, as you share the airspace with a diverse mix of traffic.
The guide has information about avoiding restricted airspace and runway incursions, airspace infringement hotspots, arrival and departure procedures, radio procedures and helicopter operations.
Archerfield is a Class D aerodrome during tower hours and has high-density operations – emergency services aircraft and charter companies, plus fixed-wing (both GA and RAAus) and rotary-wing flying schools.
It has parallel runways, and simultaneous contra-circuits may be conducted by day using separate tower frequencies.
The circuit altitude for Archerfield aerodrome is 1,000 feet, unless ATC specifies otherwise.
For departing aircraft, pilots need to be familiar with specific tracking requirements.
The guide contains some details about the Sunshine Coast aerodrome, noting the tower has blind spots where the controllers cannot see parts of the apron areas due to buildings obscuring their view. An overview of procedures for Brisbane West Wellcamp, Toowoomba, Redcliffe, Caboolture and Caloundra airports is also included, along with airspace infringement hotspots at the Oakey and Amberley military control zones.
Charts show the VFR reporting points for inbound and outbound traffic at Archerfield, and photos of the reporting points show pilots what to look for when making their radio calls.
And there are sample radio calls to guide you through airways and taxi clearance, with the relevant frequencies listed.
The Bureau of Meteorology outlines what type of weather patterns pilots can expect in the Brisbane region.
Thunderstorms are possible during any season but mostly occur from spring through to early autumn. Severe storms with large hail and strong wind gusts are more likely to occur from October through to December. At Archerfield, look for thunderstorms moving through locations such as Boonah and Amberley.
The guide complements the larger format wall charts which CASA gives to flight training schools.
Pilots still need to follow their flight planning requirements by checking documents such as charts and the ERSA for updates to airspace and procedures, as well as NOTAMs and weather briefings.
If pilots are in any doubt about local procedures, they should call a local operator or ATC for advice.
The Brisbane region guide is available in print from the CASA online store for $2.95 or download it for free from the CASA website.