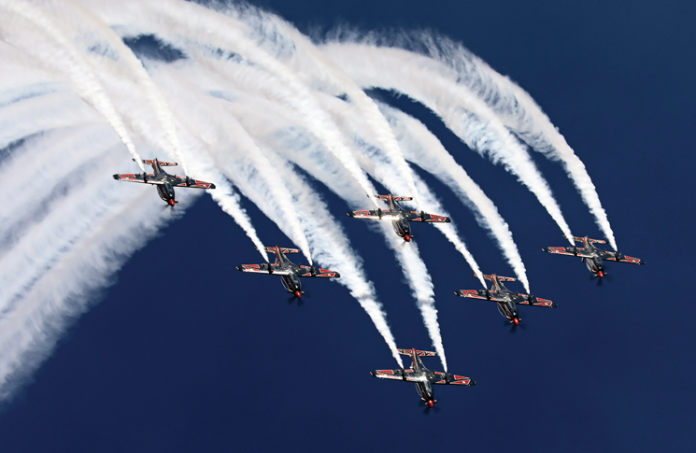 After 4 years of folded wings, Australia's biggest aviation event – the Avalon Airshow – is finally ready for take-off. And Flight Safety Australia is celebrating with 2 special deals.
Show visitors can get 5 editions of Flight Safety Australia, the limited edition insulated coffee cup and a 2023 calendar for $39. And they can visit the new CASA stand in Hall 1 – 1G21 and enjoy a free coffee during the industry days.
There's also an online special for those who can't make it to Avalon. For $54 you get a free Visual Flight Rules Guide (just pay shipping) and a 12-month subscription to Flight Safety Australia. This is a saving of $34.95 over buying these separately.
The Australian International Airshow, Aerospace and Defence Exposition, known simply as Avalon, after its hosting airport near Melbourne, begins on 28 February for industry delegates and opens to the public between 3 and 5 March.
If you make, fly, control, sell, fix or just love aircraft, it's an unmissable event. A further bonus that long-time attendees will appreciate is the weather forecast for this year's Avalon. In contrast to the alternately broiling or frigid conditions of previous events, the weather for this year's event promises mild daytime temperatures in the 20–26 degree range.
Air displays will include:
military aircraft from the RAAF, the US Air Force, the German Air Force, the Republic of Korea Air Force, the Japan Air Self-Defence Force and others
a comprehensive program of aerobatics displays, including from Red Bull Air Race world champion Matt Hall
warbirds including a Mustang, Canberra, Tiger Moth and Spitfire.
The CASA stand will have many aviation safety promotion products available, including our:
All our publications are also available to buy at CASA's online store.
CASA staff will be on hand to chat and advise, including:
CASA CEO/DAS Pip Spence and CASA board members
aviation safety advisors
AvMed specialists
drone inspectors.
CASA's social media channels – Facebook, Twitter and LinkedIn – will carry daily updates and pictures.
The Avalon 2023 website has detailed information about the show including the event program. The airshow is at Avalon Airport, on the Princes Freeway, between Geelong and Melbourne. The closest airfield for general aviation and recreational aviation visitors is Lethbridge, (YLED) which will offer a shuttle bus to Avalon for the duration of the airshow.