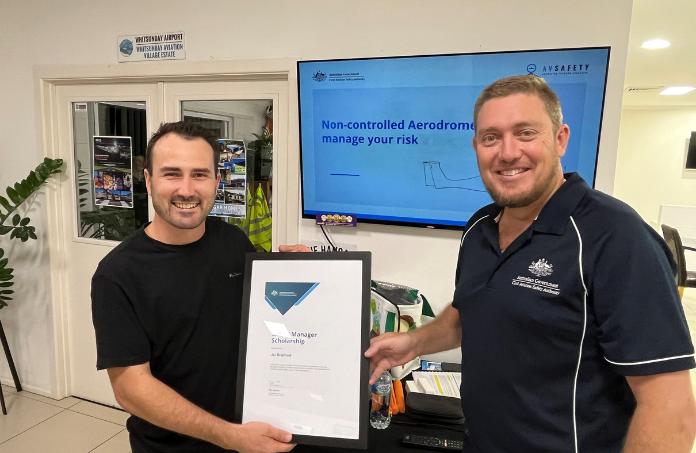 The crystal waters of the Whitsundays are a siren call to many young pilots working on accruing their all-important flight hours.
And it was no different for Airlie Beach-based Jai Bradford, one of our inaugural safety manager scholarship recipients.
The scholarship is designed to help safety managers increase their knowledge and skills through professional development and each is worth up to $5,000.
As the safety manager and a pilot for Hamilton Island Air – an aviation tourism organisation based in 3 scenic locations in Queensland – Jai took an interest in safety management systems (SMS) after the operator's former manager left and he was, 'just asked to do it'.
'I knew absolutely zero about safety management, so I went and completed the Southpac Aerospace SMS course and from there everything just fell into place,' he says.
He now oversees the SMS for an organisation that uses a diverse fleet of helicopters, seaplanes and fixed-wing aircraft to fly tourists over an area spanning almost 300 kilometres which includes the Great Barrier Reef and Whitehaven Beach.
'I've been in the role for about 18 months now and the company has 50 employees, so I really enjoy the whole aspect of it – mitigating risks, risk assessments and just basically being proactive rather than reactive,' he says.
'As regulations change within the industry, it's getting to the point now where the heads of flying operations and safety mangers are doing the majority of the paperwork, so we just let the younger pilots chase their hours. But we want them to chase those hours safely.'
Diverse pilot portfolio
The born and bred Gold-Coast native's career led him to many remote locations including working on his float rating in the Yukon in Canada.
'I dropped out of uni and followed my passion because everyone used to tell me if you've got a passion for something you'll make it work and so eventually I self-funded my pilot licence,' he says.
'And funnily enough I used to watch the TV series Alaskan Ultimate Bush Pilots and that persuaded me to go to Canada, where I did my float rating and earned my float licence.
'Eventually I came back to Australia and worked up in Darwin and Arnhem Land and that eventually led to Airlie Beach to fly for another seaplane outfit.
'I've now sort of got to the point in my career where another interest has taken reasonable shape here and I'll keep pursuing this avenue and see where it takes me. This scholarship could be the door opening for something else, maybe!'
New career phase
Jai says he definitely wasn't expecting to win one of the safety manager scholarships and was caught off guard by the achievement.
'I initially thought the email [about the scholarship] was spam,' he laughs.
'I hoped something would evolve out of it, but then I didn't hear from anyone for a couple of months until I was interviewed.
'And to be honest, I was caught off guard when I found out I had actually received one of the scholarships.
'But it's really great and now I'll use the funds to do some more Southpac courses.'
His best advice for those interested in pursuing a similar career is, 'Don't be afraid to just give it a crack'.
'I mean, obviously, it comes down to what your goals and values in life are and what you want out of your career,' he adds.
'But for me, the most challenging aspect about the role is managing time.
'You just have to ensure all your documents are up-to-date, so being organised is one of the best key skills you can have.'