Airbus A320-232 ATC transponder system connector faulty. SDR 510018517
Transponder transmitting incorrect code. Investigation found connector 181VC-A wires not connected to junction splice. P/No: NSA936809RG0004
Airbus A320-232 Cargo station equipment section – PDU unserviceable. SDR 510018564
Cargo hold power drive unit (PDU) 14MY failed, with smoke and electrical burning. Circuit breaker did not trip. Investigation continuing. P/No: 1291009
Airbus A320-232 Emergency locator beacon – ELT incorrect fit. SDR 510018421
Portable ELTs on numerous Airbus aircraft found to have been fitted with the ARM/OFF switch in the Off position. P/No: 11534261M503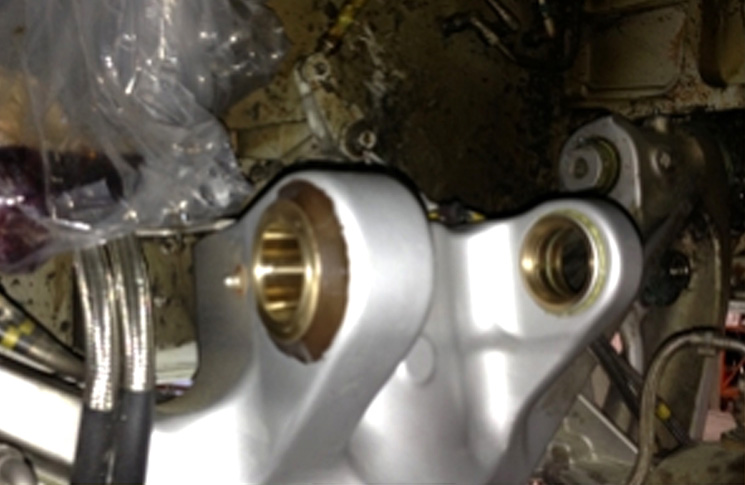 Airbus A320-232 Landing gear actuator bushing unserviceable. SDR 510018499 (photo above)
Nose landing gear actuator bushing migrated, with excessive free play and sealant cracked.
Airbus A330-243 Hydraulic pressure relief valve main check valve unserviceable. SDR 510018763
Yellow hydraulic system check valve showed signs of rotation. Paint marking had moved approximately 4mm (0.157in) from original. Found during inspection iaw EASA AD 2012-0244 and Airbus (AOT) A29L00-1-12. One other similar defect. P/No: CAR401. TSN: 6437 hours/1703 cycles
Airbus A330-243 Main landing gear bushing damaged. SDR 510018701
RH main landing gear strut sliding tube pivot pin internal bush contained gouge marks. Found during inspection iaw AD 2012-0053, Airbus SB A330-32-3240 and Safran SB A33-34-32-285. P/No: 65210902500. TSN: 6969 hours/1848 cycles
Airbus A380-842 Tyre damaged. SDR 510018429
Nose landing gear tyre tread separated during take-off. Investigation found the following damage to the aircraft: aft nose gear door and seal, external power access panel and doubler, nose gear ground operating handle and brake temperature sensor. P/No: QE55866
Air Tractor AT802 Vertical stabiliser skin cracked. SDR 510018614
Auxiliary vertical stabiliser leading edge skin cracked. P/No: 306591. TSN: 3838 hours/157 months
ATR ATR72212A Empennage distorted. SDR 510018639
Aircraft suffered structural distortion during turbulence.
Beech 300 Aircraft fuel system leaking. SDR 510018529
Fuel leaking from area around LH lower forward wing attachment fitting.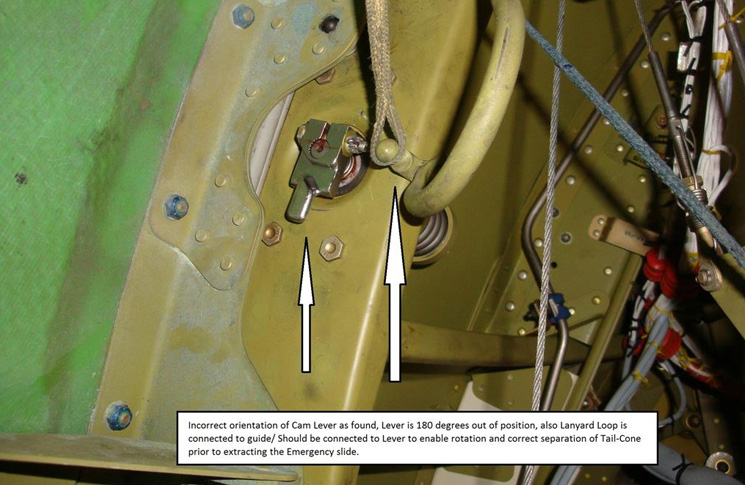 Boeing 717-200 Aerodynamic fairing lever incorrect fit. SDR 510018751 (photo above)
Tail cone release lanyard for aft emergency slide incorrectly routed. Further investigation found the release cam lever (pin) was fitted 180 degrees out and the lanyard was attached to the guide/bracket instead of to the lever. Fleet investigation found another two aircraft with the same incorrect installation. P/No: 3961567501
Boeing 737-376 Elevator tab structure failed test. SDR 510018780
LH and RH elevator tabs failed trailing edge movement check iaw EI-733-055-0122 and EI-733-055-0123 and AD B737-175.
Boeing 737-376 Fuselage bulkhead corroded. SDR 510018679
Rear pressure bulkhead had surface corrosion on LH side of channel stiffener at BL 0 just aft of Stn 1016. Found during inspection iaw AD/B737/6 Amdt2.
Boeing 737-838 Air distribution fan fumes. SDR 510018411
Smoke/fumes from LH recirculation fan. Investigation could find no definitive cause for the smoke and the fan operated serviceable but was replaced as a precaution. P/No: 6454052
Boeing 737-838 Fuel boost pump relay failed inspection. SDR 510018430
RH centre fuel tank boost pump control relay failed. Found during inspection iaw AD 2008-10-10 and R-N37-EI-N37-028-0065. P/No: KDAGX4F001
Boeing 737-8BK Window delaminated. SDR 510018764
No.2 RH window had a cloudy (opaque) area. Window had suffered an interlayer delamination that allowed water ingress. Found during inspection iaw AD/737/334 and SB 737-56A1022. P/No: 141A481036
Boeing 737-8FE Hydraulic pump main pump contamination. SDR 510018630
Electric motor-driven hydraulic pump failed. Metal contamination of the case drain filter. Investigation continuing. P/No: 5718610. TSN: 39286 hours/24634 cycles
Boeing 737-8FE Pitot head suspect faulty. SDR 510018647
During icing conditions, the IAS system displayed disagree messages. Pitot heat system suspect faulty. P/No: 0851HT1. TSN: 31089 hours/18193 cycles
Boeing 767-381F APU failed to start. SDR 510018782
APU auto shutdown. Metal contamination of gearbox magnetic chip detector and generator scavenge filter. During removal of the APU cooling fan, housing found to be cracked/split. P/No: 380029812. TSN: 49253 hours TSO: 2949 hours
Boeing 7878 Emergency locator beacon ELT incorrect fit. SDR 510018420
Portable ELTs on two aircraft found to have been fitted with the ARM/OFF switch in the off position. A label was also fitted which read 'Remove at installation'. P/No: 11534261M503
Bombardier DHC8-202 Landing gear suspect faulty. SDR 510018700
Following three thumping noises through the airframe, the 'landing gear inop' caution light illuminated, followed by the 'RH main landing gear unsafe' light. Alternate gear extension system used to lock gear down. Investigation continuing.
Bombardier DHC8-315 Aileron control system out of adjustment. SDR 510018488
Flight controls suspect faulty. Mistrim messages received and aircraft required extra trimming during flight. Aileron system out of adjustment.
Bombardier DHC8-315 Air conditioning system fumes. SDR 510018589
Oily smell on flight deck strong enough to sting the eyes. Smell reduced and eventually dissipated.
Bombardier DHC8-315 Hydraulic system main fitting cracked and leaking. SDR 510018587
No.1 spoiler system hydraulic T fitting cracked and leaking. Loss of No.1 hydraulic system fluid.
Bombardier DHC8-315 Nose landing gear failed to extend. SDR 510018556
Nose landing gear failed to extend. Landing gear was retracted and recycled down. NLG extended normally. NLG solenoid sequence valve and door actuator changed.
Bombardier DHC8-402 Drag control system speed brake suspect faulty. SDR 510018423
Ground spoiler advisory light illuminated during take-off. A second indication occurred at rotation accompanied by a loss of acceleration. Take-off aborted.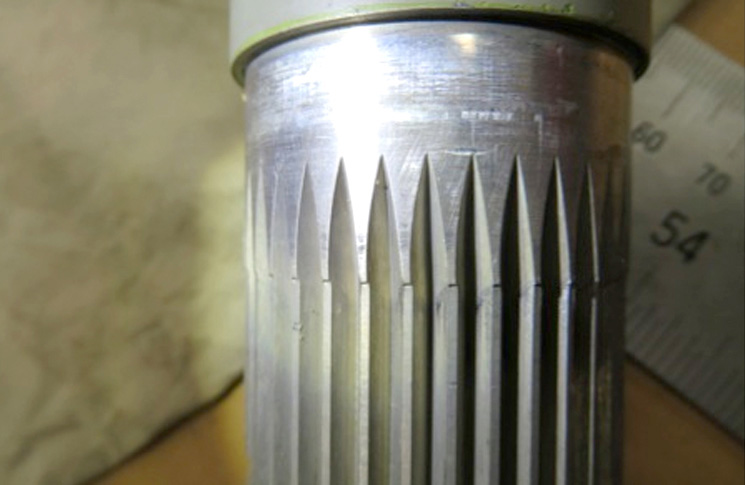 CASA C212EE Rudder control system shaft cracked. SDR 510018471 (photo above)
Rudder torque tube shaft splines cracked. P/No: 21246237010300. TSN: 1655 hours/1158 cycles
Embraer ERJ-190-100 Aileron control system cable worn. SDR 510018395
Aileron control cables P/No: 190-0551-401, P/No: 190-05550-401 and P/No: 190-05549-401 worn beyond limits.
Embraer ERJ-190-100 Fuselage floor beam sheet corroded. SDR 510018505
Centre fuselage longitudinal floor beam upper sheet contained Level 2 corrosion. P/No: 17086101001. TSN: 15135 hours/10430 cycles
Embraer ERJ-190-100 Pneumatic distribution system PRSOV faulty. SDR 510018375
Transient odour in cabin during take-off and approach. RH engine pressure regulating and shut-off valve (PRSOV) faulty. P/No: 10012463. TSN: 5983 hours/4115 cycles
Fokker F27MK50 Fuselage structure window post cracked. SDR 510018544
Central window post cracked. Found during inspection iaw MPD 531000-00-45. Crack length approx. 20mm (0.78in).
Fokker F28 MK0100 APU engine fuel and control O ring fractured. SDR 510018770
Strong fumes in cockpit and fuel leaking from APU bay. Investigation found the APU fuel filter housing O ring seal chipped and cut into two pieces. Smell still evident following replacement of the O ring. APU intake bellows in poor condition, with evidence of holes. P/No: S9412138
Fokker F28 MK0100 Fuel storage – fuel valve inoperative. SDR 510018532
Fuel venting from wings. Investigation found RH refuelling valve failed to open due to plug P1704 pins A and E being transposed.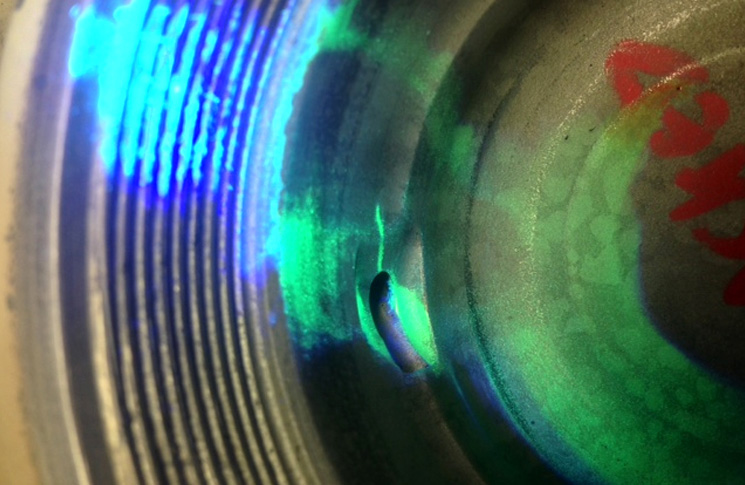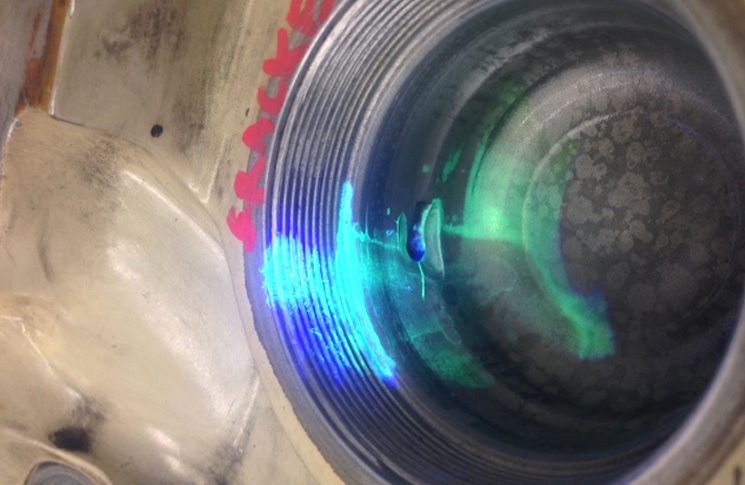 Fokker F28 MK0100 Master brake valve housing cracked and leaking. SDR 510018392 (photo above)
Main landing gear brake housing cracked and leaking in two places in the piston bore radius in area of previous repair. Crack lengths approximately 10mm and 8mm (0.39in and 0.31in). Found during eddy current inspection. P/No: 50099043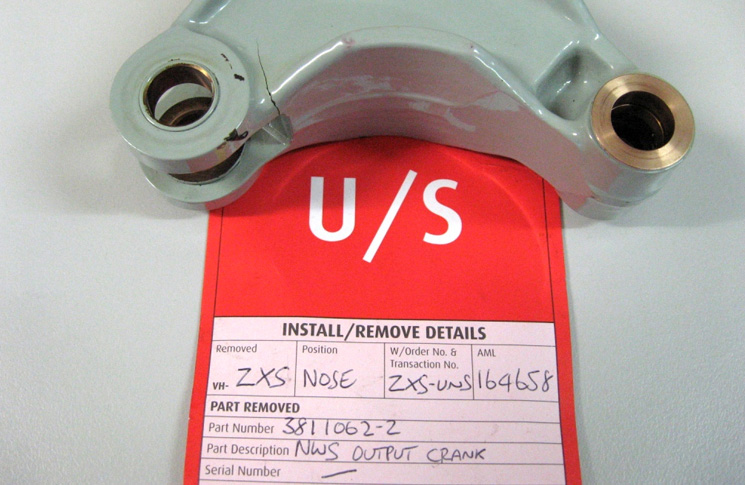 Saab SF340B Nose landing gear bellcrank cracked. SDR 510018718 (photo above)
Nose landing gear strut steering collar bellcrank cracked. P/No: 38110622. TSO: 1008 hours