Beech 200 Fuselage frame cracked. SDR 510018762
Fuselage frame FS207 cracked in area located below floor level.
Beech 200 Passenger compartment windows seal failed. SDR 510018506
Passenger compartment LH rear window seal failed and was protruding from window surround. Loss of pressurisation. P/No: 1013842375. TSN: 1000 hours/1000 cycles
Beech 200 Pressure regulator valve control valve failed. SDR 510018681
During pressurisation system air test, the pressurisation continued to climb. Oxygen masks failed to deploy when selected. Pressurisation system outflow valve leaking excessively. Oxygen mask deployment system found power wire to barometric pressure switch damaged at circuit breaker. P/No: 10138001313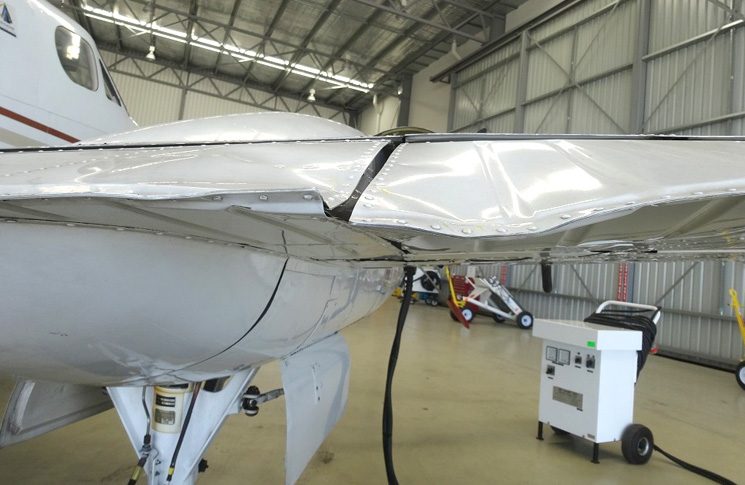 Beech 200 Trailing edge flap FOD. SDR 510018563 (photo above)
A step ladder being used for maintenance was blown over by the propeller wash of a passing aircraft. It contacted the RH wing trailing edge flaps causing damage to the trailing edges of the inboard and outboard flaps.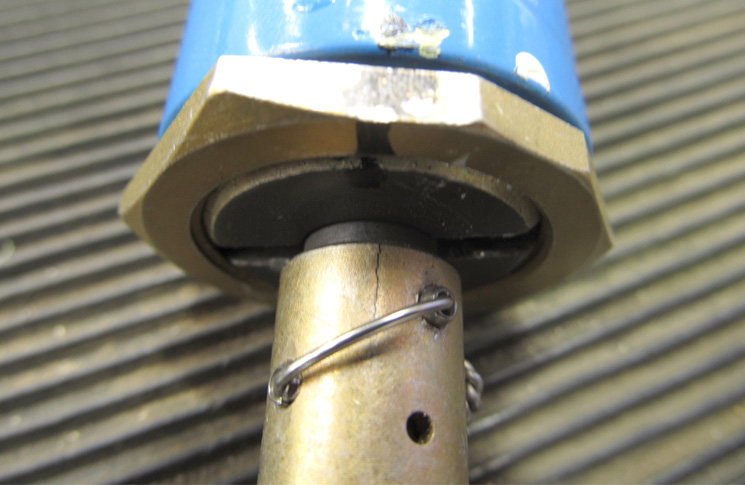 Beech G58 Elevator tab control system universal joint cracked. SDR 510018481 (photo above)
LH elevator trim tab actuator had excessive play. Investigation following removal for rectification also found the universal joint cracked. P/No: 45526015. TSN: 54 hours/3 months
Britton Norman BN2B20 Power lever rod end incorrect part. SDR 510018469
Engine control system rod ends incorrect part as per the IPC. Found during inspection iaw AD 2013-0215.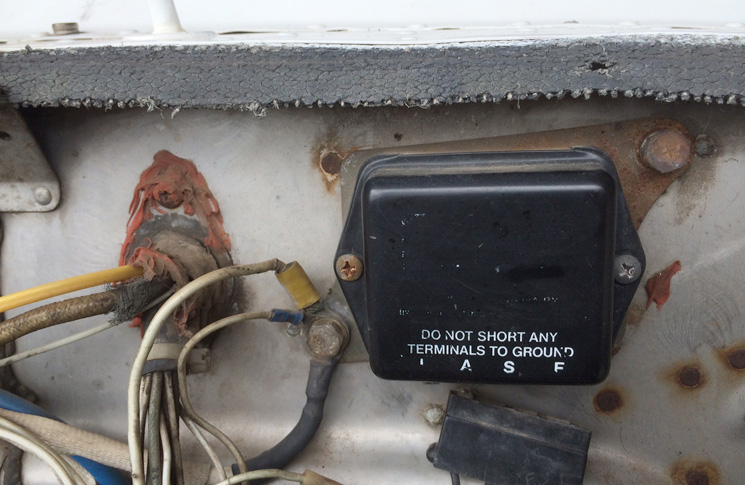 Cessna 172M DC volt regulator incorrect part. SDR 510018387 (photo above)
Automotive type voltage regulator (Ingrams brand) fitted.
Cessna 172N Fuselage bulkhead door post cracked. SDR 510018366
Pilot's door pillar cracked. Found during inspection iaw SID 53-12-02. One other similar defect.
Cessna 206H Wing control surface attach fittings bracket cracked. SDR 510018730
LH outboard aileron support bracket cracked. P/No: 122005217. TSN: 8048 hours
Cessna 208B Passenger cabin door suspect faulty. SDR 510018627
Upper passenger door opened during flight. Investigation of door surrounding structure found nil damage. Door locking mechanism found to be within tolerance. P/No: 261708742. TSN: 8835 hours/11114 landings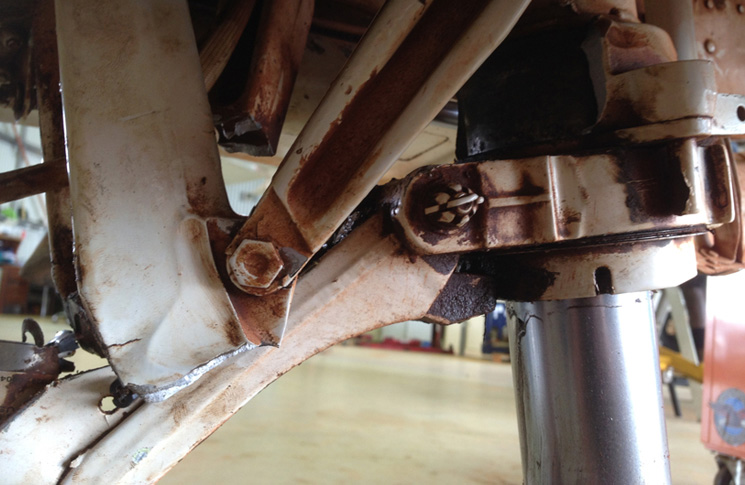 Cessna 210N Nose landing gear attach section trunnion failed. SDR 510018389 (photo above)
Nose landing gear lower trunnion failed in area located just forward of side brace attachment lugs. Investigation found evidence of cracking prior to failure. P/No: 12434025OR7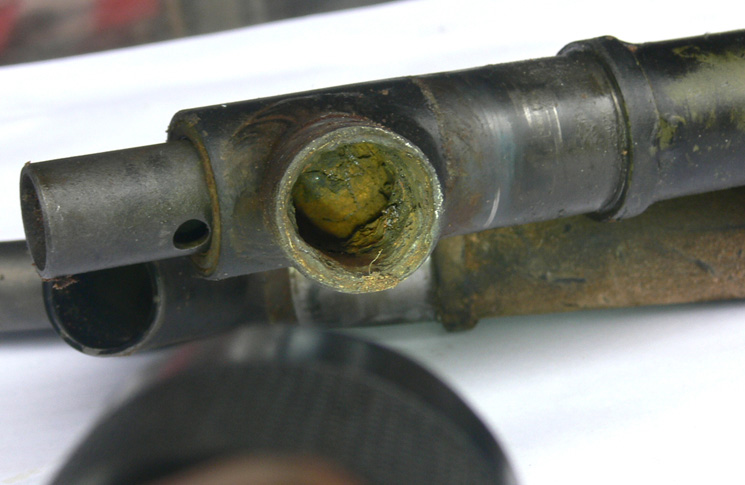 Cessna 210N Rudder bar corroded. SDR 510018467 (photo above)
Rudder bar corroded inside the LH pilot's pedal attachment area. P/No: 12605581. TSN: 5232 hours
Cessna 404 Aircraft fuel system contaminated. SDR 510018684
RH fuel tank contaminated by incorrect fuelling with 160 litres of AVTUR. RH tank already had 130 litres of AVGAS. Engines not run since incorrect refuelling.
Cessna 441 Pressurisation regulator valve failed. SDR 510018461
Bleed air and emergency pressurisation valve failed in the open position. P/No: 47061
Cessna 441 Tyre disintegrated. SDR 510018507
Nose landing gear tyre deflated and disintegrated causing aircraft to veer right. Nose wheel dug into the runway surface causing a spray of gravel and bitumen that damaged the LH propeller, entered the LH engine and to a lesser extent the RH engine. Gravel also deflected off the propeller onto the windscreens and LH pilot's side window. P/No: 600X6X6. TSN: 584 hours/608 landings
Cessna R172K Fuselage bulkhead door post cracked. SDR 510018364
Pilot's door pillar cracked. Found during inspection iaw SID 53-12-02. One other similar defect.
Cessna T303 Main landing gear pin worn. SDR 510018479
LH main landing gear knuckle pin chrome surface pitted. Found during inspection iaw SI 32-10-01 (F). P/No: 25410551. TSN: 3229 hours/360 months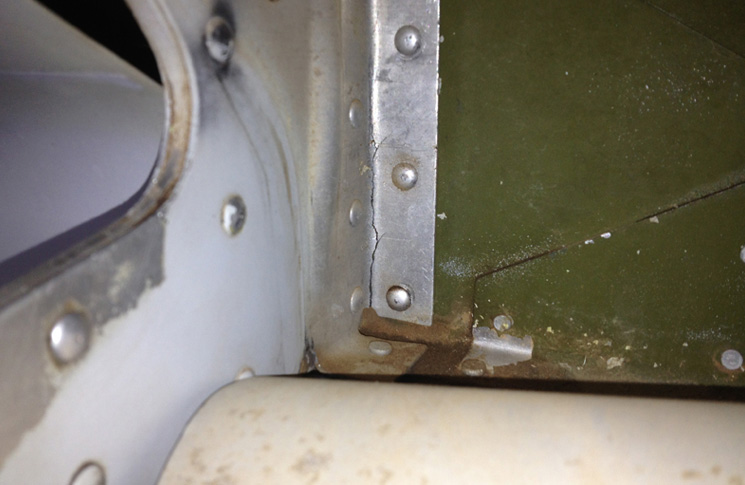 Cessna U206G Ailerons bracket cracked. SDR 510018525 (photo above)
Aileron bracket cracked. P/No: 9910592
Cessna U206G Fuselage structure doubler corroded. SDR 510018577
Lower door frame doublers P/Nos: 1211635-5 and 1211635-6 corroded. Evidence of corrosion also on mating faces with aft main landing gear fuselage bulkhead. TSN: 14518 hours
Diamond DA40 Elevator tab control system trim wheel distorted. SDR 510018519
Elevator trim wheel buckled and rubbing on centre console due to excessive outside air temperatures. Two other similar defects. P/No: DA427381070. TSN: 908 hours
Gippsland Aeronautics GA8 Cargo doors slide worn. SDR 510018590
Forward cargo door slide worn beyond limits. Found during inspection iaw AD/GA8/3. P/No: GA8521022149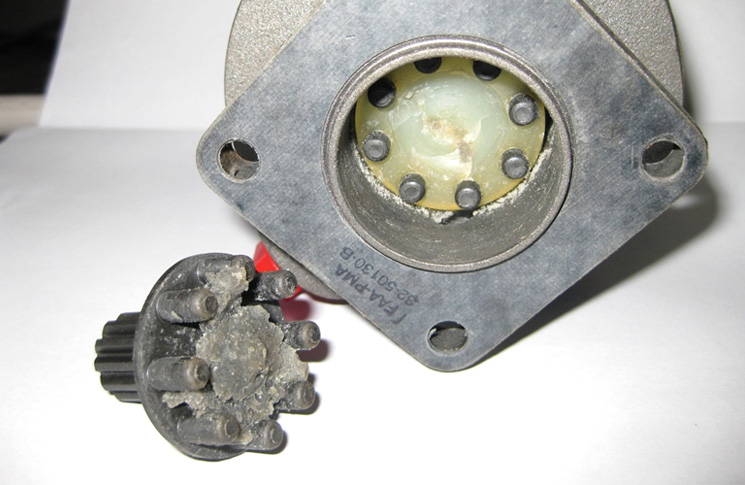 Gippsland Aeronautics GA8 Vacuum distribution system pump sheared drive shaft. SDR 510018566 (photo above)
Vacuum pump drive coupling sheared. P/No: 215CC. TSN: 487 hours
Mitsubishi MU2B25 Nose landing gear collapsed. SDR 510018431
During taxi the landing gear warning horn and nose landing gear warning light activated. After stopping the nose landing gear collapsed. Investigation continuing.
Mooney M20F Wing spar doubler corroded. SDR 510018418
LH wing lower spar doubler contained heavy exfoliation corrosion in area of WS 23.0. Found following removal of fuel tank to repair leak. P/No: 2100047. TSN: 1978 hours
Pilatus PC12 GPS system failed. SDR 510018633
Nos. 1 and 2 global positioning systems (GPS) failed. Investigation continuing. Six similar defects.
Piper PA28140 Flight control system cables cracked and corroded. SDR 510018475
Control cables cracked and/or corroded. Found during inspection iaw AD 2013-02-13.
Piper PA32R300 Flight control system cables cracked. SDR 510018383
Numerous control cables had hairline cracking in stainless steel fittings. Found during inspection iaw SB 1069. TSN: 420 months
Piper PA32R300 Landing gear wiring worn and damaged. SDR 510018386
Landing gear control circuit breaker tripped and could not be reset. RH main landing gear retracted during landing. Investigation found landing gear control circuit wiring worn and damaged in nose landing gear wheel well area. During rectification of defects, metal contamination of hydraulic power pack also found.
Reims F406 Cabin compressor system thermal switch failed. SDR 510018495
Airconditioning compressor electric motor burnt out. Investigation found the motor thermal switch unserviceable, with switch stuck open. During investigation, the blower circuit breaker shorted and the power supply wire to the CB was damaged. Investigation continuing.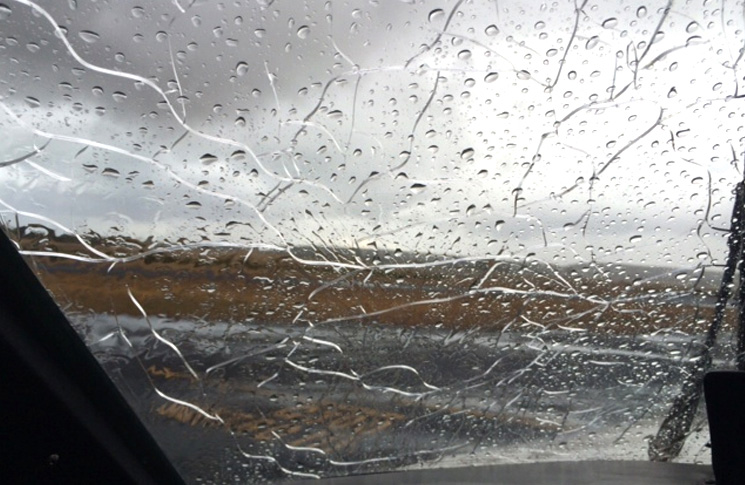 Swearingen SA227AC Flight compartment windshield failed. SDR 510018591 (photo above)
LH pilot's windshield arced in bottom corner, followed a short time later by the outer pane fracturing. P/No: 2719442003. TSO: 4570 hours/7332 cycles/7332 landings/61 months
Swearingen SA227DC Fire detection system connector corroded. SDR 510018363
'RH engine fire' warning. Fire extinguisher discharged and engine shut down. Investigation found RH fire extinguisher logic module connector corroded.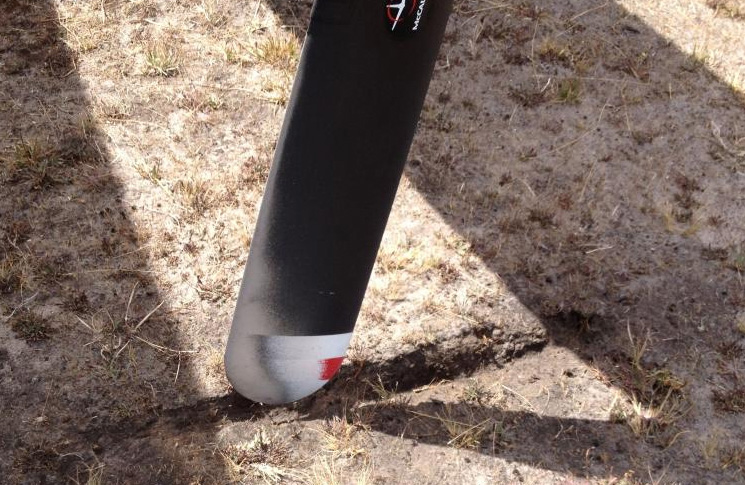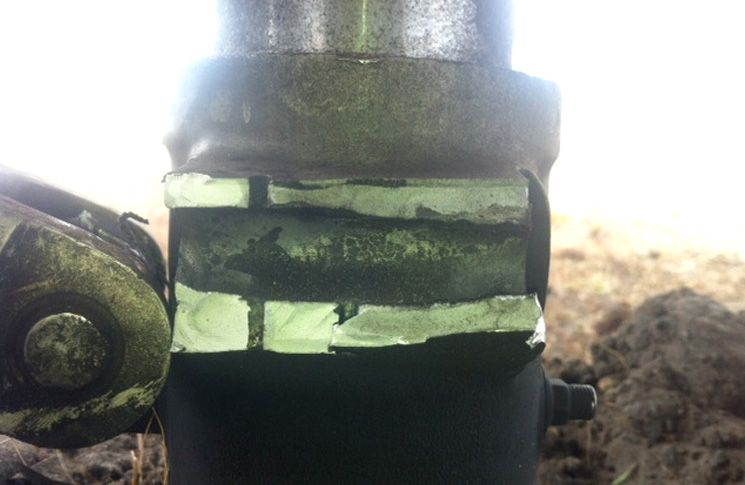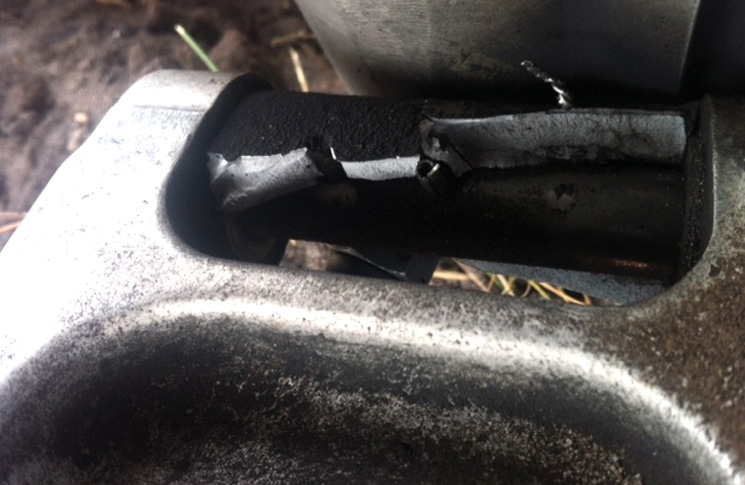 Swearingen SA227DC Main landing gear yoke failed. SDR 510018592 (photo above)
LH main landing gear lower yoke fitting sheared causing LH landing gear wheels to turn sideways and skid along runway, causing aircraft to veer to the left and leave the runway and enter the sand. The landing gear then dug into the sand allowing the LH propeller to contact the soft ground. P/No: 2751505001. TSN: 20,160 hours/21,678 cycles TSO: 20,160 hours/21,678 cycles