Beech 200Beech Fuselage longeron/stringer clip cracked. SDR 510019540
Rear pressure bulkhead to No. 9 stringer attachment clip cracked. Found during inspection iaw AVCON SB08-01.
Beech B200C Landing gear failed to extend. SDR 510019380
Landing gear failed to extend. Circuit breaker popped. On landing approach, the gear extended OK. Investigation continuing.
Beech B200C Non-standard equipment system inverter overheated. SDR 510019222
Medical outlets inoperative. Auxiliary inverter overheated and burnt, with its circuit wiring harness chafed on a bonding wire terminal.
Beech B350 Control column section bolt incorrect fit. SDR 510019103
Control column bob weight stop bolt misaligned. P/No: NAS428420.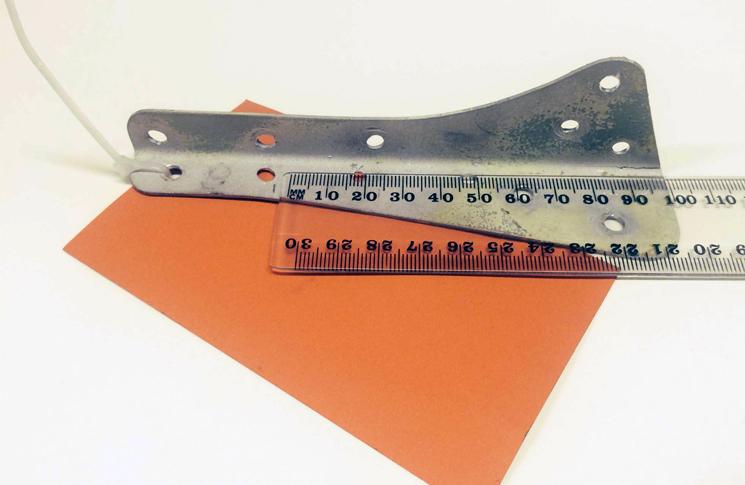 Britten-Norman BN-2A20 Fuselage angle cracked. SDR 510019306 (photo above)
LH inboard forward angle cracked. P/No: NB2023778.
Britten-Norman BN-2A21 Main landing gear attach fitting incorrect part. SDR 510019301
Rear lower main landing gear attachment fittings manufactured from steel instead of aluminium, causing them to corrode/rust. Incorrect fasteners also used. P/No: NB201909.
Britten-Norman BN2-B20 Fuel boost pump leaking. SDR 510019484
Tip tank to main fuel tank auto transfer fuel pump leaking. A hole under the placard was the cause of the leak. P/No: 354301015. TSN: 1063 hours/54 months.
Britten-Norman BN-2 Engine air intake system duct unserviceable. SDR 510019421
LH and RH engine intake ducts u/s. Found during inspection iaw AD/BN/057 Amdt 2. P/No: TU195MM660MMCC.
Cessna 172N Horizontal stabiliser spar cracked. SDR 510019415
Horizontal stabiliser forward spar cracked in four places. Cracks emanated from lightening hole and reinforcement bracket. Found during inspection iaw AD/CESSNA 170/59 Amdt 1. P/No: 053200198. TSN: 4688 hours.
Cessna 182Q Fuselage bulkhead cracked. SDR 510019364
Forward doorpost bulkhead cracked in LH and RH bend relief notches. Found during inspection iaw AD/CESSNA 180/75. P/No: 07136083. TSN: 6359 hours.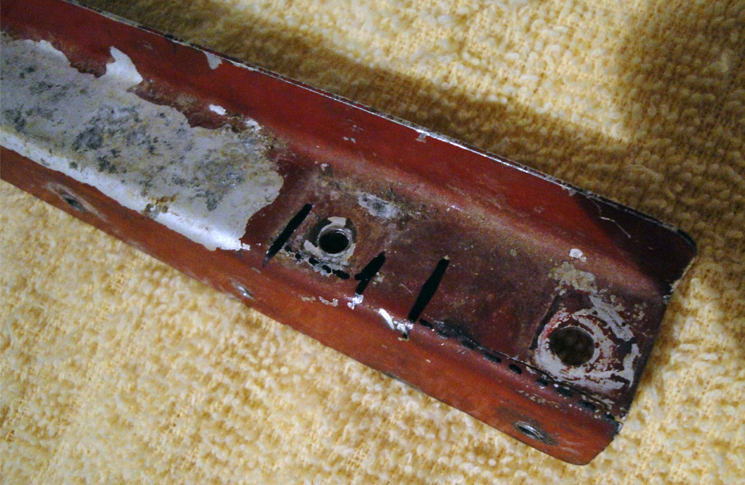 Cessna 182Q Fuselage equipment attach fittings angle cracked. SDR 510019356 (photo above)
LH and RH battery support angles cracked. P/No: 07120591. TSN: 6359 hours.
Cessna 208 Trailing edge flaps bracket cracked. SDR 510019528
Trailing edge flap bellcrank bracket cracked. P/No: 26222081Manufactured8Feb1989. TSN: 10266 hours/21201 landings.
Cessna 305F Tail landing gear attach section bracket failed. SDR 510019401
Tail wheel bracket assembly bolt failed and tail wheel fell off aircraft. P/No: 3216.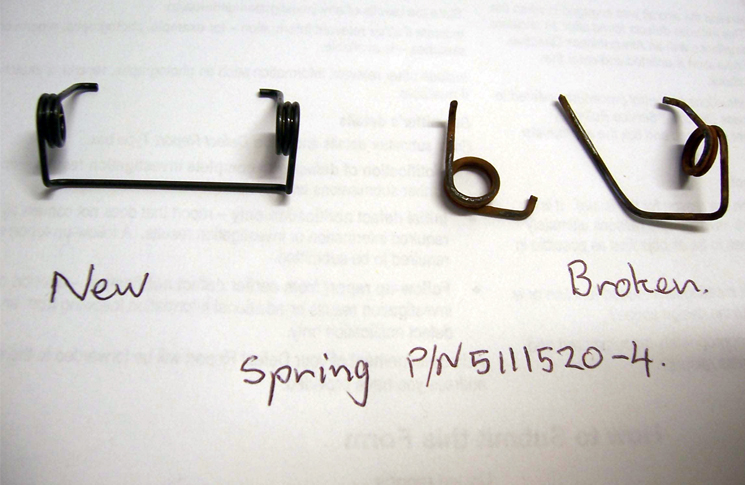 Cessna 402C Passenger/crew door spring broken. SDR 510019172 (photo above)
Top cabin door opened in flight. External door handle spring mechanism broken and fouling on shaft, opening the door when handle rotated to the stowed position. P/No: 51115204.
Cessna 441 Aileron control system cable incorrect dimensions. SDR 510019156
Replacement aileron control cables P/No: 571051083 found to be longer than the worn cables P/No: 57151081. Original cables measured at 4718mm (185.75in) and replacement ones at 4765mm (187.59in). Investigation continuing.
Cessna P206 Flight environment data iPad failed. SDR 510019476
iPad used for navigation failed due to thermal overload.
Gippsland Aeronautics GA8 Engine mount section incorrect fit. SDR 510019253
Engine mounts incorrectly fitted. Incorrect pairing of mounts. Similar defects reported.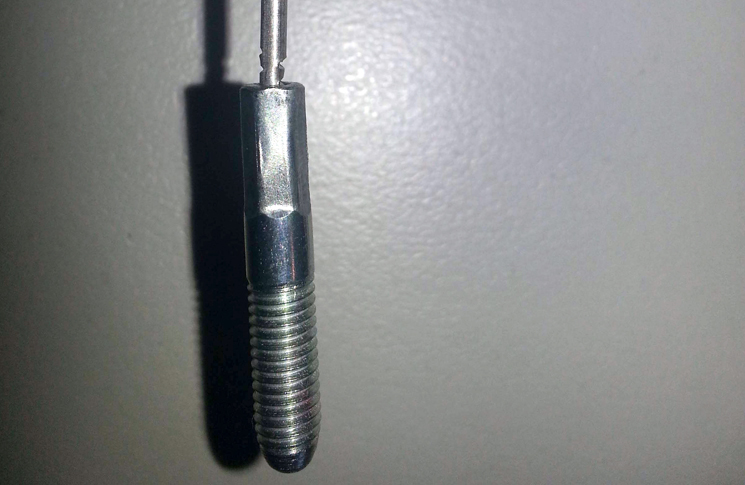 Grob G115 Mixture control cable faulty manufacture. SDR 510019418 (photo above)
Mixture cable suspect faulty manufacture. Cable has a swaged threaded rod at the carburettor end and was mechanically damaged where the cable entered the rod. Two other cables in stock found to be in a similar condition. P/No: GS70000138.
Gulfstream 500S Wing spar cap cracked. SDR 510019446
Wing main spar lower spar cap cracked longitudinally. Suspect caused by intergranular corrosion. Found during inspection iaw AD/AC/42.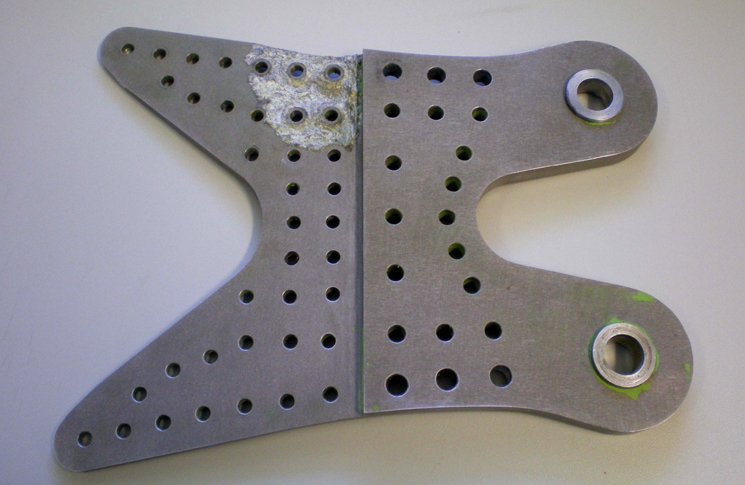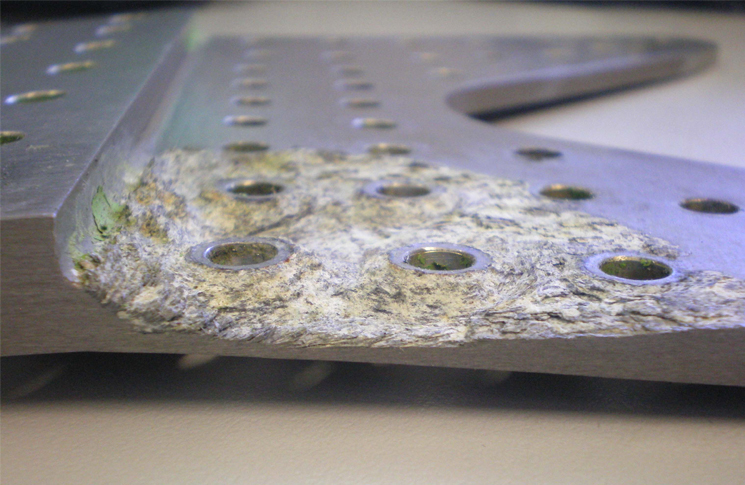 Gulfstream G73AT Fuselage stabiliser attach fitting corroded. SDR 510019370 (photos above)
Forward fin attachment fitting severely corroded around lower rivet attachment. P/No: 1123061E881. TSN: 2455 hours/2301 landings/61 months.
Mooney M20R Landing gear selector switch distorted. SDR 510019221 (photo above)
Landing gear selector switch shaft bent by approximately 30 degrees. P/No: 8906K2875. TSN: 1534 hours.
Pacific Aerospace CT4B Rudder control system bolt rubbing. SDR 510019342
Rudder jammed in full LH position. Rudder/steering interconnect bolt rubbing on a screw head in the floor panel and jamming when rudder pedals were in the full LH position. P/No: AN613.
Partenavia P68B Wing spar angle corroded. SDR 510019157
LH wing spar cap web angles P/Nos: 68-1.4011-1, 68-1.4011-3 and 68-1.4013-1 corroded. TSN: 22530 hours.
Piper PA28161 Aircraft fuel filter gascolator loose and leaking. SDR 510019293
Fuel gascolator leaking. Incorrect lock wiring caused loss of tension on the bail nut. P/No: 35715003. TSN: 1961 hours/3973 cycles.
Piper PA28161 Control column section universal joint sheared. SDR 510019435
Control column universal joint centre pin sheared. P/No: 6283402. TSN: 1943 hours.
Piper PA32300 Wing spar corroded. SDR 510019129 (photo above)
Aft wing spar corroded. Found during inspection iaw AD/PA32/27. AD not due but carried out anyway due to increased frequency of corrosion problems. P/No: 6205400.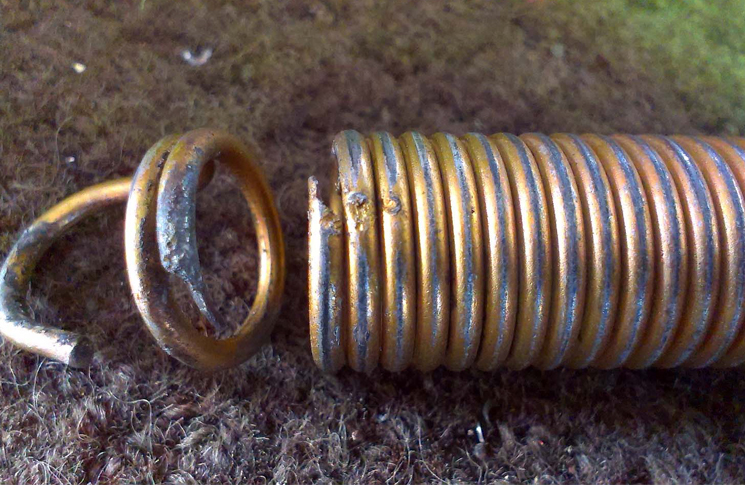 Piper PA44180 Landing gear retract/extension system spring broken. SDR 510019137 (photo above)
Nose landing gear arm inner spring broken. Investigation found small imperfections in the area of breakage. Suspected they were present at time of manufacture. P/No: 487483. TSN: 1062 hours
Piper PA44180 Vertical stabiliser fin cracked and corroded. SDR 510019142
Fin assembly corroded. Investigation following paint stripping found the following defects: 1. Rib assembly upper fin root contained exfoliation corrosion; 2. Fin front spar assembly P/No: 78935-828 cracked; 3. Rib P/No: 78935-017 corroded beyond repair; 4. Fin skins and ribs all had surface corrosion. P/No: 8654802.