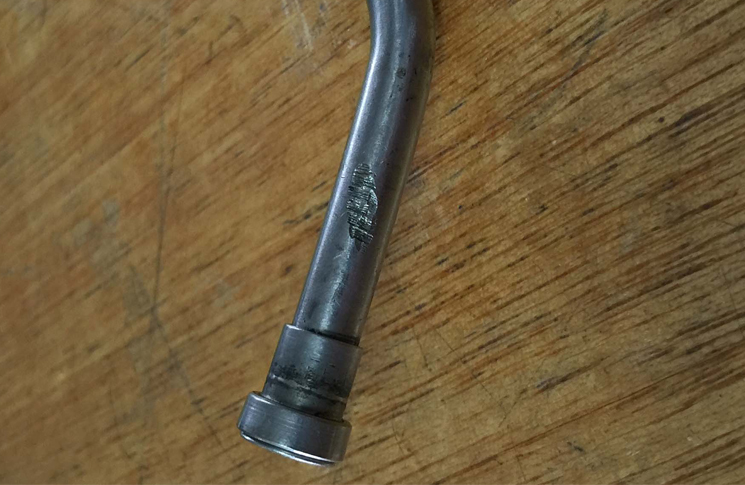 Allison 250C20 Engine fuel distribution—pipe unserviceable. SDR 510020588 (photo above)
During daily inspection of aircraft the pipe was noted chaffed, igniter lead had been contacting the pipe. The clamp that prevents the lead contacting the pipe was slightly worn. Serviceable pipe and clamp were fitted. P/No: 6870035.
Engine bleed air system—duct leaking. SDR 510020837
Bleed air heat exchanger duct on R/H engine failed pressure test required by SB CC7-21-002. Tube found leaking through braided section. P/No: 2762100009. TSN: 9478 hours/12845 cycles.
Fuel flow sensor—fuel control system worn. SDR 510020578
Worn MMV Dynamic Seal (BAL Seal) known to produce an "ENG 1 CTL SYS FAULT" ECAM message and/or failure of the engine to successfully start. The FMU702 was introduced with an improved design to replace the FMU701 to address in-service issues. This seal wear is a known issue with the FMU702 and an improved MMV Dynamic Seal (BAL Seal) is currently being developed by the FMU vendor.
Garrett TFE7313B Fuel controlling system—turbine engine flamed out. SDR 510020754
During taxi prior to departure, L/H engine flamed out. Further engine starts were carried out. In manual mode, the engine starts normally, but in automatic mode, the engine will not light off. Awaiting further investigation.
Garrett TPE33111U Turbine/turboprop engine wiring—harness intermittent. SDR 510020833
At cruise of 20000ft, L/H SRL annunciator flickering on and off at 30% torque. EGT fluctuating between 290-305 degrees. SRL computer turned off, EGT fluctuated then stabilised at 40% torque, EGT 420-520 degrees. Aircraft performed air turnback. Investigation revealed similar issues five flights earlier. EGT short harness found defected and replaced with new item. P/No: 8974697.
GE CFM563C Engine fuel and control—fuel tank cracked and leaking. SDR 510020575
Fuel leak found running from LH tank access panel # 7209L. #1 tank defuelled to allow panel removal. Panel removed, found to be cracket at an inboard anchor nut dome. New panel fitted. Leak check carried out satisfactory. P/No: 112N61012.
GE CFM567B2 Engine cranking system—air starter oil loss. SDR 510020563
On #2 engine start smoke/fumes emitted from engine. Air starter found exhausting oil. Air starter replaced, A/C released to service. P/No: 350594510. TSN: 26448 hours/15515 cycles. TSO: 8042 hours/4739 cycles.
GE CFM567B2 Engine (turbine/turboprop)—turbine engine bird strike. SDR 510020811
At 800 ft AGL, large birdstrike on R/H side of fuselage. F/O airspeed, altimeter and AoA disagree. Annunciated stick shaker activation and stall warning. Differential pressure light illuminated. Minor ingestion into #2 engine first fan, but most of the bird went through the bypass duct. Minor debris removed from IDG cooler matrix inlet area. Borescope inspection revealed nil damage.
GE CFM567B2 Fuel controlling system—pitot tube blocked. SDR 510020793
Captain's pitot probe found blocked. Replaced and tested serviceable. P/No: 0851HT1. TSN: 10138 hours/5991 cycles.
GE CT79B Turbine engine compressor section—turbine disc unserviceable. SDR 510020700
On take-off, bird ingested into R/H engine. A/C performed an air turnback. R/H prop inspected with nil defects. Stage 1 compressor damaged. Investigation continuing. P/No: 6055T83G16. TSN: 8559 hours/9512 cycles/97 months.
IAE V2527A5 Engine fuel/oil cooler—fuel/oil cooler leaking. SDR 510020618
Fuel found leaking from #2 engine. Troubleshooting revealed two damaged O-rings at the IDG fuel-cooled oil cooler. Seals replaced.
IAE V2527A5 Engine (turbine/turboprop)—turbine engine overtemperature. SDR 510020641
EGT OVERLIMIT ECAM appeared. Crew reduced thrust to idle and EGT remained high. Engine shut down. A/C air-return to SYD. QAR data confirmed EGT overtemp beyond limits and #2 engine requires removal. A/C is currently AOG in SYD. Engine change being planned to recover the A/C. P/No: V2527A5. TSN: 31900 hours/17041 cycles
Lycoming ALF502R3A Engine fuel and control—fuel line ruptured. SDR 510020760
During take-off roll, engine #4 shutdown uncommanded. Take-off rejected. Inspection found fuel line from HP fuel filter to FCOC ruptured through steel braiding. Fuel line replaced, aircraft tested serviceable. P/No: 230331901.
Lycoming LTS101750C1 Turbine engine oil system—tube cracked. SDR 510020580
Whist c/o a ground run post maintenance the #2 eng lost power and wound back to idle uncommanded. Trouble shooting found Py Line cracked at PTG Tee. Serviceable line fitted and ground run c/o with nil defects. P/No: 418186001.
PWA PT6A42 Engine (turbine/turboprop)—duct cracked. SDR 510020822
Cooling rings found to have excessive burning during borescope inspection. Removal of liner revealed additional cracking on the outer wall of the exit duct to be out of limits. P/No: 305566701. TSO: 2146 hours/3330 cycles.
PWA PT6A42 Engine (turbine/turboprop)—turboprop engine serviceable. SDR 510020820
Engine trend monitoring analysed as per AD/ENG/5 Appendix A. Trends within acceptable limits, no further action required. P/No: PT6A42A.
PWA PW125B Engine (turbine/turboprop)—turboprop engine overtorqued. SDR 510020650
Aircraft has been experiencing irregular LH eng torque readings since Jan 2015. Troubleshooting could not replicate the fault. Various ground runs tested the engine as serviceable. Investigation continuing.
Rolls Royce TAY65015 Engine fuel pump—O-ring deteriorated. SDR 510020600
When carrying out AWB 28-014 check on booster pump connector and backshell found RH wing AFT pump rubber damaged on plug. All four plugs in both RH wing and LH wing O-ring deteriorated. P/No: MS29513013.
Rolls Royce TRENT772B60 Engine exhaust system—bumper welded. SDR 510020614
During scheduled thrust reverser checks. LH C-duct would not open. Found centre bump pads were stuck together. Bump pads sheared when forced open via hex drive. Suspected previous lightning strike fused bump pads together. Engine repaired under Boeing EO. Aircraft released to service.
Turbomeca ARRIEL1B Turbine engine compressor section—compressor blade unserviceable. SDR 510020743
During inspection, axial compressor blades found damaged. A/C grounded and engine was removed for investigation/repair. Impact damage found on the 1st stage blades. Awaiting inspection from engine OEM. P/No: 70BM021060. TSN: 3646 hours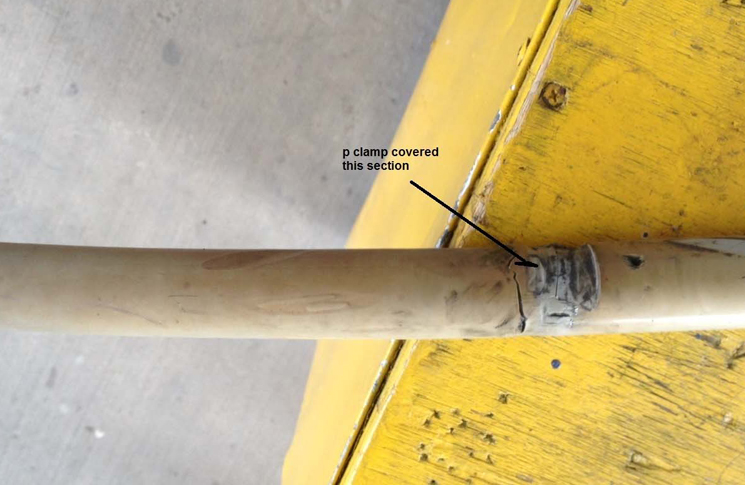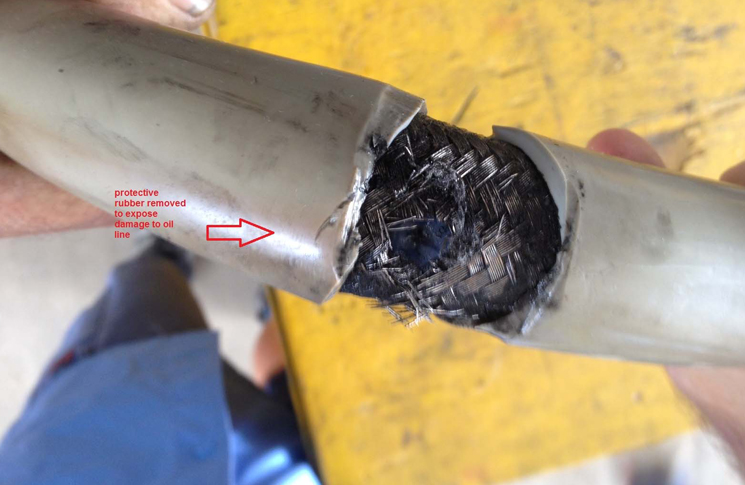 Turbomeca MAKILA1A Engine fuel/oil cooler—hose fractured. SDR 510020576 (photos above)
En-route from offshore facility, brown fluid seen on aft RH window. MGB oil pressure began to drop and high MGB oil temp warning indicated. Aircraft landed normally, oil cooler return hose found fractured. P/No: 704A44412119.