Agusta Bell A109E central maintenance computer—DAU contaminated oil. SDR 510021063
Engine oil pressure indications dropped to zero along with transmission oil pressure and hydraulic oil pressure. Investigation found data acquisition unit (DAU) and engine control unit (ECU) connectors contaminated with oil. P/No: 1090900426A06.
Agusta Westland AW109SP tail rotor drive shaft—drive shaft cracked. SDR 510021095
Tail rotor driveshaft cracked. Crack confirmed using eddy current inspection. Found during inspection  AD2015-0054 and BT109SP-094. P/No: 1098412021. TSN: 302 hours/405 landings.
Agusta Westland AW139 main rotor head—damper unserviceable. SDR 510021136
Main rotor lag damper piston rod end cracked at outboard end. Further investigation found the rod end had lost the correct torque locking. P/No: 3G6220V01352. TSN: 3403 hours.
Bell 212 main rotor head—sleeve incorrect marked. SDR 510021022
Newly supplied main rotor head sleeve had no serial number attached. Serial number is required. P/No: 204011408003.
Eurocopter AS355N rotorcraft tail boom—stabiliser cracked. SDR 510021107
Upper vertical stabiliser skin cracked. P/No: 350A0855061801. TSN: 8600 hours.
Eurocopter EC225LP aircraft fuel distribution system—control unit unserviceable. SDR 510021120
External forward tank fuel transfer controller unserviceable. Investigation continuing. P/No: 5090184. TSN: 664 hours.
MDH 369D main landing gear strut/axle/truck—barrel cracked. SDR 510020957 (photo above)
Main landing gear strut leaking from lower cap to barrel join. Investigation found a small crack in the threaded area. P/No: 369H6314.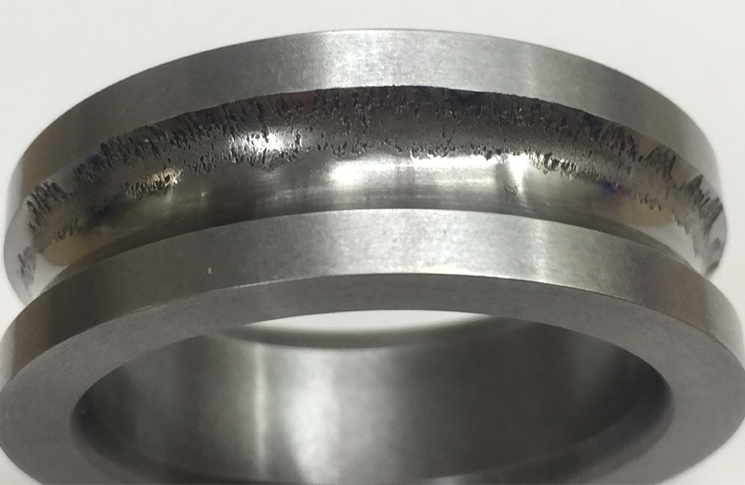 MDH 369E tail rotor gearbox—bearing pitted. SDR 510021058 (photo above)
Tail rotor gearbox outer duplex bearing inner race pitted. P/No: 369D25420TA126610. TSO: 855 hours.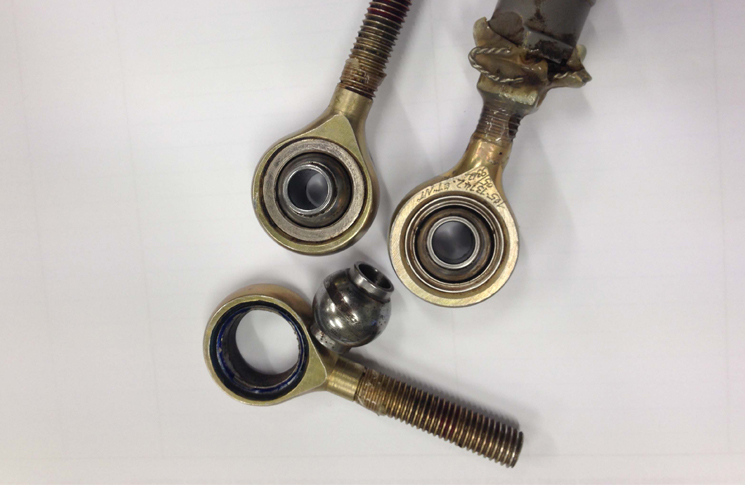 Messerschmitt BO105C Rotorcraft flight control—rod end SUP. SDR 510020920 (photo above)
Pilot reported upper pitch change link had excessive play. LAME found rod end assembly ball separated from rod end. On closer examination it was found the rod end was slightly different to the OEM item. P/No: 10513144. TSN: 7 hours.
Robinson R22BETA DC generator-alternator—alternator suspect faulty. SDR 510021049
Alternator light flickering. Suspect faulty alternator.
Robinson R22BETA rotorcraft cooling fan system—backplate cracked. SDR 510021014
Cooling fan wheel backing plate cracked. P/No: B1741. TSN: 1269 hours.
Robinson R44 main rotor blades—main rotor blade debonded. SDR 510020934
While carrying out CASA AD/R44/25 Amdt 1, it was decided to remove both tip caps from the blades. Small blister found on the underside of the band line on one blade. After removal of corrosion it was obvious debonding had occurred. On other blade, fretting line on the trailing edge of the weight cap was found. P/No: C0167. TSN: 104 hours.
Robinson R44 main rotor control—cyclic control incorrect rigged. SDR 510021051
Cyclic control misrigged.
Robinson R44 tail rotor control system—slider corroded. SDR 510021019
Tail rotor control system slider tube corroded between aluminium tube housing and inner Teflon liner causing the liner to bind on the tail rotor output shaft. P/No: C0311. TSN: 1799 hours/46 months.
Sikorsky S76A landing gear retract/extension system—bolt binding. SDR 510021132
LH main landing gear outboard drag brace bolt binding preventing correct landing gear operation.
Sikorsky S76A main rotor gearbox—gearbox suspect faulty. SDR 510021013
Main transmission oil pressure approximately 100 psi with nil other abnormal indications. Oil pressure then began fluctuating between 65psi and 100psi. P/No: 7635109026107. TSN: 2069 hours.