Continental GTSIO520M Engine reciprocating—piston engine contam-metal. SDR 510021327
LH engine low oil pressure. Initial investigation found metal contamination of oil filter. Investigation continuing. P/No: GTSIO520M. TSO: 1553 hours/60 months.
Continental IO520C Reciprocating engine cylinder section—piston damaged. SDR 510021333
RH engine No. 3 cylinder piston overheated causing failure of the piston wall and rings. Metal spray from the piston was distributed on the internal surface of the cylinder head. No. 2 cylinder exhaust valve burnt on the sealing surfaces causing loss of compression.
Lycoming IO540F1B5 Reciprocating engine cylinder section—engine cylinder corroded. SDR 510021232
All six cylinders contained a build-up of pitting corrosion in the cylinder bores. Engine was being prepared for fitment to aircraft. P/No: LW13870. TSN: 70 hours.
Lycoming O360A1F6 Reciprocating engine cylinder section—gasket leaking. SDR 510021356
Inlet gasket leaking. P/No: 71973. TSN: 400 hours.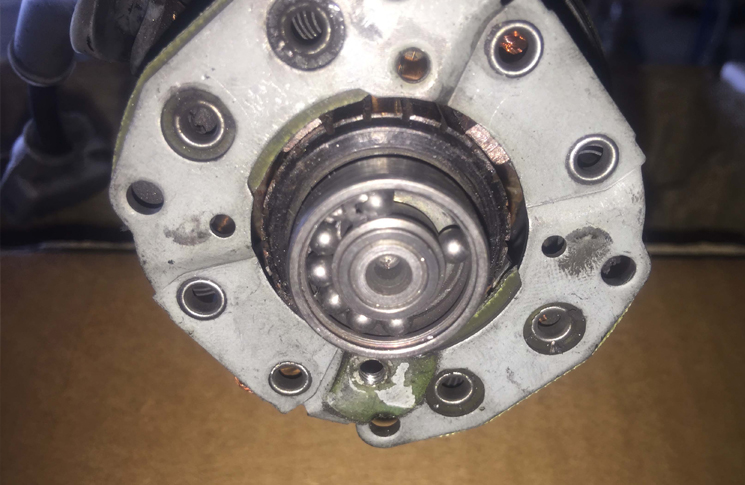 Lycoming O360A1H6 Engine starter—bearing seized. SDR 510021239 (photo above)
Starter motor rear housing worn through. Caused by seized bearing spinning in the housing. P/No: 149NLR. TSN: 2054 hours.
Lycoming O540F1B5 Magneto/distributor—coil suspect faulty. SDR 510021206
RH magneto excessive RPM drop. Suspect faulty coil. P/No: IO357490.
Lycoming TIO540A2C Exhaust turbocharger—support broken. SDR 510021318
RH engine turbocharger support stay broken. P/No: LW15952. TSO: 739 hours.
Lycoming TIO540AH1A Spark plug/ignite—spark plug unserviceable. SDR 510021317
Spark plugs found to have excessive internal resistance. Resistance was found to be over 20 mega ohms on some plugs. P/No: RHB36S. TSN: 403 hours/8 months.
Lycoming TIO540J2BD Engine collector/tailpipe/nozzle—exhaust pipe unserviceable. SDR 510021236 (photo above)
RH engine No. 6 cylinder cracked and holed in area of riser flange. Size of hole approximately 50.8mm by 50.8mm (2in by 2in). Found during inspection iaw PA31/2013-10-04.
Lycoming TIO540J2BD Engine fuel pump—seal worn and leaking. SDR 510021177
No. 1 engine fuel pump driveshaft seal leaking. P/No: STD213. TSO: 1494 hours.
SUPAPE IO180B1B Engine fuel pump—pump failed. SDR 510021323
Mechanical engine fuel pump failed causing fluctuations in fuel flow and fuel pressure.
Unknown model. Reciprocating engine cylinder section—gasket suspect faulty. SDR 51002130
Inlet gaskets PNo 71973 only lasting approximately 200 hours before leaking and needing replacement. P/No: 71973. TSN: 200 hours.