Bell 206B Engine/transmission coupling—bearing unserviceable. SDR 510021312
Engine to transmission free wheel assembly rear bearing moving and badly spalled. Investigation found there was no preload on the bearing. P/No: 206040207001.
Bell 206B Main rotor head—main rotor grip unserviceable. SDR 510021311
Main rotor head blade grip blade retention bolt hole heavily scored. Damage was beyond limits. P/No: 206010102121A. TSN: 311 hours TSO: 311 hours.
Bell 206B Tail rotor control system—PCL incorrect part. SDR 510021310
Tail rotor pitch change links (PCLs) incorrect part number (PNo 206-010-795-103) and length for currently installed tail rotor.
Bell 412 Main rotor gearbox—combining gearbox unserviceable. SDR 510021181
Combining gearbox chip detector and filter metal contamination. P/No: 3024780. TSN: 15308 hours TSO: 3139 hours.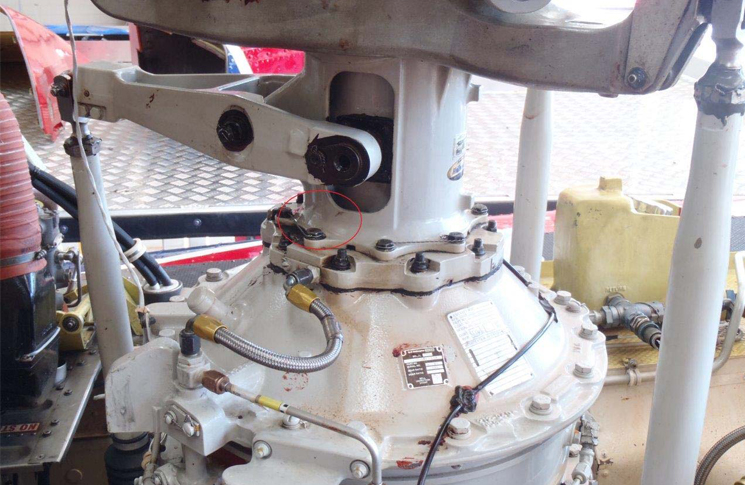 Bell 412 Main rotor mast/swashplate—support cracked. SDR 510021242 (photo above)
Main rotor swashplate support assembly cracked. P/No: 412010453105. TSN: 2378 hours TSO: 985 hours.
Eurocopter BK117C2 Tail rotor head—sleeve cracked. SDR 510021361
Tail rotor bearing journal hard facing cracked. Cracks are only visible when tail rotor disassembled. P/No: B642M1004101. TSN: 305 hours/10 months.
Kawasaki BK117B2 Power lever—arm corroded. SDR 510021341
Engine No.2 control arm corroded. Found during inspection iaw KSB-117-370 and TCD-8232-20132. P/No: 1176342905.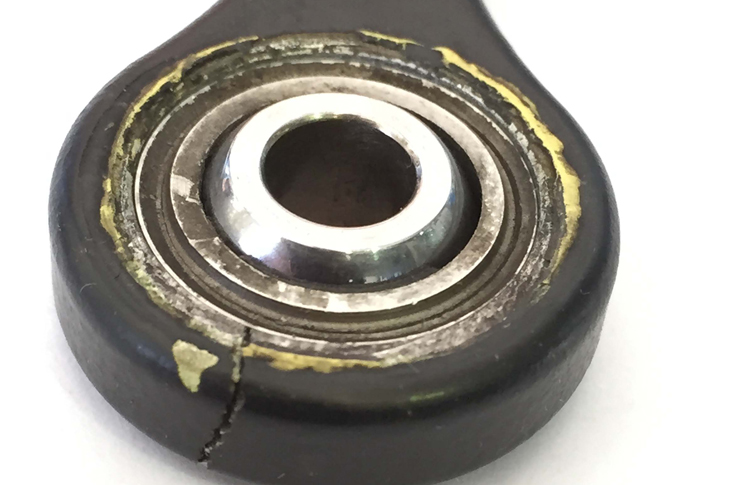 MDH 369D Tail rotor head—PCL cracked. SDR 510021173 (photo above)
Tail rotor pitch change link (PCL) cracked at outer end.  P/No: 369X2172313. TSO: 525 hours.
Robinson R22BETA Rotorcraft cooling fan system—cooling fan cracked. SDR 510021307
Cooling fan backing plate cracked. P/No: B1741. TSO: 1796 hours/60 months.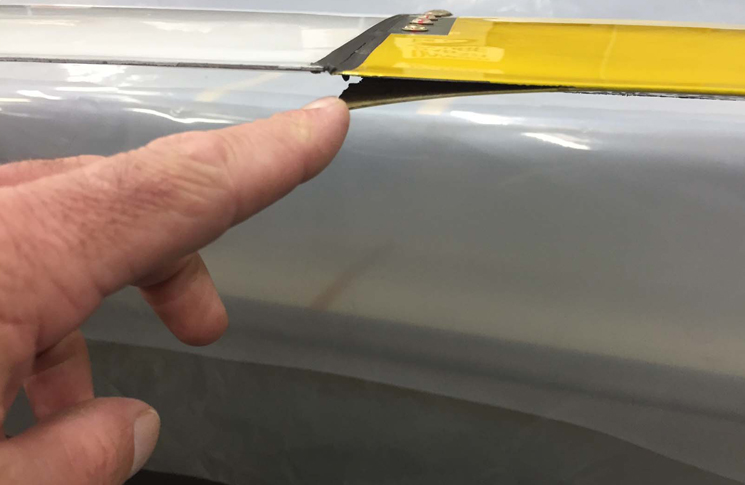 Sikorsky S76C Main rotor blades—cap disbonded. SDR 510021363 (photo above)
Black main rotor blade tip cap trailing edge disbonded. Length of disband approximately 63.5mm (2.5in). P/No: 7615009043050.
Sikorsky S92A Main rotor gearbox—bushing cracked. SDR 510021186
Main gearbox forward and aft mountings had cracked bushings. Found during inspection iaw SSI 92-074. P/No: 9235135112103. TSN: 7316 hours.