Engine bleed air system—bleed air suspect faulty. SDR 510021544
During taxi, "LEAK" and "OVERHEAT" warning for bleed No. 1. Prop No. 1 blades No. 1, No. 2 and No. 5 de-icer found debonding. Blades were replaced.
Engine starter—starter/generator failed. SDR 510021674
The right hand engine failed to start. Fault found to be with the starter generator which was replaced with a serviceable unit to enable continued operation. Initial investigation indicated possible brush failure. P/No: 23079004. TSO: 33 hours.
Garrett TPE33110N fuel control/turbine engines—FCU leaking. SDR 510021670
Fuel leak was found to coming from the back of the fuel control unit. P/No: 89711019. TSN: 1520 hours/1573 cycles/39 months.
Garrett TPE331 Engine (turbine/turboprop)—shaft incorrect made. SDR 510021770
Stub shaft did not have the correct coating. Requires 5380DP Prax-Air then Graphite MTL P. P/No: 310233602.
GE CF3410E fuel controlling system—FADEC unserviceable. SDR 510021738
Ahead-Pro system alerted the CAS message ENG 2 NO DISPATCH was logged with maintenance message ND T25 OUT OF RANGE correlated. The CAS message ENG 2 NO DISPATCH was flagged as soon as aircraft landed. After trouble shooting the No. 2 FADEC was confirmed defective. P/No: 2043M11P05SWPN2043M65P60.
GE CF680C2 turbine engine turbine section—turbine disc unserviceable. SDR 510021718
During borescope inspection a cracked HPT Blade beyond AMM limits was detected. The LPT 2nd stage disk has to be scrapped. P/No: 1863M22P01. TSN: /5155 cycles TSO: /5155 cycles.
GE CF680E1 engine fuel distribution—fuel line leaking. SDR 510021560
Fuel puddle found under No. 1 engine. Investigation found burst fuel line from HMU to fuel/oil cooler. P/No: 114312. TSO: 8466 hours. Attached media: Photo: Split fuel line.jpg
GE CF680E1 turbine engine oil system—oil cooler leaking. SDR 510021664
Oily odour was reported during taxi out, upon descent through FL200 and then again during taxi in. Investigation found a failed APU oil cooler had enabled oil to collect and run down the fuselage, and then be ingested into the APU air inlet. P/No: 38811411.
GE CFM565B fuel controlling system—probe eroded. SDR 510021798
During daily inspection, engine 1 and 2 bite test shows short time fault. TAT probe found to be eroded, probe replaced. P/No: 102AH2AG. TSN: 10379 hours/3886 cycles.
GE CFM567B2 engine fuel and control—bypass switch failed. SDR 510021758
Flight Crew reported Engine 1 Filter Bypass illuminated during last 10 minutes of flight. Fuel filter replaced and nil debris of found, troubleshooting traced defect to the Fuel Filter Differential Pressure Switch which was replaced and tested satisfactory. P/No: QA07995. TSN: 9221 hours/2891 cycles
GE CFM567B2 engine (turbine/turboprop)—turbine engine bird strike. SDR 510021833
At rotation several birds took flight and 2 were struck (one in each engine). Associated burning smell was reported by the flight crew. All engine parameters were normal and air turn back carried out with no further issues. Bird strike inspection carried out and confirmed debris entered in the Engine No. 1 and No. 2 core. Nil damage evident. Boroscope inspection subsequently carried out on both engines. Condition satisfactory nil damage noted. P/No: CFM567B26E. TSN: 6428 hours/2859 cycles.
GE CFM567B2 engine (turbine/turboprop)—turbine engine worn. SDR 510021855
Flakes of aluminium found in AGB/TGB chip detector. Material is from No. 3 BRG horizontal or radial bevel gear shim. Shim to be replaced at next shop visit.
GE CFM567B2 fuel controlling system—DEU suspect faulty. SDR 510021693
On take-off thru 3000ft, engine No. 1 caution alert lights START VALVE OPEN, OIL FILTER BYPASS and LOW OIL PRESSURE blinked momentarily on the primary engine display for three to four seconds. Air turn back conducted and flight concluded with no further indications. P/No: 4081600940. TSN: 12249 hours/4820 cycles.
GE CFM567B2 turbine engine air inlet section—fairing partially separated. SDR 510021547
During daily inspection, engine No. 2 Fan frame strut fairing No. 4 found with a hole. Material separated causing damage to thrust reverser blocker door sleeve No. 3. No damage found to RH engine surrounding airframe. Fairing replaced and thrust reverser removed (MEL applied). P/No: 340066908. TSN: 14608 hours/8983 cycles.
GE CT79B Engine (turbine/turboprop)—turboprop engine unserviceable. SDR 510021512
Right engine bird strike. Bird debris in the inlet of RH engine and 1 bent stage 1 compressor blade found.P/No: CT79B. TSN: 32733 hours/35671 cycles
GE GENX1B turbine engine oil system—filler cap open. SDR 510021495
After departure, flight crew reported oil drop in engine No. 2. On arrival, oil cap found hanging via lanyard. P/No: 2349M62G01.
IAE V2527A5 fuel control/reciprocating engines—probe faulty. SDR 510021789
Engine No. 2 EPR mode fault on climb passing FL150. Troubleshooting carried out including engine run. Found P2T2 sensor fault. Wiring checks showed heating element of P2T2 sensor open circuit. P2T2 sensor replaced and test satisfactory. P/No: 0154JU.
IAE V2533A5 engine (turbine/turboprop)—duct loose. SDR 510021802
On take-off for a ferry flight, multiple ECAM messages: FADEC ALTN ECAM; OIL PRESS IND XX; – TREV UNLOCK ECAM. Just prior to in-flight shutdown, all engine indications lost. Crew commanded No. 2 engine shut down. V-Band clamp found adrift from pneumatic starter ducting, just above the EEC, causing extensive heat damage to the fan cowl.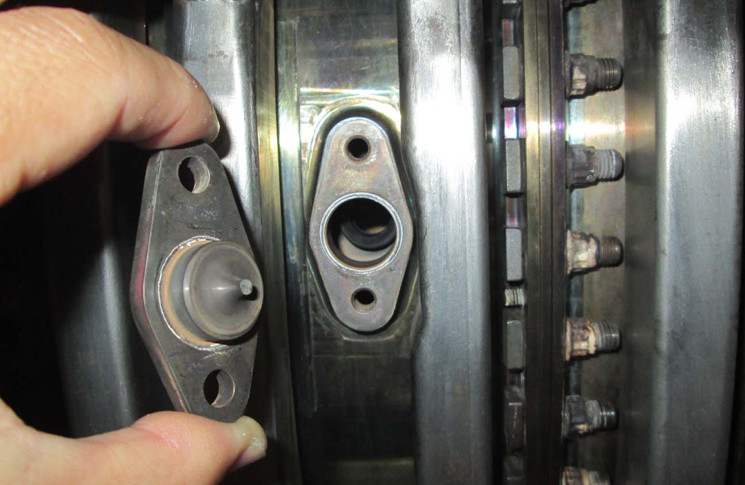 IAE V2533A5 engine (turbine/turboprop)—plug broken. SDR 510021790 (photo above)
During open up for engine HPT blade BSI, the BSI plug T1/2L inner plug was found broken off and detached from the external cover. The broken inner plug was located and retrieved from the turbine casing inter layer cavity. No obvious damage was found on the turbine casing. A new plug assembly was installed after the completion of the BSI inspection. P/No: 2A2351.
PWA PT6A42 engine fuel distribution—fuel line cracked. SDR 510021840
Fuel line found cracked after power loss during engine ground runs. The fuel line is part of a fuel flow transmitter and it a short waisted pipe which does not leave any flexibility during installation. P/No: 3032010.
PWA PT6A42 turbine engine oil system—chip detector contaminated metal. SDR 510021716
Left engine RGB chip detector CAWS illuminated on descent. No other abnormal indications. Left engine RGB chip detector removed. A single hair like sliver found on chip detector poles. Oil retained for sampling. Debris retained for further investigation. RGB chip detector circuit operational checks satisfactory. RGB chip detector re-installed.
PWA PT6A60A engine fuel and control—cable suspect faulty. SDR 510021814
LH pitch lever could not be moved in cruise at altitude (FL 35 minus 35 degrees C). On descent normal operation resumed. Swaged cable end separated possibly allowing moisture into cable that froze at altitude. P/No: 1013890275. TSN: 6 hours
PWA PT6A67B turbine engine compressor section—compressor blade out of tolerance. SDR 510021767
The out of tolerance blades were discovered at the OEM facility. The reason for rejection was that radius c did not meet the required limit of .100 minimum for two blades. In addition, one of the blades is reported to have a dim n at .220″ which is .070″ over limit. P/No: 3040944. TSO: /6952 cycles.
PWA PW118A turbine engine air inlet section—control valve unserviceable. SDR 510021542
Smoke in cabin, RH pack turned off and smoke dissipated. Turbine inlet control valve (TIC) found faulty. P/No: 22148453.
PWA PW123D engine fuel and control—strut incorrect rigged. SDR 510021660
When applying take-off power, crew noticed asymmetric thrust. Investigation revealed L/H spring strut not under tension. Strut re-rigged and links adjusted.
PWA PW123D engine fuel pump—pump suspect faulty. SDR 510021661
Crew noticed lag from No. 1 engine. Suspect fuel pump. Investigation ongoing.
PWA PW150A engine (turbine/turboprop)—turbine engine failed. SDR 510021605
Shortly after reaching top of climb toilet smoke alarm heard by both flight crew and cabin crew. Crew conducted an air return. Aircraft landed normally. Borescope inspection of No. 2 engine revealed oil contamination of gaspath. No. 2 engine was removed. P/No: PW150A.
PWA PW150A turbine engine oil system—seal suspect faulty. SDR 510021635
Flight reported they were experiencing fumes in cabin while on climb. Fault was traced to the deterioration of No. 5 Bearing forward carbon seal.
Rolls Royce BR700715A130 turbine engine compressor section—compressor blade damaged. SDR 510021739
Following an ECTM alert, a boroscope inspection c/o found damage to HPC rotor blades at stage 4/5, (core engine) approximately x 6 blades.
Rolls Royce TAY62015 engine fuel distribution—fuel system suspect faulty. SDR 510021575
2000 kg fuel assembly noted between LH (low) and RH tanks. Indication was erratic. Investigation ongoing.
Rolls Royce TAY65015 engine fuel distribution—bypass valve unserviceable. SDR 510021610
Left hand collector tank jet pump supply filter/bypass valve assembly found contaminated. Investigation ongoing.
Rolls Royce TAY65015 engine (turbine/turboprop)—turbine engine suspect faulty. SDR 510021775
On take-off, right engine TGT spiked and EPR did not change. Thrust levers were retarded and take-off was aborted. Returned to the bay.
Rolls Royce TAY65015 turbine engine oil system—pump failed. SDR 510021525
No. 2 engine and No. 2 hydraulic system low pressure fault. Fault traced to failed inlet/outlet port cap. EDP replaced.
Rolls Royce TRENT772B60 compressor bleed control—actuator faulty. SDR 510021629
Flight crew reported ECAM Message ENG 1 CTL SYS FAULT during engine start. Due to previous history the Variable Status Vane (VSV) Actuator was replaced. Independent inspection and Engine Ground Run carried out satisfactory. Aircraft released to service. P/No: 1876MK3. TSN: 8365 hours/2144 cycles
Rolls Royce TRENT772B60 fuel controlling system—EEC failed. SDR 510021848
Crew reported engine No. 1 LP shaft protection loss on landing. EEC replaced. P/No: EEC201002BX. TSN: 1889 hours/494 cycles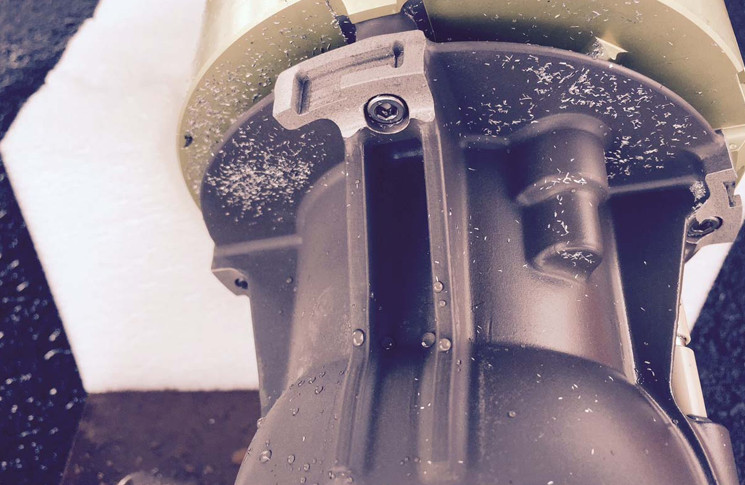 Rolls Royce TRENT97284 engine fuel pump—pump failed. SDR 510021751 (photo above)
Left mid aft fuel transfer pump failed in flight.
Rolls Royce TRENT97284 turbine engine oil system—turbine engine leaking. SDR 510021714
Oil smell in cabin, traced to No. 1 engine. Investigation ongoing. P/No: TRENT97284. TSN: 1300 hours TSO: 721 hours
Turbomeca ARRIEL1B turbine engine oil system—pipe cracked. SDR 510021593
The aircraft was undergoing routine inspection. As part of the inspection the engineer was checking (wriggling) lines and fittings when the lower right oil cooler connection pipe fractured. Limited visual inspection revealed the lower half of pipe was partially squashed (approx. 10 % of pipe diameter). It is not possible to determine how the pipe was squashed. There is also some minor surface pitting corrosion on the pipe where the outer rubber pipe goes over it. P/No: 350A53108400. TSN: 6733 hours.
Turbomeca ARRIEL1C engine (turbine/turboprop)—turbine engine seized. SDR 510021682
Engine locking up at start up. This occurred also on May 4 this year and after following manufacturers inspections the cause appeared to cause from possible carbon or contamination of the labyrinth seals. P/No: 70BM035620. TSO: 2254 hours/4076 cycles.
Turbomeca MAKILA2A engine bleed air system—bleed valve failed to open. SDR 510021561
No. 2 engine bleed valved failed in the closed position. P/No: 9550007400. TSN: 462 hours. NO-CLASSIFICATION
Airbus A330-243 powerplant system—turbine engine faulty. SDR 510021787
Engine No. 1 CTL SYS fault on start, subsequent start was successful. P/No: TRENT772B6016. TSN: 8517 hours/2183 cycles
Airbus A330-243 powerplant system—turbine engine rough running. SDR 510021785
During climb crew noted VIB N1=1.2 and oil pressure fluctuating between 58-100psi. Fan trim balance carried out using inflight data collection. P/No: TRENT772B6016. TSN: 6802 hours/1739 cycles
Cessna 210 engine starting system—alternator loose. SDR 510021484
Alternator failure during flight with associated electrical burning smell. Faulty alternator found with a loose post. Alternator replaced and aircraft tested serviceable. P/No: DOFF10300BR. TSO: 176 hours/156 landings/4 months.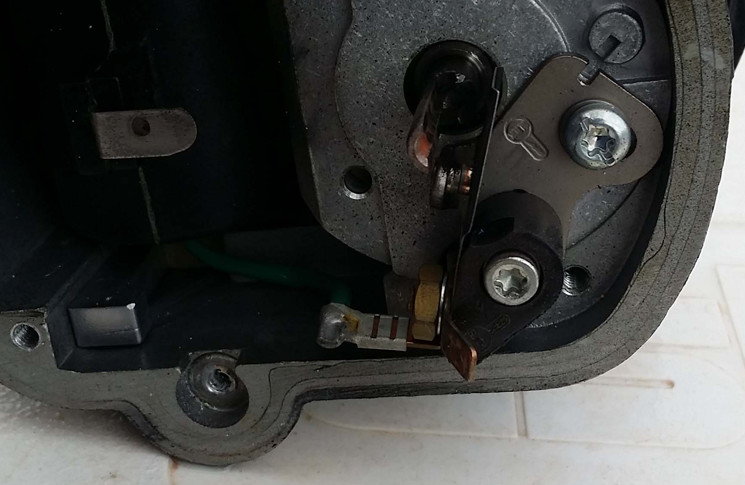 Magneto/distributor—shaft unserviceable. SDR 510021654 (photo above)
Magneto rotor shaft fractured under gear. P/No: M3548. TSN: 1096 hours/60 months
Manufacturer unknown—unknown model window/windshield system—canopy separated. SDR 510021755
Plexiglass canopy detached from frame during winch launch and shattered against tailplane. Adhesive was still firmly attached to frame but almost nil on plexiglass. The adhesive (black) looked severely aged. This was the original canopy from the factory.
Pilatus PC12 reciprocating engine wiring—relay overheated. SDR 510021764
Excessive AMPS displayed on E.I.S. & slow batt2 charge time on overhead panel. Output terminal on relay visually overheated. Repaired by replacement of relay. P/No: 9740926112.
Piper PA28181 reciprocating engine wiring—sensor faulty. SDR 510021727
During cruise, the oil pressure was noted to be on the upper redline. Oil pressure transducer was found to be at fault. Replaced with new transducer and engine run c/o, nil faults, oil pressure indications normal. P/No: 486440. TSN: 1390 hours