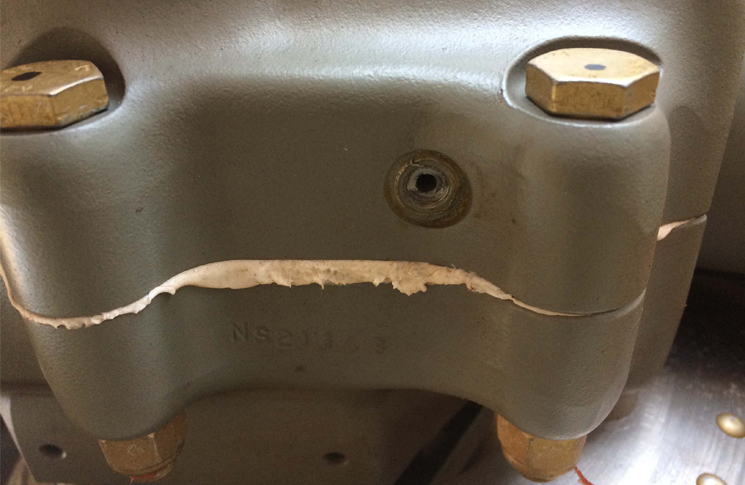 Hartzell HCC2YR1 Propeller hub section—grease nipple jammed. SDR 510022206 (photo above)
On the first 200 hour inspection since engine and prop change, the engineer wanted to grease the propeller. Upon attempting to remove a grease nipple on the hub as instructed in the Hartzell owner manual 115N, the nipple was so tight that it snapped off. Multiple attempts with various different tools to remove the remaining part of the nipple were futile. On the other side of the hub, exactly the same thing happened. This is the first time the propeller required greasing IAW the applicable AMP, so the propeller came out of the factory with the fault.
Hartzell HCM2YR2 Propeller assembly—spring incorrect part. SDR 510021958
During a tear-down inspection to inspect for metal contamination, it was found that the propeller had been assembled using obsolete parts. Manual 117D Rev 16 stipulates that the spring assembly is to be up-graded to the latest configuration by replacing the old style plate and fly-weight latches. During a more thorough detailed inspection it was found that a large number of mandatory parts as set out in the CMM had not been replaced and old parts used. P/No: B15892.
Propeller controlling system—control valve faulty. SDR 510022245
During final approach, flight crew reported engine No. 2 only achieving 90 per cent of NP when 100 per cent override was selected. Engine No. 1 achieved 100 per cent NP. High power run carried out confirmed NP and TQ split at the same power. Troubleshooting isolated defect to the engine No. 2 Propeller Valve Module (PVM). PVM replaced and tested satisfactory. P/No: C1464402. TSN: 5958 hours/5721 cycles.
Rotol R3894123F Propeller blade section—propeller blade unserviceable. SDR 510022159
Propeller removed from aircraft due to excessive tip movement as identified by operator. Investigation results:
Propeller disassembled and inspected.
Butt of blade No. 3 found to have crack running from bearing flange in a spiral direction toward the blade tip end.
This is a known failure mode of this type of blade.
In the past the OEM has advised to remove the blade from service. No further action was advised in the past. P/No: 66071328810. TSO: 4673 hours.
Rotol R3904123F27 Propeller hub section— propeller hub unserviceable. SDR 510022046
During the scheduled NDT inspection of the hub as per AD/PR/33 the hub was found to be cracked. The propeller has been removed for modification IAW Dowty SB 61-105. P/No: 660714255. TSN: 1418 hours/1560 cycles/16 months TSO: 2997 hours/3350 cycles/30 months.