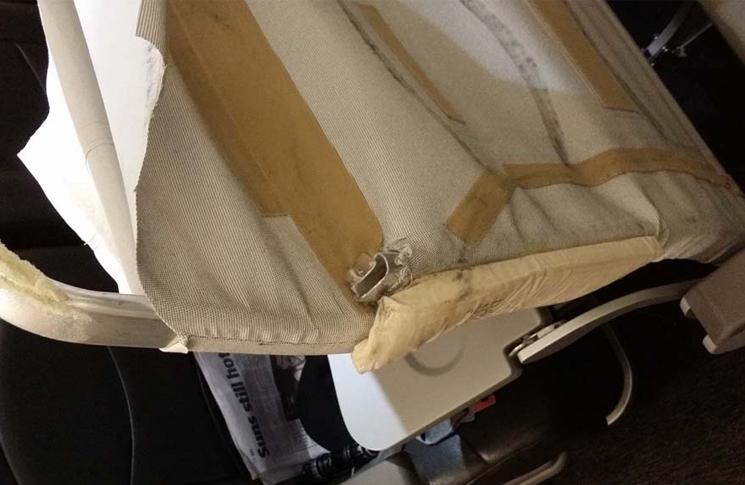 Airbus A320-232 Seat/cargo attach fittings—seat frame sheared. SDR 510022182 (photo above)
Seat back frame at seat 29C found sheared. P/No: 67341345.
Airbus A330-243 Hydraulic power accumulator main—check valve rotated. SDR 510021884
During scheduled inspection of the high-pressure manifold check valves IAW EASA AD 2015-0009, signs of rotation found in the green, blue and yellow hydraulic system check valves. Three similar defects reported. P/No: CAR401.
Airbus A330-243 Passenger oxygen system—oxygen mask failed to deploy. SDR 510022045
During functional check of the passenger oxygen masks, the oxygen mask boxes at locations 32HK, 34HK, 36HK, 38HK and 40HK failed to drop. Troubleshooting traced failure to wire 3523 5309 CF12 not correctly installed in the terminal block 5337VY block 2 pin H. The wire was inserted enough to achieve the appropriate voltages at each of the oxygen panel solenoids; however, it was not engaged enough to satisfy the current requirements to actuate these solenoids.
Airbus A330-303 Oxygen system—oxygen module faulty. SDR 510022062
Mid-galley oxygen module securing tabs taped to door which would have prevented the door from opening during an emergency. Module had been fitted since aircraft was received. P/No: 32C150342020005SNARTK0677.
BAC 146-300 Fuselage structure—door frame cracked. SDR 510022197
High frequency eddy current of frame 41 below floor carried out. In compliance with AD/BAE 146/116—Fuselage Door Frames. Cracking evident to frame 41 inner flange adjacent to stringers 31-32R. Frame 41 repaired.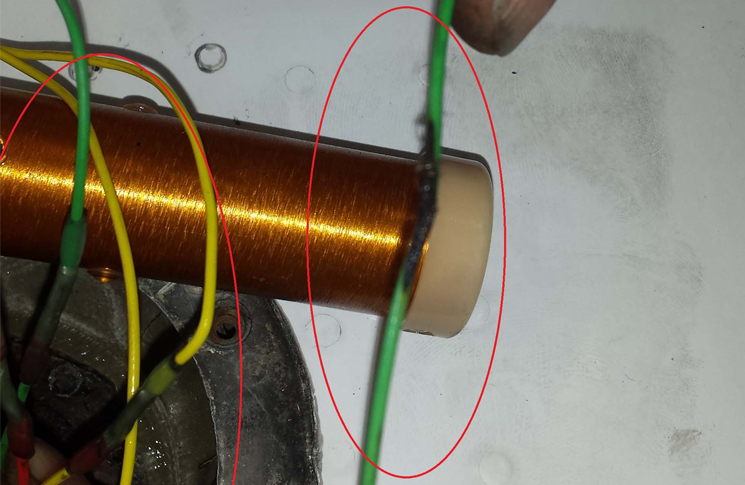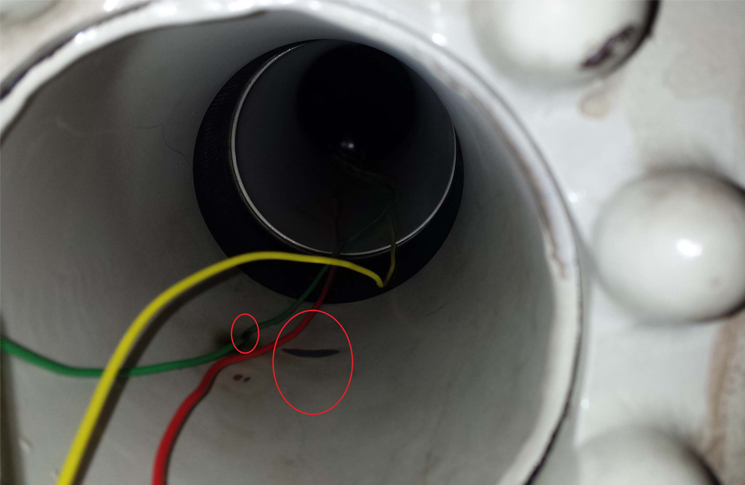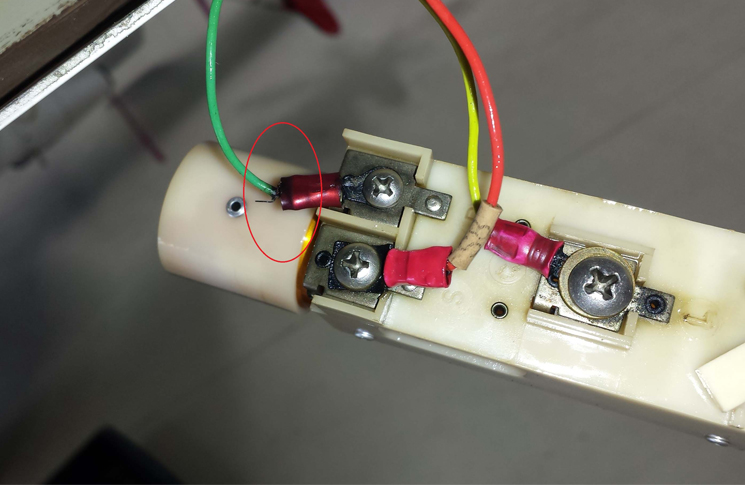 Beech 1900C Fuel wiring—wiring arced. SDR 510022241 (photos above)
During trouble shooting of fuel quantity indication, several wires arcing and chafing on R/H wing. L/H wing to be investigated.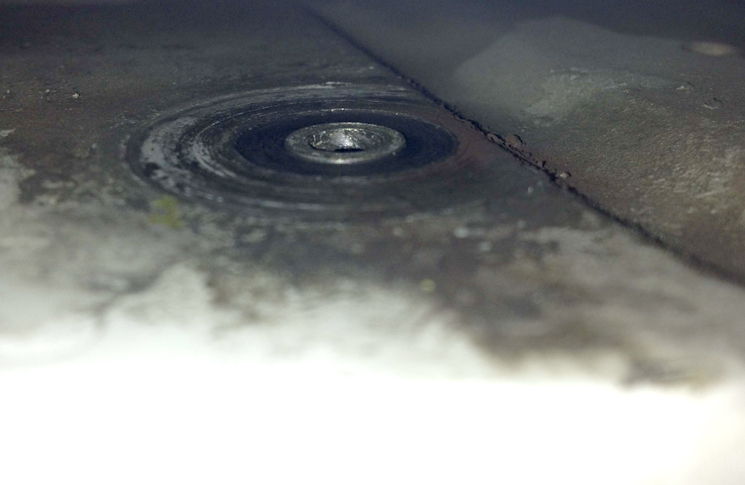 Beech 300 Wing control surfaces—flap system worn. SDR 510021907 (photo above)
While aircraft undergoing repaint, flaps removed for access. On inspection of flaps inboard hinge hanger ribs found to have wear caused by bearings rubbing on rib. Bearings found to be stiff and not rolling easily. P/No: 1011600011731. TSN: 9988 hours/6116 cycles/276 months.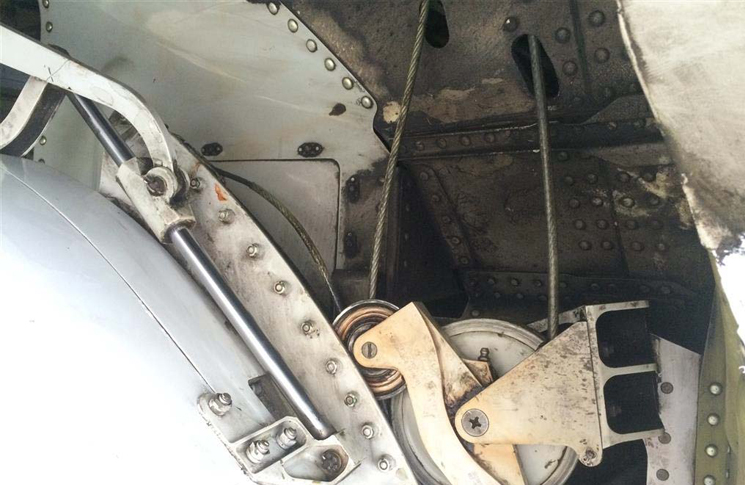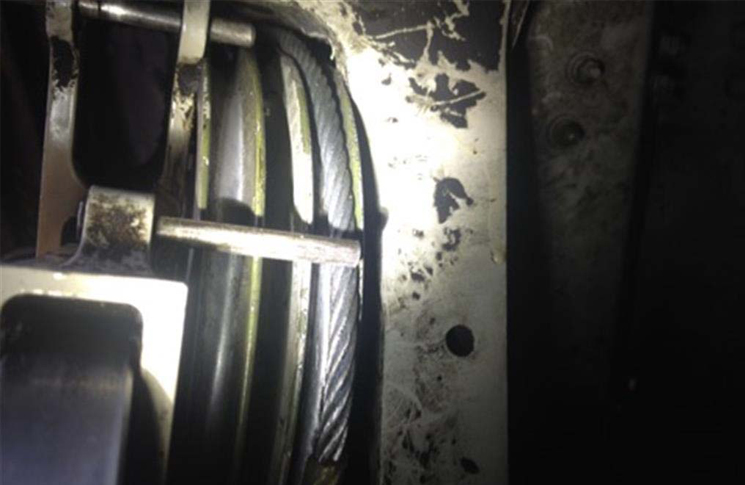 Boeing 717-200 Trailing edge flap control system—pulley incorrect assembly. SDR 510022120 (photos above)
During a daily inspection, the L/HS trailing edge flap buss cable was discovered dislodged from the pulley. The cable was found to have migrated into a gap positioned between the two pulleys. This gap appeared excessive and the assembly was removed from the aircraft for further investigation. It was discovered that the twin pulley assembly had been assembled incorrectly, with the twin pulleys oriented 180 degrees out, accounting for the excessive gap. P/No: 39228391. TSN: 31352 hours/21162 cycles.
Boeing 717-200 Wing structure—spoiler delaminated. SDR 510022071
After a report of noise during flap extension, a check of the area found that the L/H outboard wing spoiler assembly was delaminated to approximately 50 per cent of its lower surface. P/No: 59409741.
Boeing 737-8FE Autopilot system—pressure switch suspect faulty. SDR 510022083
Flight crew reported Autopilot A could not be selected and Autopilot B connected then disengaged after five seconds. Troubleshooting concluded possible failure of the hydraulic pressure switch S774. Switch replaced and tested satisfactory. BITE test carried out satisfactory. No reccurrences to date. P/No: 211C223527. TSN: 51 hours/33 cycles.
Boeing 737-8FE Brake anti-skid section—brake lining dislodged. SDR 510022209
Flight crew reported wheel assembly No. 3 dragging during pushback. Aircraft returned to the gate. Inspection carried out; confirmed brake assembly No.3 to have brake material dislodged. Brake assembly replaced, condition satisfactory. P/No: 26123121. TSN: 17390 hours/6423 cycles.
Boeing 737-8FE Detection system—switch faulty. SDR 510022244
Flight crew reported that the F/O's fire-warning annunciator light would not cancel the fire bell. Defect confirmed and the F/O's fire-warning annunciator switch was replaced and tested satisfactorily. P/No: 0881031107.
Boeing 737-8FE Pneumatic distribution system—pre-cooler failed. SDR 510022110
Duct split noted of up to 16 PSI during climb from 22,000 ft to top of climb at 33,000 ft. L/H system indication of 43 psi and right hand system indication of 27 psi. System health monitoring prompted a preventative replacement of pre-cooler control valve, which was replaced and tested satisfactory. P/No: 32895626. TSN: 443 hours/205 cycles.
Boeing 737-8FE Smoke detection system—harness chafing. SDR 510022009
During maintenance, chafing damage was found on the engine No. 2 fire detector harness MW0326. Damage located in the harness outer braid along the top core area to the inboard fire detector terminal. One similar defect reported. P/No: 3404069010.
Boeing 737-8FE Trailing edge flap control system—flap system faulty. SDR 510022085
On approach, flight crew reported flaps stopped moving at approximately 27 and 28 degrees after selecting 40 degrees. Go around conducted, checklist completed and flight concluded with no further issues. Fault isolation carried out in accordance with FIM 27-51 Task 823 with satisfactory results. BITE test carried out with fault codes 27-53279, 27-53280 recorded but nil active faults. Flaps operation tested normal.
Boeing 747-438 Escape slide—slide failed test. SDR 510022047
During air retention test of evacuation slide (747 door 2), the upper tube (right hand side) was found to have numerous pinholes located along the seam tape. P/No: 7A147914SNG692.
Bombardier DHC8-315 Brake anti-skid section—hose worn. SDR 510022126
Crew reported No. 2 hydraulic system pressure loss on aircraft pushback. Hydraulic fluid loss traced to No. 3 brake unit supply flex hose. Brake hose replaced, leak check and brake system bled, No. 2 hydraulic system replenished and aircraft returned to service. P/No: DSC252A40272. TSN: 13126 hours TSO: 12972 hours.
Bombardier DHC8-315 Emergency equipment system—oxygen bottle locked. SDR 510022151
Portable O2 bottle in cabin found lockwired in closed position. Regulator pulsed when tested. Bottle replaced with serviceable unit. P/No: 90070003702. TSO: 524 hours/86 cycles/4 months.
Bombardier DHC8-315 Landing gear brake system—transducer faulty. SDR 510021936
On landing, crew reported unusual braking required. Inspection after excessive braking carried out and found right hand O/B brake wheel speed transducer hard to turn and hubcap tangs for anti-skid transducer broken. Inspection found signs of overheated brakes. P/No: 1400571.
Cessna 650 Wing plates/skin—skin corroded. SDR 510021932
During maintenance, corrosion damage found on the R/H skin, part of the R/H skin bond assembly under the GPS antenna base at FS 167.5, RBL 4.25. Repairs and NDT inspections carried out IAW manufacturers data. P/No: 62111206. TSN: 7517 hours/6691 cycles/6691 landings/264 months.
Embraer EMB-120 Landing gear door retract section—roller misaligned. SDR 510022248
Left main landing gear system A and B lights illuminated RED with gear lever selected up. L/H main gear uplock roller target rigging check carried out. Adjusted to correct setting and gear swings carried out. Tested satisfactory.
Embraer ERJ-190-100 Emergency equipment system—escape rope disconnected. SDR 510022017
Flight crew reported escape rope cover fell off in turbulence. Upon investigation it was noticed that the escape rope was not secured to the airframe. The attachment hardware was noted missing. R/H escape rope was found in the same condition. P/No: 17013162403.
Embraer ERJ-190-100 Fuselage floor beam—floor beam corroded. SDR 510021977
During heavy maintenance aft cabin floor 'wet' area found corrosion on longitudinal beam upper chord between Fr 86-87. RBL 12. Several similar defects found. P/No: 17065669004.
Fokker F28 MK0100 Cabin systems—housing burnt. SDR 510022095
While passengers were disembarking, the cabin crew identified that both the forward and aft flight attendant call lights were flashing, and the oven chimes were ringing. At the same time they identified an electrical burning smell in the mid-cabin. Investigation identified significant burning/arcing damage and melting of the passenger row 13 AB PSU and its associated connectors, and damage from burning to the adjacent air-conditioning ducting. During detailed visual inspection to ensure the incorporation of AD/F100/79 and adequate prevention of moisture ingress, insufficient application of sealant was identified in various locations on all PSUs. Specific inspection of the PSU airframe wiring loom connectors, via backlighting of the connector identified insufficient sealing, with the majority of the connectors requiring the further application of sealant.
Fokker F28 MK0100 Cabin systems—seat incorrect assembly. SDR 510021916
Cabin crew discovered that the armrests of passenger seats 12AB and 12EFG were partially blocking the emergency exits. Investigation by engineering staff identified that the seats had been installed two inches forward on the left hand side, and one inch forward on the right hand side. Resultantly, the seat positions were adjusted, along with rows 13 to 20.
Fokker F28 MK0100 Fuel boost pump—plug worn. SDR 510022224
While carrying out AWB 28-014, fuel boost pump plugs found deteriorated. New plugs and O rings to be installed.
Fokker F28 MK0100 Fuel selector/shut-off valve—shutoff valve unserviceable. SDR 510021893
While carrying out an engine No. 1 fuel flow regulator (FFR) fuel bleed, engineering staff identified that the engine No. 1 fuel-fire shut-off valve (FFSOV) was not shutting off effectively when the left hand cockpit fire handle was pulled. Engineering staff subsequently replaced the FFSOV and actuator, further operational and leak checks were carried out without fault, and the system was declared serviceable.
Fokker F28 MK0100 Seat/cargo attach fittings—seat incorrect fit. SDR 510022237
During pre-flight inspection, the crew of identified that the passenger seat pitch for the left hand side row 11 assembly was significantly less than the other rows. Inspection identified that the left hand side passenger seat pitch of rows No. 10 and 11 were incorrect, and resultantly impeding the over-wing emergency exit. Subsequently the left hand side row No. 11 passenger seat assembly was adjusted as required, and declared serviceable.
Fokker F28 MK070 Wing spar—spar corroded. SDR 510022234
During scheduled inspection in accordance with AD 2015-0113 corrosion identified at four locations on the rear surface of the right hand wing rear spar between wing station (WSTA) 9270 and 9910, and one location between WSTA 10550 and 11190.Subsequently engineering staff removed the corrosion, and blended the areas as required, with the removed material then measured via non-destructive testing (NDT), and found to be within SB limitations. The surface protection of the affected areas was restored, and the areas were declared serviceable.