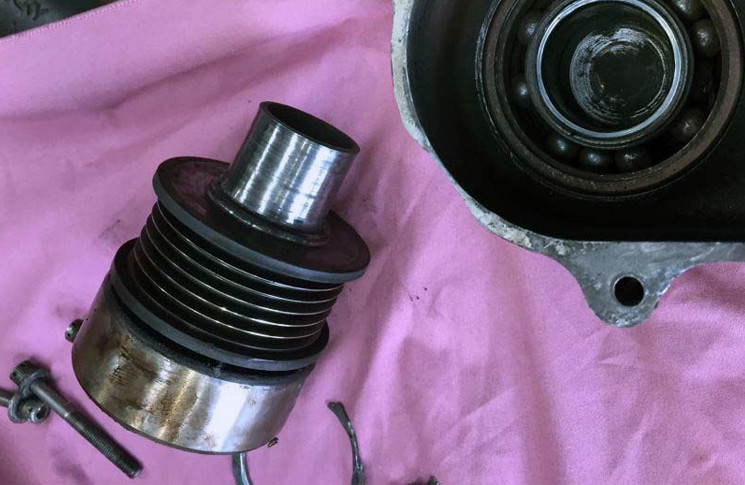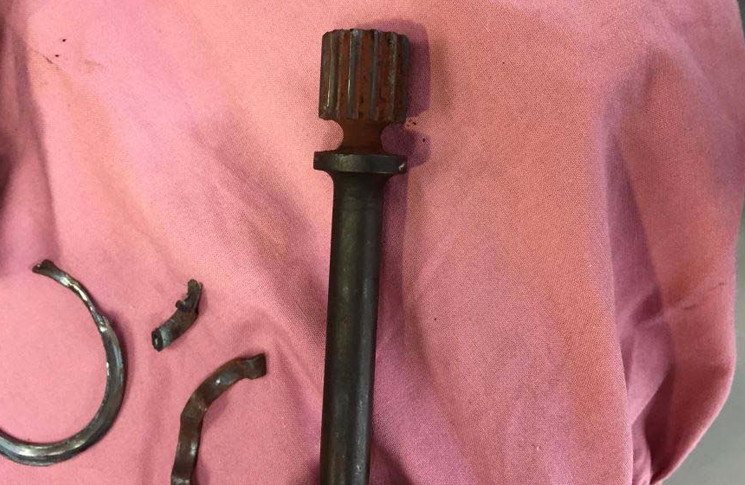 Beech B200C air conditioning system—bearing unserviceable. SDR 510022529 (photo above)

Pilot reported aircon U/S. Engineer found pulley drive assembly U/S due to collapsed bearing caused by lack of lubrication. Pulley, quick shaft and bearing replaced. Assembly cleaned; checked serviceable after replacement. P/No: 1179100593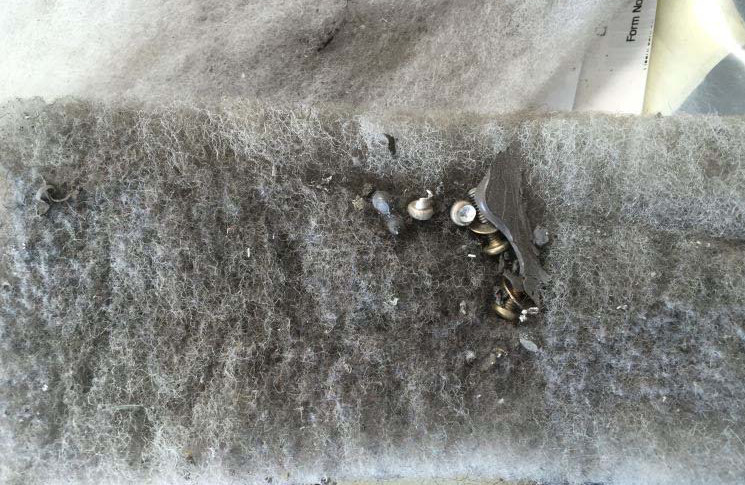 Beech B200C air conditioning system—filter contaminated metal. SDR 510022532 (photo above)

FWD aircon blower accessed to check brushes, numerous metallic debris found in filter.
Filter replaced. P/No: 1015553090005
Beech B200C passenger/crew doors—roller unserviceable. SDR 510022530
During scheduled inspection pin guide found loose in bottom of door. Assembly replaced with new part. P/No: 5043001811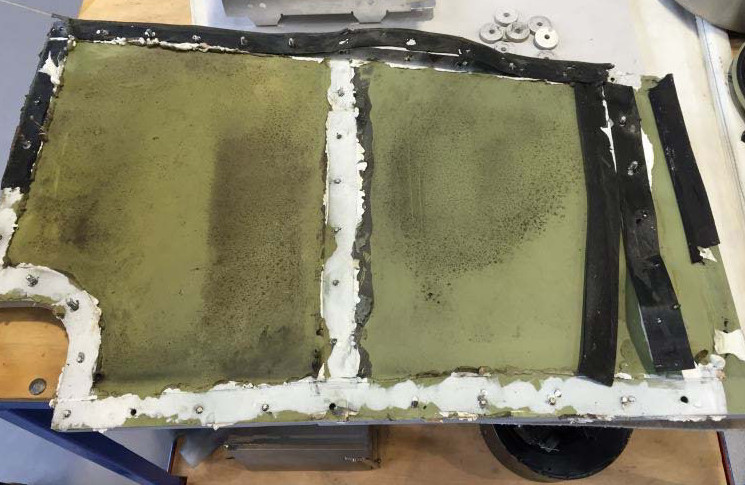 Beech B200C service doors—seal missing. SDR 510022531 (photo above)
Panel removed to access FWD aircon blower fan assembly. Seal on panel underside missing. Seal replaced with new item. P/No: 10141006425.
Beech B350 toilet station equipment system—bracket corroded. SDR 510022528
Toilet seat bracket found severely corroded during scheduled inspection. It appears that corrosion has begun where the part was in direct contact with cabin trim which seems to have some chemical property that causes this issue. P/No: 1305301451
Britten Norman BN2B20 engine controls—split pin damaged. SDR 510022317
During conduct of AD/BN2/69 as per Britten Norman SB 272 the retaining split was found damaged. The split pin was subsequently replaced IAW Britten Norman SB 272. P/No: SP90C6
Cessna 150L fuselage stabiliser attach fittings—spar cracked. SDR 510022430
During eddy current inspection cracks approximately 3/4 inch long were detected in upper doubler bend radius adjacent to the vertical fin bolt holes. Doubler was removed and further examination of the spars P/No 0432001-56 both left and right revealed cracks approx. 1.5 to 2 inches long in the bend radius forward of the vertical fin attach holes. Both spars and doubler will be replaced with new parts before further flight. P/No: 043200115
Cessna 172M trailing edge flap control system—cable frayed. SDR 510022395
Elevator trim cable found 75% broken during SIDs inspection. P/No: 051010544. TSN: 5765 hours
Cessna 172N fuselage wing attach fittings—bolt corroded. SDR 510022332
While removing rear attach fittings the attachment bolts were found corroded. No further damage observed. P/No: AN320A. TSN: 4388 hours
Cessna 172R wing attach fittings—spar channel faulty manufact. SDR 510022523
Upon removal of the wing strut attach bolt it was found that a bush had been previously fitted to repair an oversize bolthole. The bush was destroyed upon removal of the bolt—it was manufactured from aluminium and presumably closed on the bolt thread when tightened up, causing it to be damaged on bolt removal. P/No: 052301413. TSN: 7336 hours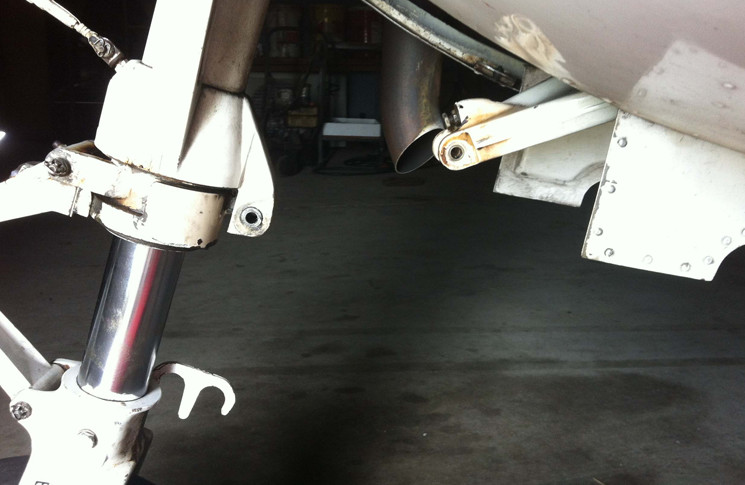 Cessna 177RG nose/tail landing gear—bolt broken. SDR 510022400 (photo above)
During the inspection it was discovered that the nose-wheel front drag-brace bolt had failed and approximately half the bolt was missing. The remaining half was removed for inspection along with the pivot bolt (next bolt along aft of the nose wheel). MPI inspection revealed faults with the pivot bolt also, but it had not yet broken. Both bolts were replaced with new parts and the aircraft returned to service.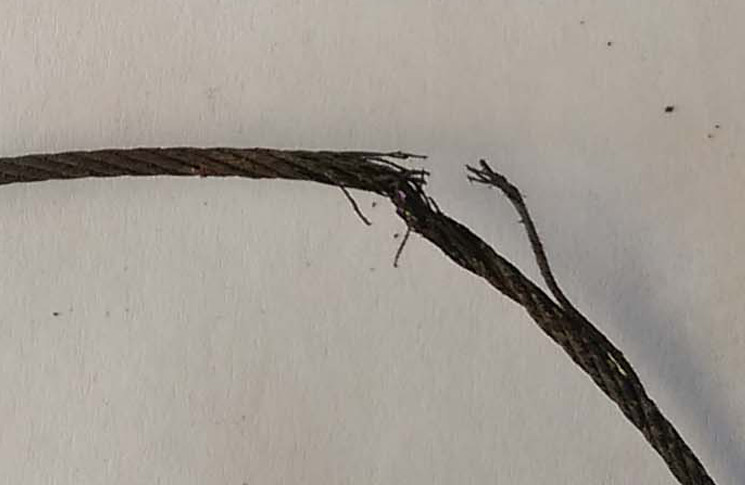 Cessna 182P elevator tab control system—cable broken. SDR 510022394 (photo above)
Elevator trim cable found 90 per cent broken during SIDs inspection. P/No: 051010187. TSN: 4786 hours
Cessna 208B fuselage structure—channel corroded. SDR 510022296
During the installation of an avionics upgrade corrosion was found at the junction of FS246.813 and the channel assembly FWD RH part no 2611017-12. P/No: 261101712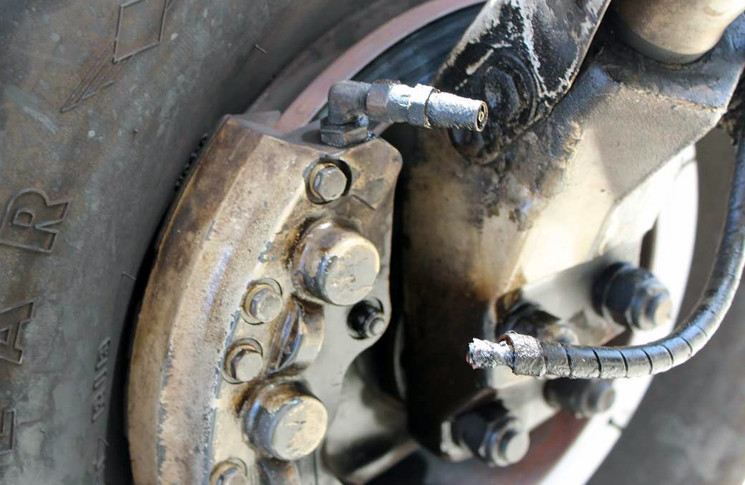 Cessna 208B landing gear brake system—line failed. SDR 510022467 (photo above)

The RH MLG brake line running from the fuselage to the brake calliper came away from the swage terminal at the calliper connection. The aircraft was taxiing at the time of failure and which caused the pilot to lose control of the aircraft resulting in a collision with another stationary aircraft. The flexible brake line being completely unserviceable is to be replaced with a new assembly. The pilot completed the daily inspection for that day, would not have been aware that the line was close to failure if it was still located within the swage terminal and without physically trying to pull the line from the swage terminal, particularly if there was no hydraulic fluid present. P/No: 264102717. TSN: 60 hours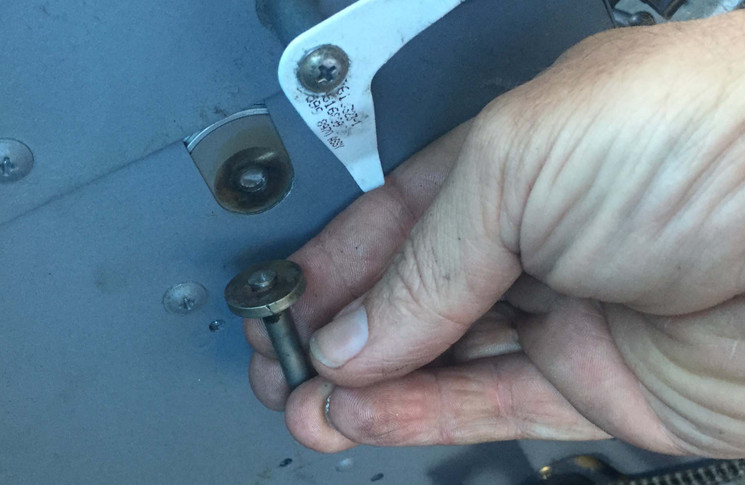 Cessna 208 control column section—control mechanism unserviceable. SDR 510022489 (photo above)
Pilot reported during taxi for take-off, while the elevator trim was being set, the cockpit elevator trim wheel became detached from the control pedestal. Engineering was dispatched to rectify the problem. On investigation it was determined that the shaft that holds the elevator trim wheel to the control pedestal had broken, causing the wheel to become detached and the elevator trim to become unserviceable. P/No: C2995140105. TSN: 4159 hours/14768 cycles
Cessna 208 elevator structure—torque tube corroded. SDR 510022521
During a planned preventative corrosion inspection the left and right elevators were removed to inspect the stab spar for corrosion and the trim actuators for condition. While the elevators were removed a general inspection of the elevators was performed which showed the left elevator torque tube cracked in the tube and a rivet head missing due to corrosion expansion. P/No: 263401783. TSN: 4166 hours/14801 landings
Cessna 208 fuselage wing attach fittings—fitting corroded. SDR 510022358
During a 100 hourly inspection, corrosion was found to be emanating from under the steel washer, under the head of the LH wing, aft attach fitting and bolt. The bolt was removed and damage measured. This information was supplied to a Part 21 organisation where a repair scheme for continued operation was issued and carried out. P/No: 26132161. TSN: 3374 hours/13473 cycles
Cessna 210M fuselage stabiliser attach fittings—hinge cracked. SDR 510022469
When the stabilator brackets were removed for examination a crack approx. 3/4 inch long was discovered in the fillet radius of one fitting and the other had a small corrosion pocket—both fittings were renewed. P/No: 1232400112324002. TSN: 11415 hours
Cessna 310J wing attach fittings—fitting faulty. SDR 510022470
During SIDs inspection, the rear attach plates were removed for eddy current inspection. It was discovered that during removal of adjacent rivets sometime in the past the drill had continued up into this fitting which is approx. 1/4 inch above the rivet tail. The fitting was not cracked but was replaced with a new part. P/No: 08113102
Gippsland Aeronautics GA8 fuselage structure—rib cracked. SDR 510022492
Aircraft had Mandatory Service Bulletin SB-GA8-2013-99 incorporated in 2013. Operator has recently discovered a new crack growing from the region blended under the SB. P/No: GA853202337
Grob G115C2 electrical power system—circuit breaker unserviceable. SDR 510022513
During the investigation of a transponder failure, it was noticed that the CBs servicing the following circuits: essential bus (30 amp), main bus (30 amp), generator bus (30 amp), avionics bus (20 amp) were all unserviceable. P/No: GS24000130ANDGS24000120. TSN: 10789 hours
Gulfstream 690A detection system—fire warning system false indication. SDR 510022522
During cruise the pilot observed a fire warning light illuminated for the R/H engine. No evidence could be seen of an actual fire. During landing the light extinguished and remained extinguished. Lamp cable found shorted causing intermittent fire light. Cable repaired.
Piper PA28140 aircraft fuel system—fuel system dirty. SDR 510022264
Aircraft ran rough in the circuit. Wouldn't run properly at partial throttle. Circuit cut short and a/c landed. On roll out engine stopped. Carburettor found to be flooding. Upon inspection carb was found to be contaminated therefore sent away for complete pull down and clean. This revealed contamination throughout the carb. Fuel tanks investigated and found to be very dirty. Tanks removed and cleaned. Fuel system cleaned.
Piper PA28180 wing spar—spar cracked and corroded. SDR 510022305
Bulging and cracking of the front face of the aluminium alloy rear spar P/No 62054-000 dur corrosion between it and the steel aft spar plate P/No 66762-000 as per AD/PA28/40A2.
P/No: 62054000. TSN: /504 months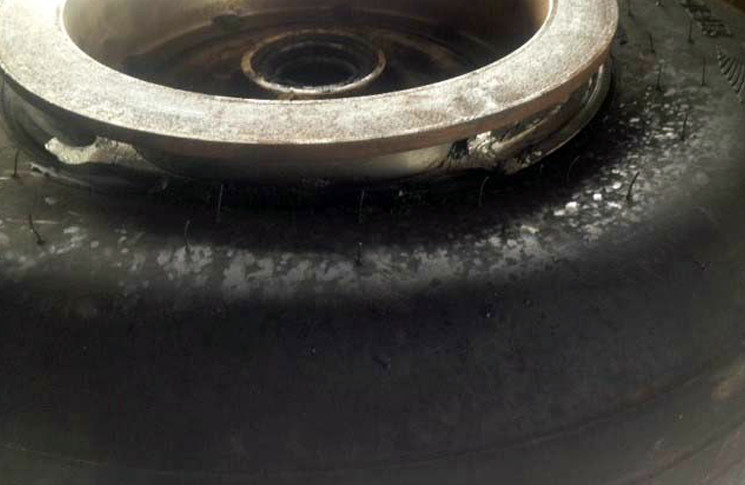 Piper PA31350 wheel—wheel fractured. SDR 510022464 (photo above)

Pilot reported to make a normal landing, during the landing roll once the brakes were applied the L/H main wheel assembly suffered a wheel lock up. Inspection found a failure of the L/H MLG wheel half. The failure resulted in a portion of the bead fracturing and becoming lodged between the brake calliper and wheel assembly. Following disassembly and further inspection the fracture had appeared to develop over a short time discernible by the ageing of the initial fracture. P/No: 16119.
Piper PA32300 stabiliser control system—terminal damaged. SDR 510022429 (photo above)

While carrying out a periodic inspection, strange marks were found on the swaged cable fittings on the aft stabilator cables, cables were replaced as this is similar to the issues expressed in FAA AD 2013-02-13. P/No: 62701012AND62701013.
Piper PA44180 fuselage structure—skin cracked. SDR 510022545
During a routine 100 hourly inspection it was noted that the hydraulic pump assembly could be moved by hand with little force. An inspection found the structure that the pump attached to (fuselage skin) was cracked. It is an extremely difficult area to inspect even with a torch and mirror therefore pump assembly removal is required to be sure. To replace the skin would require the aft fuselage assembly to be dismantled considerably therefore a repair was designed and installed IAW an engineering order. Three similar defects reported.
P/No: 86480003. TSN: 9037 hours/14939 cycles
Piper PA44180 hydraulic power system—hydraulic line unserviceable. SDR 510022516
The pilot reported that the aircraft landing gear did not extend. The landing gear was extended manually and the aircraft landed as normal. The hydraulic line attached to the hydraulic pump showed evidence of leaking and was replaced with a serviceable line. The hydraulic line that was leaking was placed on our hydraulic test rig, was pressurised and the leak was confirmed. With the serviceable line fitted, the reservoir was serviced, retraction tests were carried out, the aircraft was deemed serviceable and was released to service. The reason the gear did not extend hydraulically was due to the reservoir being emptied of fluid due to the hydraulic line leak.
P/No: 83744139. TSN: 7003 hours
Swearingen SA227DC fuselage structure—fuselage cracked. SDR 510022327
During the compliance with AD 2014-15-01 a crack was found as per SB CC7-53-005 in the forward upper position of the forward passenger entry door. FS133.873 Stringer 4. This was the initial inspection per the AD. A repair will be carried out as per the AD and SB requirement. There were no visible indications of a crack or any pre-existing damage to this area.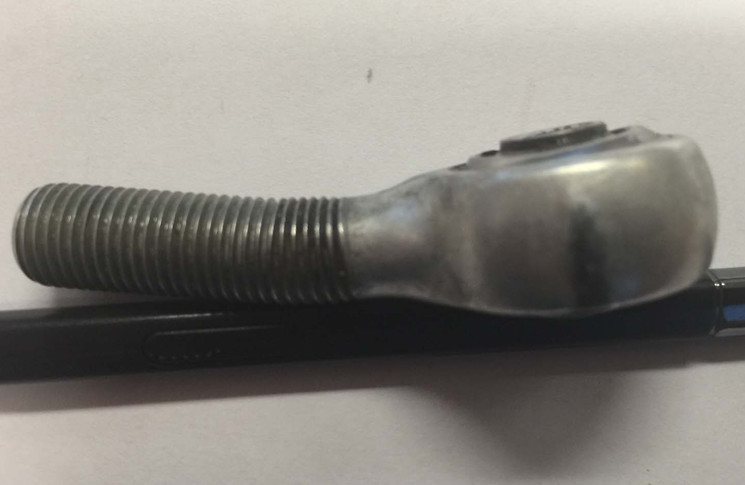 Swearingen SA227DC Rudder control system—rod end damaged. SDR 510022604 (photo above)
Pilot reported binding of rudder pedals during brake application with right rudder activated. Rod end on rudder pedal interconnect found bent. P/No: MS211518.