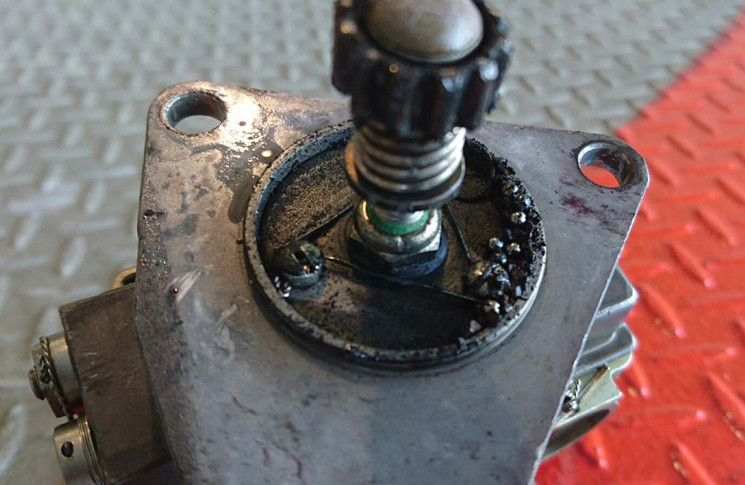 Allison 250C20 Engine fuel and control-governor failed. SDR 510022769 (photo above)
During take-off, the pilot noted a torque split of around 20%. Attempts to adjust the split were attempted but the split stayed the same and the NR was beginning to drop. Engineering inspected and found no issues with rigging, and a ground run had the same No. 2 N2 overspeed again. Subsequent change of the power turbine governor revealed a failure of the drive bearing. P/No: 23065123. TSO: 603 hours/9 months.
Engine fuel and control wiring—thrust lever blocked. SDR 510022680
During descent, the flight crew identified that the No. 2 engine thrust lever was only able to be moved a small distance. The crew disconnected the auto—throttle (AT) System, and the lever was freed. Engineering staff replaced the right hand AT servo mount for troubleshooting, carried out operational checks without fault, and declared the system serviceable.
GE CF680C2B6 Turbine engine turbine section—turbine disc worn and damaged. SDR 510022864
During engine shop visit, Low Pressure Turbine Stage 4 Disk revealed multiple wear marks around bolt holes at the aft face of the FWD mounting flange. Wear marks were found to be outside Engine Manual serviceable limits. P/No: 9373M54P04. TSN: 51872 hours TSO: 18754 hours.
GE GENX1B Turbine engine compressor section—turbine blade damaged. SDR 510022659
Enroute, crew noticed RH engine vibrations indicating 3.4 to 4.0 units during most of the flight during cruise. DET FIRE 2B 4B 5B 6B ENG R status messages showed on EICAS. Crew were aware of the indications but could not feel any vibrations. Due to the high N2 vibrations on No. 2 engine, GE issued CNR and requested boroscope of the combustion chamber. GE noted Delta fuel flow shift, a core speed shift and a change in EGT probe temperature profile. During initial boroscope of HPT, it was found that more than 50% of the HPT2 blades were damaged, along with fuel nozzle damage in the combustor and stage one turbine blade damage. Aircraft is undergoing an engine change.
PWA PW123D Engine bleed air system—bleed valve contaminated. SDR 510022700
Light blue smoke evident in cockpit post engine start after bleeds one and two were Selected ON with Recirculation FAN selected ON. Engines shut down—mild oil smell also evident. P2.5—P3 air switching valve 'piston ring' found corroded and Valve stuck in the P3 position. New Valve Kit 3045593 installed. P/No: 311221801. TSN: 625 hours/101 cycles.
PWA PW125B Engine (turbine/turboprop)—turboprop engine out of limits. SDR 510022749
Calculated torque for departure was 88.3%. On line up the left torque bug was showing slightly lower than the right. During take—off at the 60kt power check, left torque was indicating 85.8% (outside the —2% tolerance) and the take—off was rejected and aircraft returned to the bay.
PWC PW127M Turbine governor—plug contaminated—water. SDR 510022852
Erroneous torque indications, both analogue and digital were reported as a result of which an air return was initiated. Troubleshooting confirmed water contamination in the programming characterisation plug. EEC replaced with follow up tests satisfactory.
PWC PW207C Engine (turbine/turboprop)—bearing worn. SDR 510022692
In descent, the pilot noted a chip indication on No.2 engine. The pilot completed the landing and shutdown as soon as practical. Engine No. 2 chip plug found with ferrous metal particles (NON allowable debris, Category 2). Found to be excessive and in particular 2 x large particles. Oil sample sent for analysis. Results confirmed presence of bearing material M50 and 4340. Engine sent to PWC. P/No: 311436701. TSN: 767 hours.
Rolls Royce TAY65015 Engine fuel distribution—fuel line damaged. SDR 510022753
During scheduled maintenance, engineers noted deep wear damage to the fuel supply line at the RH wing to body location. The damaged area was isolated to a point adjacent to a tube fitting on the hydraulic control lift dumper line. Vibration can cause contact between the two lines resulting in the damage. The failure mode is wear due to impact damage. A damage report was submitted and the fuel supply line was replaced.
Rolls Royce TAY65015 Turbine engine air inlet section—cowling damaged. SDR 510022748
During External inspection a section (1/3) of the acoustic mesh on engine No. 2 was found to have detached and to have passed through the engine. P/No: 1159P411505.