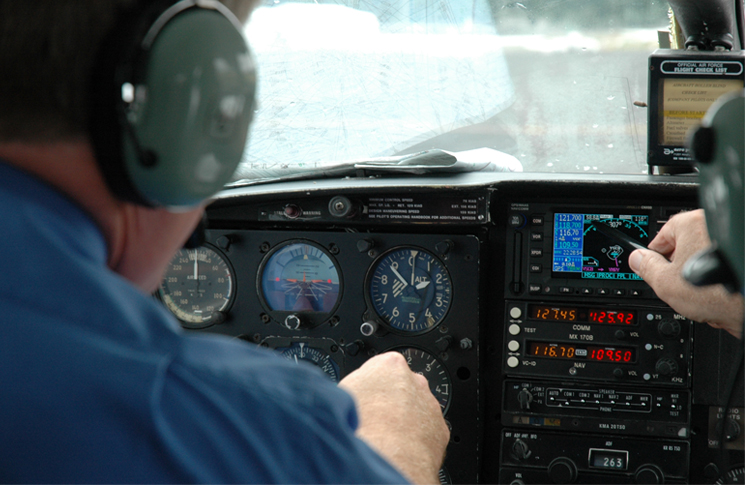 Air navigation in Australia has come a long way from the old days when pioneer aviators like Nancy-Bird Walton relied on sight, and smell, to navigate. On one of her flights, she once used the smell of a dead horse as a navigation aid as it was right on course to Cunnamulla, Queensland.
Today if you operate under instrument flight rules (IFR), the global navigation satellite system (GNSS) is your primary means of navigation, since 4 February 2016. As of 26 May this year, Airservices Australia will switch off 179 ground-based navigation aids around the country as part of the Navigation Rationalisation Project (NRP).
The ground-based navaids to be switched-off by the project are approaching end of operational life, therefore, the move to adopt GNSS as mandated by CASA was a key component to Australia's long-term strategy to address growth in aviation and the transition from route-based to area navigation.
Satellite technology has many benefits, which include a reduced requirement to use legacy ground-based aids for relative navigation or point-to-point tracking, while offering operational flexibility, reduced track miles, step-down and circling approaches, reduced fuel burn and flight times.
The Australia Strategic Air Traffic Management Group (ASTRA), which consists of a wide range of industry representative bodies and organisations, including airlines, airports, general aviation and, government agencies sports representative bodies, were involved in the formulation stages of the Backup Navigation Network (BNN).
ASTRA Council chair Bruce Gemmell explains that the group developed the list of navigation aids that would form the BNN, and which navigation aids would be subjected to industry consultation to be switched-off.
"Determining the BNN was a particularly difficult exercise for the diverse group of industry members that constitute ASTRA, and the fact we came up with an agreed set of navaids for is a tribute to the work of Airservices and the spirit of consideration and compromise within council," Gemmell says. "I think sometimes people forget the benefits to the aviation industry from this project."
The decommissioning of these navaids will be a cost saving to the aviation industry by not having to provide and maintain a vast array of geographically dispersed navigation aids, some of which date back to 1962.
"At the same time, advances in technology means that the industry has other means of navigation available, so it loses little from the transition and gains from reduced operating costs," Gemmell adds.
The Airservices NRP team has worked very hard to communicate with the diverse range of stakeholders in the aviation industry about the project. The team will continue to engage with industry as we near 26 May.
ASTRA is an aviation industry body dedicated to developing an optimum air traffic management system for Australia and is the primary source of industry advice on air traffic management (ATM) directions for the federal government.
Navigation Rationalisation Project
What you need to be flight ready for 26 May
26 May 2016
The NRP is switching-off 179* ground-based navigation aids, from 26 May 2016. The navigation aids to be decommissioned include non-directional beacons, VHF omni-directional ranges and distance measuring equipment.
*  The Rottnest Island NDB and Coffs Harbour NDB have been decommissioned early. Total no. of navaids decommissioned by NRP is 181.
GNSS is now primary means of navigation for IFR
The Civil Aviation Safety Authority published Civil Aviation Order 20.18 in August 2012, with a revised version in December 2014, which mandated the use of Global Navigation Satellite System (GNSS) technology for all IFR aircraft in Australian airspace.
On 4 February 2016, IFR aircraft transitioned from ground-based to satellite navigation, using GPS as the primary enabling technology.
Get to know the BNN
The remaining network of 213 navigation aids will form the BNN. The BNN will be maintained by Airservices to support a GNSS contingency mode of operation, in the unlikely case where a pilot is unable to access the satellite service.
Contact the Airservices NRP team
If you would like more information or would like to get in touch with a project representative, please send us an email. Alternatively, visit events for information about upcoming meeting, forums or conferences in your area.
Navigation Rationalisation Project (NRP)
Which navaids are being switched-off?