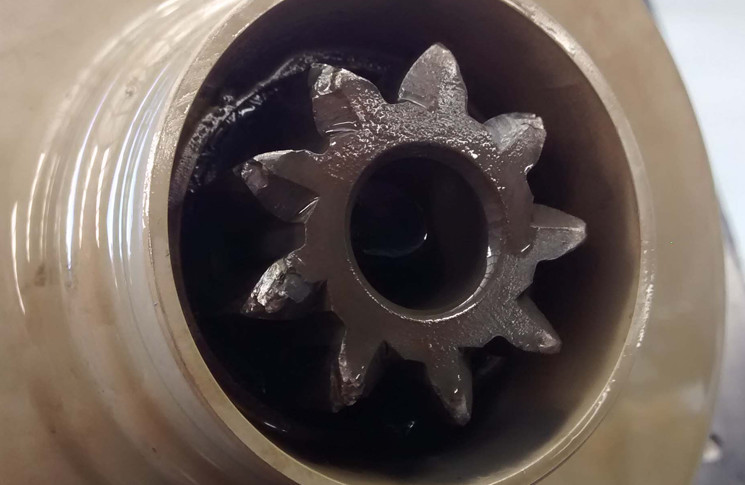 Continental IO240B Reciprocating engine internal oil system—gear unserviceable. SDR 510023552 (photo above)
Pilot reported low oil pressure. Upon inspection of the oil system, a small metallic piece was found stuck on oil pressure relief valve seat. Subsequent inspection of the rear accessories housing found crank shaft cluster and starter gear had signs of damaged teeth. OEM SB14-2 was carried out and starter/cluster gear modified to chamfered cut gears IAW the SB. P/No: 656762. TSN: 796 hours.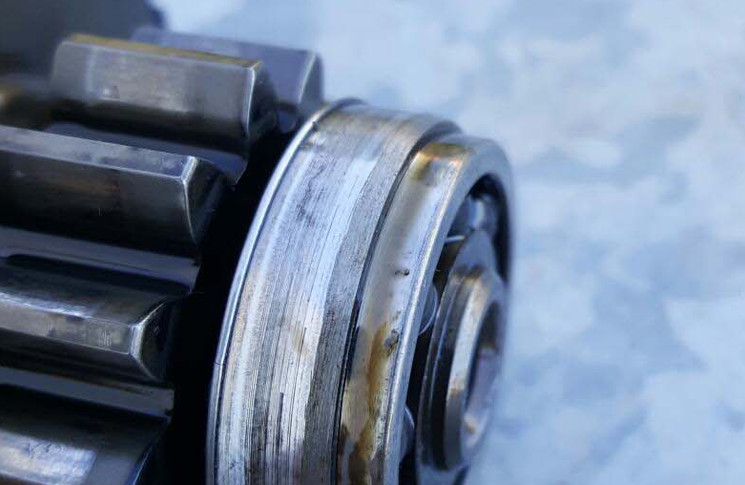 Lycoming IO540E1B5 Magneto/distributor—bushing worn. SDR 510023556 (photo above)
Minor oil leak defect reported. Removal of the Magneto to replace oil seal found the bearing bush had dislodged and excessively worn the crankcase mount. Engine replaced. The bush is replaced at crankcase overhaul. It is machined to size required to mount the magneto drive bearing. The bush is locked into place by three peened marks. The crankcase overhaul workshop has been contacted. Awaiting engine to be stripped for further investigation. P/No: NA. TSO: 1166 hours.
Lycoming O320D2J Engine reciprocating—valve lifter broken. SDR 510023335
2 lifter bodies both on #1 cylinder have broken off, causing internal engine damage. Large quantities of metal were found in the oil filter at the 100 hourly inspection. P/No: SL72877. TSN: 1648 hours.
Lycoming O320D3G Reciprocating engine power section—air intake blocked. SDR 510023361
During cruise pilot reported engine was rough running.Investigation found Hot Alt Air inlet screen had disintegrated and lodged in air door. Part of the screen had dislodged into the inlet of the carburetor causing engine rough running. FOD was removed, screen replaced and dynamic propeller balance carried out to reduce any vibration. Aircraft returned to service.
Lycoming O320D3G Reciprocating engine power section—piston engine power loss. SDR 510023413
Loss of engine power in circuit area, aircraft landed in paddock. After detailed event analysis, carburettor icing was found to be the probable cause of engine power loss.
Lycoming O320 Engine reciprocating—piston engine rough running. SDR 510023518
In flight, engine started rough running. During the course of troubleshooting, it was found to be right hand side magneto failure. It was partially failed with not sustaining RPM.
Lycoming O360J2A Reciprocating engine power section—exhaust valve damaged. SDR 510023585
Engine failure caused by head of the exhaust valve breakage in #3 cylinder. P/No: LW13870.
Lycoming O360J2A Reciprocating engine power section—exhaust valve leaking. SDR 510023473
While checking leak on #4 cylinder, leak was detected through the exhaust valve. It is believed to be caused by excessive play between valve and valve guide. Overhauled cylinder assembly fitted.
Lycoming TIO540A2C Fuel control/reciprocating engines—tube broken. SDR 510023515
During inspections, fuel injection tube found broken at fuel injector nozzle brazed joint. P/No: LW120980170. TSO: 1269 hours.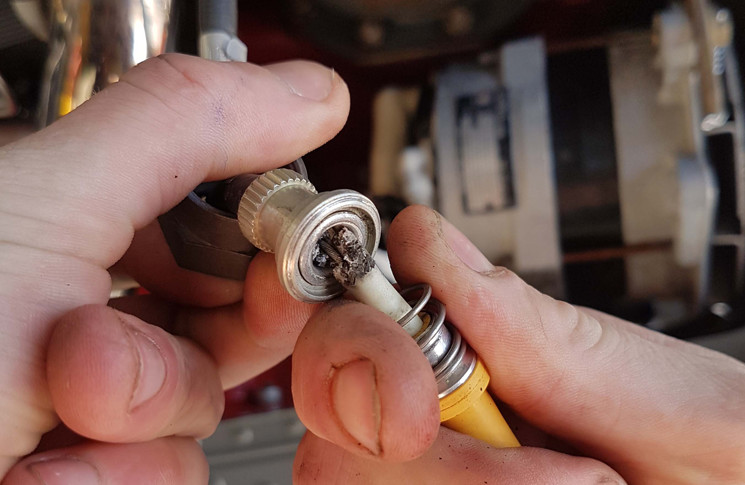 Unknown ignition harness (distribution)—ignition lead burnt. SDR 510023546 (photo above)
Ignition lead failed insulation test. Inspection found severe damage due ignition insulation breakdown causing arcing. The number of similar ignition lead failures has increased recently. Investigation reveals the lead manufacturer has changed the material and it is believed that this is the cause of the ignition leads failing. Manufacturer advised. Ignition lead repaired. P/No: 1040040178. TSN: 1375 hours.