AVNPRE R2160 Wing spar—anchor nut damaged. SDR 510023774
While removing hinge sections for spar inspection, one anchor nut was found damaged. Rectifications planned. P/No: 5SF5009M. TSN: 2085 hours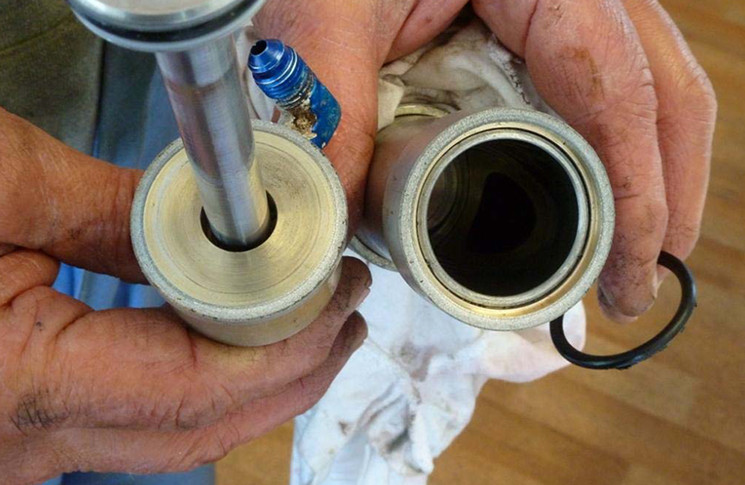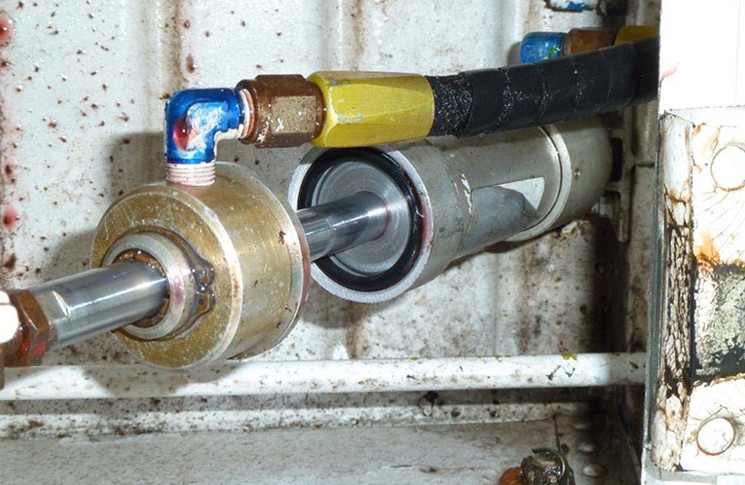 Beech 76 Landing gear actuator—cylinder separated. SDR 510023941 (photos above)
During flight, pilot observed some mechanical issue with the under carriage . After verifying gear down through fly by inspection , safe landing was made. During ground checks it was learned that NLG actuating cylinder has separated causing the pressure to be released from the system thus causing the gear to gravity extend. Service data search indicated failed component has good reliability. Maintenance removed the Actuator and after inspection advised that the Cylinder failure was a clean break with no obvious pre-existing defect. A new Actuator was fitted. Gear swings carried out with nil defects and the aircraft returned to service. P/No: A2178A.
Britton Norman BN2A21 Main landing gear strut/axle/truck—MLG leg unapproved maint. SDR 510023922
During disassembly of the R/H main undercarriage leg, a shim was found between the the plunger & axle bracket. It is assumed the shim was there to account for play between plunger & axle bracket due to wear in the axle bracket bore. Nil record of this modification could be found in the aircraft logbook. Appears as an unapproved repair. Plunger and axle bracket have been removed from service and replaced. P/No: AIR462005. TSN: /408 months TSO: /60 months
Cessna 150 Horizontal stabilizer spar/rib—spar cracked. SDR 510023790
LH and RH spars found cracked (lengths 8mm and 12mm) adjacent to vertical stabilizer attachment holes. P/No: 043200156LHANDRH. TSN: 6521 hours
Cessna 172E Passenger station equipment system—seat belt unapproved part. SDR 510023692
Fwd & rear seat belts have identification tags missing. Forward seat buckles are Australian automotive. No log book entries of belt fitted. New seat belts purchased & fitted to rectify defect.
Cessna 172M Wing spar—spar cracked. SDR 510023842
During SID inspections, crack found in upper web of inboard rear spar channel. Damaged section of spar removed and repair carried out. P/No: 05230413.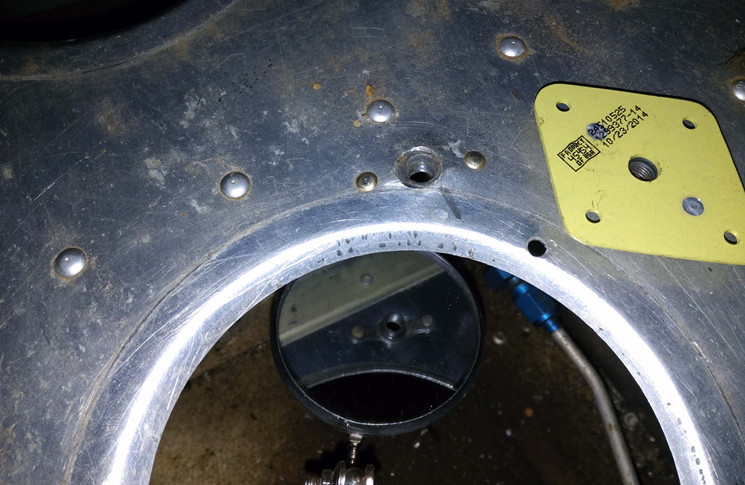 Cessna 172P Crew station equipment system—repair kit incorrect fit. SDR 510023756 (photo above)
Secondary seat stop anchor point incorrectly installed with hole drilled to inaccurate dimensions. P/No: SK210174AINSTALLATION J.
Cessna 172S Flight control system—cable unserviceable. SDR 510023684
During inspections, control cable was found qualifying for replacement IAW CASA AWB 27-001. P/No: 0510105342.
Cessna 182F Fuselage floor beam—doubler corroded. SDR 510023886
During inspections, floor from rear door post to rear door post found heavily corroded. Suspected leak from crop dusting modification pump might have caused it. P/No: 07106003. TSN: 6043 hours
Cessna 182T Fuselage bulkhead—bulkhead cracked. SDR 510023708
L/H and R/H forward doorpost bulkheads found cracked when inspected against AD/C180/75 and Cessna SID 53-12-01. The cracks were not obviously apparent until the wings were removed. Service kit SK182-115 fitted to repair.
Cessna 208B Brake—brake disc inoperative. SDR 510023808
During taxi, aircraft had uncontrolled LH turn number of times. During the course of troubleshooting, RH brake disc found ineffective. Same replaced and tested serviceable.
Cessna 210N Landing gear retract/extension system—bolt sheared. SDR 510023777
On take off, U/C could not be retracted. Inspections found nose gear strut extension stop lug was missing with 2 attachment bolts sheared. P/No: 12434221.
Cessna 441 Wing spar—spar debonded. SDR 510023910
While carrying out routine bonding test IAW AD/Cessna 400/103 in check 6 inspections, area of the LH and RH rear spar was discovered to have several small areas of debonding. Approved Repair scheme is currently being devised and will be actioned once confirmed.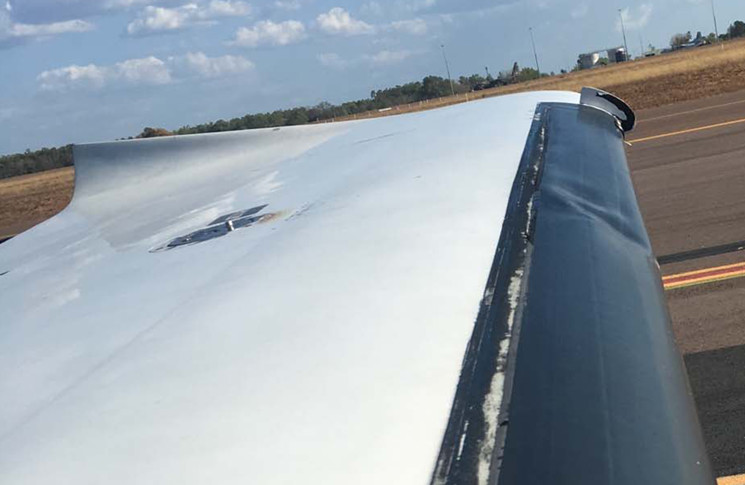 Cessna 441 Wing structure—wing damaged. SDR 510023891 (photo above)
Bird strike caused damage to the LH outer wing. P/No: 57226011. TSN: 6683 hours TSO: 6683 hours
Diamond DA40 Autopilot system—clamp cracked. SDR 510023703
Following the discovery of a cracked pitch servo bridle cable clamp on a company airplane, a fleet wide inspection was started. As part of these inspections, pitch servo cable clamp on another SN was found to be cracked in a similar way. The clamps were factory installed and are checked annually as part of the GFC700 Autopilot Mechanical check. P/No: D4122131054. TSN: 182 hours/11 months.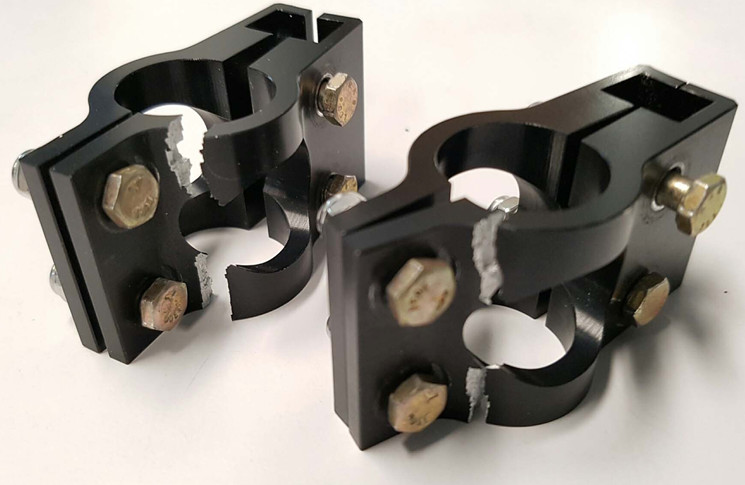 Diamond DA40 Autopilot system—clamp cracked. SDR 510023773 (photo above)
Aileron and elevator autopilot servo cable clamps found cracked (TTIS 42 hours/ 11 months) during first schedule inspection. No related PIREP defect. One similar defect reported P/No: D4122131054. TSN: 42 hours/11 months.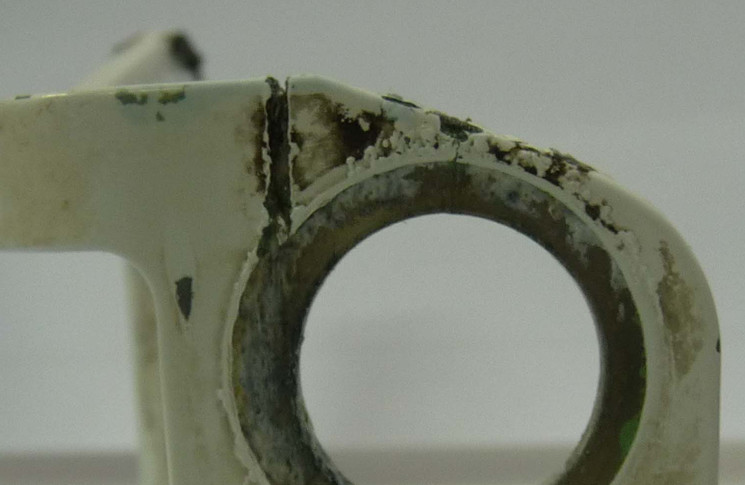 Embraer EMB-500 Landing gear system—bracket cracked. SDR 510023685 (photo above)
Bracket found cracked during routine inspection. P/No: 23102111001. TSN: 3688 hours.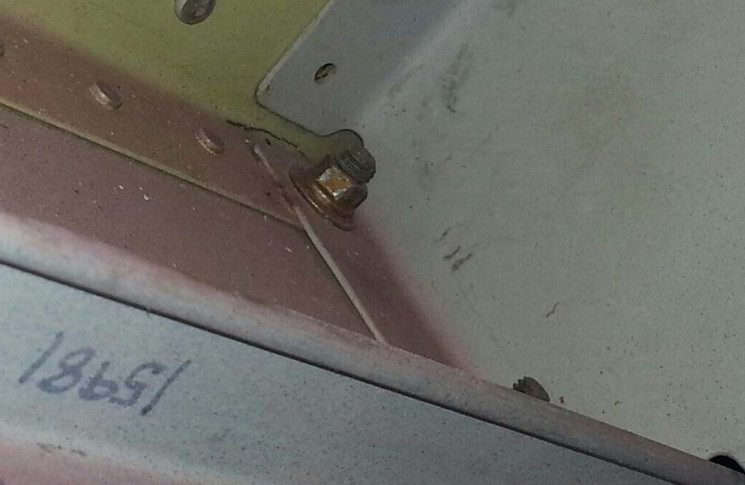 Gippsland Aeronautics GA8 Horizontal stabilizer spar/rib—stabilizer cracked. SDR 510023810 (photo above)
During inspection against mandatory service bulletin SB-GA8-2002-02, crack found in rear spar of horizontal stabilizer. Rectification carried out IAW mandatory service bulletin SB-GA8-2009-59. P/No: GA8551011011.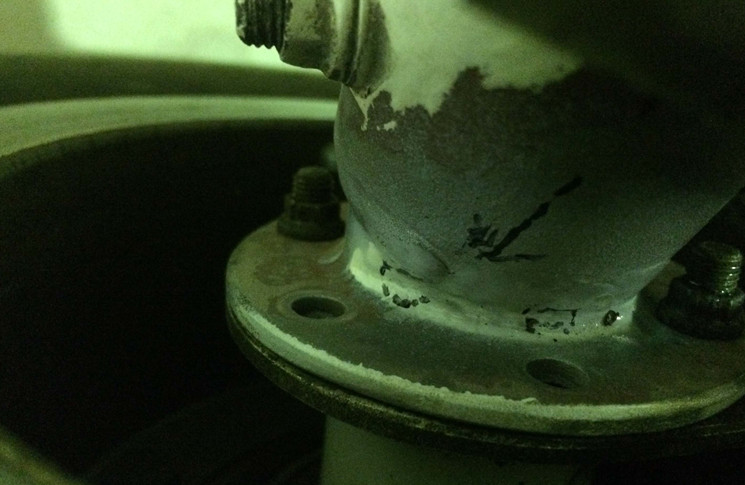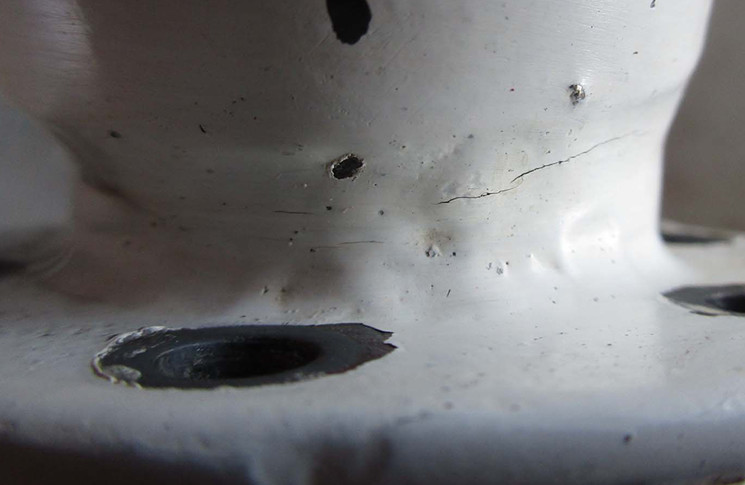 Gippsland Aeronautics GA8 Main landing gear strut/axle/truck—axle cracked. SDR 510023811 (photos above)
While doing an 100 hourly inspection of undercarriage axle assemblies, a crack was noticed in the welded transition area. Paint was removed and with the help of 10X magnifying glass, cracks on both LH and RH axle assemblies were noticed. Dye penetrant inspection confirmed the flaw. Four similar defects reported. P/No: GA8321023011. TSN: 8628 hours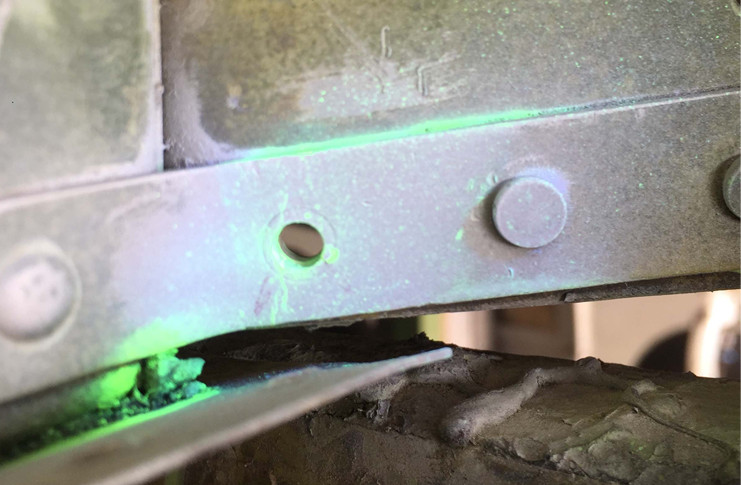 Gulfstream 500S Wing miscellaneous structure—wing strap cracked. SDR 510023944 (photo above)
During AD/AC/93 Inspection stage 1, R/H lower wing strap found with 3 cracks, as confirmed by FPI as well as eddy current. Requirement 2 of AD/AC/93 was then carried out with nil defects found. During AD/AC/93 requirement 3, R/H upper frame at F.S. 100.00 was found cracked , as confirmed by visual inspection. Confirmation by NDT not required. P/No: 1700368. TSN: 26437 hours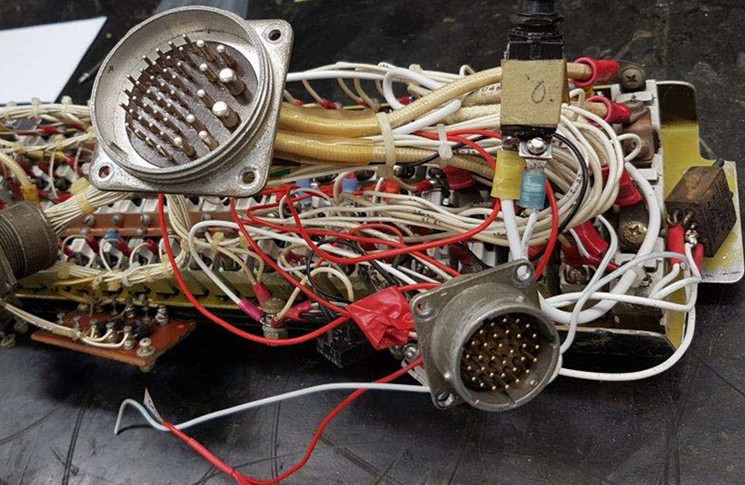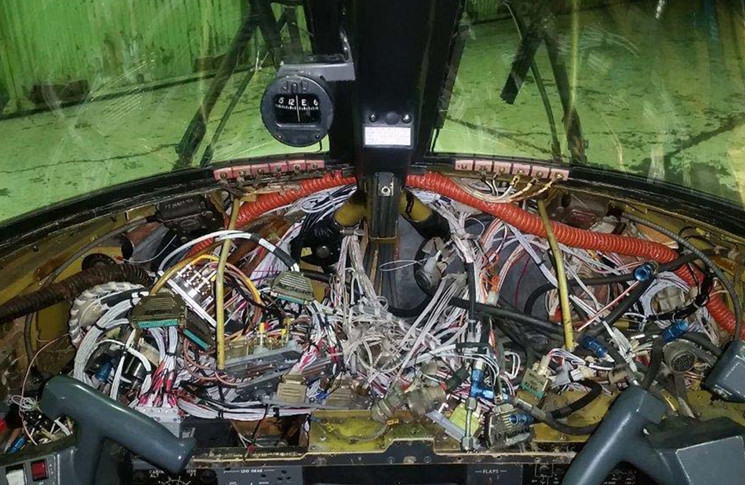 Gulfstream 690A Electrical power wiring—wire loose wiring. SDR 510023724 (photos above)
While undergoing major avionics upgrade, following discrepancies were observed. 1. CB's terminals stripped of thread and blue tack used to secure screws. 2. CB panel dangerously wired (over time) with some wiring at loose ends and looms not secured. 3. Instrument panel as above – looms not secured and wiring found with loose ends and not secured. All wiring repaired and CB's replaced.
Pilatus PC12 Engine mount section—load frame cracked. SDR 510023682
During Ultrasonic inspections IAW SB 71-009 rev 2 part A , a 6mm long crack indication was evident to area 2. No crack indications to areas 1,3,4,5 & 6. HFEC Inspection carried out IAW SB 71-009 Rev 2 part 3 B (3) to area 2. No cracks evident. Further inspection criteria instated IAW EASA AD 2016-0081 & SB 71-009 REV 2. P/No: 5712012036. TSN: 15126 hours/17584 cycles
Piper PA44180 Airspeed/mach indicator—ASI low reading. SDR 510023687
ASI under reading on decent and at altitude. Pitot head found partially blocked with wet mud. Blockage removed. ASI and altimeter function tested with no defects.
Piper PA44180 Landing gear position and warning system—light nil indication. SDR 510023699
Right main gear light did not illuminate when gear selected down. After manual extension, left main gear light also did not illuminate. During the course of troubleshooting, both down light indicating lamps were replaced and tested serviceable.
Piper PA44180 Wheel tube deflated. SDR 510023737
Nose wheel assembly deflated whilst taxing off the runway. After disassembly, inner tube found pinched between wheel hub halves.
Swearingen SA227DC Landing gear brake system—pipe burst. SDR 510023739
During flight, "HYD PRESS" annunciators illuminated with pressure gauge fluctuating around 0. Gear was lowered at the pre-determined point, ILS approach was continued and flapless landing completed uneventfully. Leak was traced to a failed Hydraulic pipe. New pipe was fitted and the system tested with no further leaks or issues.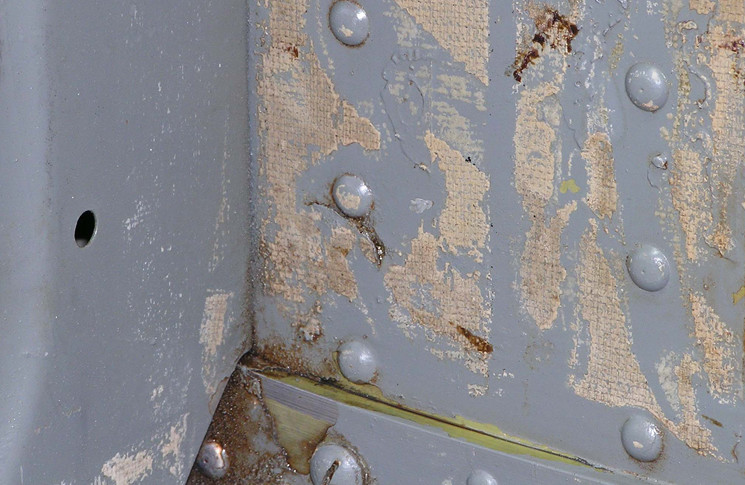 VICTA 115 Wing spar corroded. SDR 510023793 (photo above)
While the wing was removed for AD/VAT/28 compliance, corrosion was discovered in the main spar web at the L/H forward wing attachment point. This area is not specifically mentioned for inspection for corrosion in AD. Inspection is only possible after removing the fuel tank.