SIKORSKY S92 A – ATA 2561 LIFE JACKET – LIFE JACKET – LEAKING. DR 611749757
Life jacket anomalies detected during scheduled inspections. The lifejacket itself was still functional and serviceable; fault itself affected only the breathing system fitted to the jackets. Defects were related to air leaks or other similar issues regarding the underwater air cylinder and breathing tube system. The local manufacturer has been informed and the unserviceable jackets have been returned to them for repair.
EUROCOPTER AS365 N2 – ATA 2100 AIR CONDITIONING SYSTEM – DRIVE BELT – FAILED. DR 611749794
No cooling air from air conditioning system. Air con drive belt failure. Belt replaced with new item.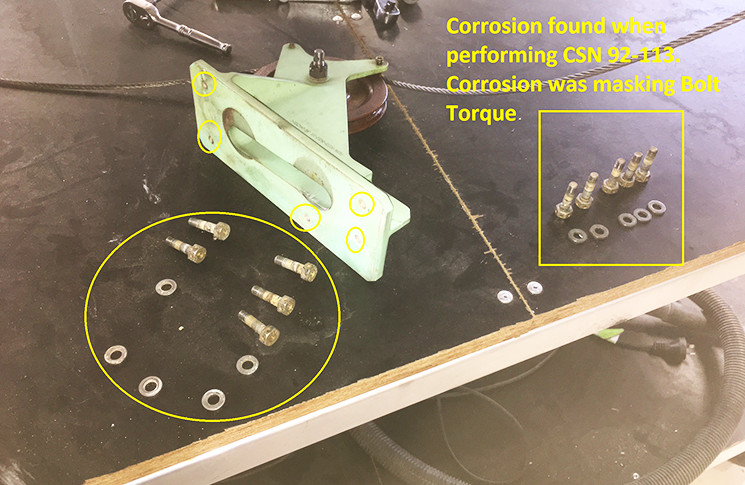 SIKORSKY S92 A – ATA 6720 TAIL ROTOR CONTROL SYSTEM – RIVET – SHEARED RIVETS. DR 611749843 (photo above)
During routine inspection, it was found that one of the tail rotor pulley attachment bracket bolt has failed 100 in-lb torque check. Further investigation found FWD inboard anchor nut rivets had sheared – allowing the bolt to be somewhat tightened, but not able to be torqued. Root cause not established as yet, however the main contributing factor was the finding that the bolts of the attachment were installed dry and light surface corrosion was found on the shank and within the bolt holes. Aircraft is approximately three years old and no major maintenance has occurred in this area. Anchor nut plate replaced, corrosion removed from all areas. All bolts, anchor nuts and mounting bracket treated with corrosion preventative compound. Sikorsky will be informed by established means.
SIKORSKY S92 A – ATA 2913 HYDRAULIC PUMP, (ELECTRIC/ENGINE), MAIN – PUMP – LEAKING. DR 611749849
In flight TR servo #1 pressure, Master Caution coupled with #3 hydraulic pump activating into high mode reported. An air turn back was made to land ASAP. Afterwards, HYD 1 RSVR LOW caption illuminated. After landing HYD 3 TEMP ALERT illuminated. The aircraft was inspected by engineers and it was confirmed that a major loss of Hydraulic fluid had occurred. The leak emanated from the #1 hydraulic pump pressure line quick disconnect system with indications of fluid escaping between the male connector and the pump. OEM notified. #1 Hydraulic Pump replaced and systems tested per Sikorsky S92 Maintenance Manual. Fleet inspections completed to ensure system integrity. Failed pump will be returned to Vendor for investigation.
EUROCOPTER EC130 B4 – ATA 5620 PASSENGER COMPARTMENT WINDOWS – WINDOW – De bonded. DR 611749878
Partial de-bonding observed at RH door window. Old window removed. New window ordered.
ROBINSON R44 – ATA 2497 ELECTRICAL POWER WIRING – RELAY – CRACKED. DR 611749751
While turning landing lights on, complete electrical power was lost. Power was recovered without intervention by the pilot. About 25 seconds later the electrical power again switched off and smoke started coming from the radio. Mastery battery and alternator was switched off. Safe landing was made nearby and engineering called. During the course of troubleshooting, main battery relay MPN A15A found cracked. Diode replaced with new part MPN D275-102. Ops test of electrical system tested carried out and found serviceable. Ground run and flight check carried out. Radio replaced with serviceable unit – nil defects.
BELL 206 L4 – ATA 2497 ELECTRICAL POWER WIRING – BUS BAR – INCORRECT ROUTED. DR 611749871
During maintenance, evidence was observed of a major electrical short under the CB panel for the Autopilot. Rectified by rotating the heavy bus bar to the other side of the CB and Insulating the back wall post repair.
BELL 429 – ATA 2497 ELECTRICAL POWER WIRING – LOOM – INCORRECT ROUTED. DR 611749872
Rotorcraft declared emergency following arcing/sparking and burning smell in the cockpit emanating from the co-pilot foot well. This was followed by multiple electrical failures, including all instrumentation. All cockpit lightings and instruments blacked out in flight, with some coming back on line upon landing. Once component removal commenced, LH FWD C/B panel was removed, burnt loom (W101) and connector 4296P9 was observed behind the LHS FWD C/B panel. The loom was in close proximity / chaffing on the emergency bus bar on the rack (inner) side of the LHS FWD C/B panel. The sparking has burnt through the EMERG 1 bus bar and a substantial amount of the loom itself due to insufficient clearance between the loom and the circuit breaker panel.
BELL 412 EP – ATA 2510 CREW STATION EQUIPMENT SYSTEM – Night Vision Goggles – FAULTY. DR 611749877
After start, air crewman night vision goggles failed to power up. Spare goggles utilised, faulty goggles sent for repair.
ROBINSON R44 – ATA 7810 ENGINE COLLECTOR/TAILPIPE/NOZZLE – EXHAUST PIPE – Separated. DR 611749853
Pilot noticed a change in exhaust sound. Subsequent inspection revealed heat damage to plastic parts and cowling paint finish. Later on, it was found that tail pipe had separated aft of ball joint. Exhaust muffler will need replacement with factory new/upgraded item (Dia increased from 6-7 inch). Drive Belts and adjacent plastic/rubber parts to be renewed as a precaution.