PRATT AND WHITNEY PT6A 34AG – ATA 7261 TURBINE ENGINE OIL SYSTEM – TURBINE ENGINE – CONTAM-METAL. DR 611749681
After ground run, engineer was unable to turn the propeller. Subsequent checks revealed brass/bronze contamination in the main oil filter. Engine is being returned for investigation.
GENERAL ELECTRIC CF6 80C2 B1F – ATA 7260 TURBINE ENGINE ACCESSORY DRIVE – SEAL – Oil leak. DR 611749735
Gradual loss of #2 engine oil quantity in flight reported. Landing with 3 Quarts of oil was made. Primary source of leakage was traced to starter drive shaft magnetic seal on main gearbox. Moreover, minor leakage was noted from rear bearing cover seal.
CFM CFM56 7B 26 – ATA 7314 ENGINE FUEL PUMP – Fuel pump – JAMMED. DR 611749772
On take-off, assumed OAT of 38 degrees C, engine No.2 N1 is approximately 3% below targeted N1 bug. After take-off, N1 achieved for rest of the flight. Troubleshooting noted nil apparent rotation of the Engine #2 fuel pump impeller. Fuel pump was replaced IAW AMM 73-11-01-XX. Max power engine run carried out satisfactory IAW AMM 71-00-00-XX. Nil Further issues since replacement of the fuel pump.
GARRETT TPE331 1 – ATA 7200 ENGINE (TURBINE/TURBOPROP) – CASE – CRACKED. DR 611749786
The pilot reported that the RH Engine did not make target torque during the take-off roll. The take-off was aborted. Engineers during troubleshooting found the housing (IPC 72-10-20 Fig 1 #60) to have a large circumferential crack. The engine was replaced & the removed engine sent for repair.
ROLLS ROYCE TAY650 65015 – ATA 7530 COMPRESSOR BLEED CONTROL – BLEED BAND – STIFF. DR 611749804
#2 Engine high TGT, off scale with accompanying triple chime warning. During investigations, bleed band ring found stiff. Lubrication carried out. Moreover, due to TGT excursion over 870C for 2 secs, full borescope and other inspections are being completed.
IAE V2527 A5 – ATA 7320 FUEL CONTROLLING SYSTEM – Overpressure valve – FAILED. DR 611749811
Engine #2 failed functional Check of the Overpressure valve as per MPD Task and IAW AMM 36-11-53-000-001A. Overpressure valve replaced. Cause unknown and removed overpressure valve has been sent for investigation and overhaul.
IAE V2527 A5 – ATA 7261 TURBINE ENGINE OIL SYSTEM – TURBINE ENGINE – Oil leak. DR 611749819
During descent, an odor was noticed by both cabin crew and passengers around the aft galley. Troubleshooting resulted in engine 2 spinner removal, and subsequently found oil pooling (suspect defective bearing seal). Defect rectification is currently ongoing.
IAE V2533 A5 – ATA 7261 TURBINE ENGINE OIL SYSTEM – OIL TUBE – CRACKED. DR 611749821
Oil leak due cracked oil tube. Tube was replaced.
GARRETT TPE331 1 – ATA 7261 TURBINE ENGINE OIL SYSTEM – TURBINE ENGINE – HIGH SOAP. DR 611749840
On receipt of the Spectrometric Oil Analysis Program (SOAP) report for the LH engine, oil filter weight was seen to be extremely high at 479.5 mg and the Honeywell Zing program was recommending this engine be inspected immediately. The engine oil and filter SOAP samples were taken during the last phase Inspection complying with CASA AD/TPE331/62 Amdt 1 requirement 1. Engine replacement planned.
ROLLS ROYCE TAY650 65015 – ATA 7200 ENGINE (TURBINE/TURBOPROP) – TURBINE ENGINE – POWER LOSS. DR 611749845
Take-off rejected at low speed due to the RH engine EPR not increasing as thrust was advanced. High TGT indication also presented.
GARRETT TPE331 1 – ATA 7321 FUEL CONTROL/TURBINE ENGINES – FCU – FAILED. DR 611749861
Flight crew initiated precautionary IFSD with engine gas path parameters showing significant fluctuations. Engineers performed troubleshooting & determined the LH engine fuel control unit had failed. The fuel control was replaced with a serviceable item and the engine tested serviceable. The failed fuel control unit has been sent to the OEM for investigation.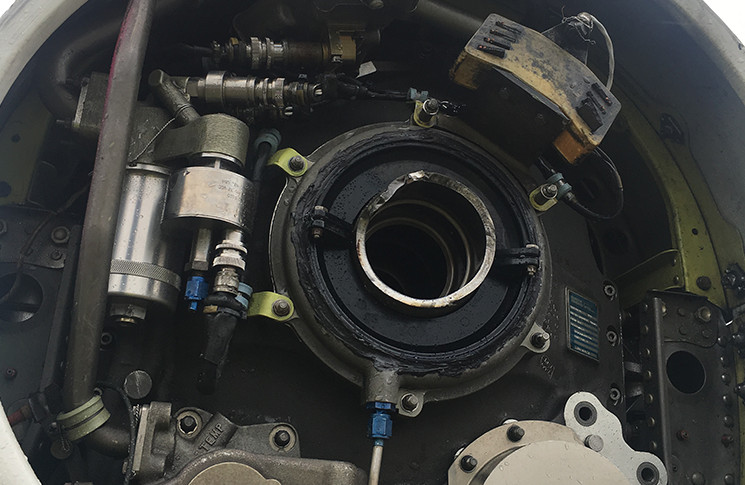 GENERAL ELECTRIC CT7 9B – ATA 7210 TURBINE ENGINE REDUCTION GEAR – PROPELLER SHAFT – SHEARED. DR 611749875 (photo above)
During descent, RH Torque indication was observed to fluctuate +/- 3%. Uncommanded engine operation checklist was actioned. Vibration was also felt in the airframe, and observed from the RH propeller spinner. At the completion of the checklist as the RH C/L was moved to FUEL OFF RH propeller assembly departed from the aircraft. The propeller was still rotating and pivoted to a horizontal position travelling over the nacelle and past the tailplane. The engine shutdown was completed and the aircraft landed without further incident. Initial inspection shows the PGB drive shaft has sheared.