ROLLS ROYCE TAY650 65015–ATA 7261 TURBINE ENGINE OIL SYSTEM–BEARING–CONTAM-CARBON. DR 611749951
During block check maintenance event, an abnormal amount of carbon deposits and metal particles in main oil filter, gearbox MCD, IWS and LPTS strainer were found. Eight samples for sent for analysis. Samples returned abnormal amount of bearing material. Engine OEM recommended engine replacement.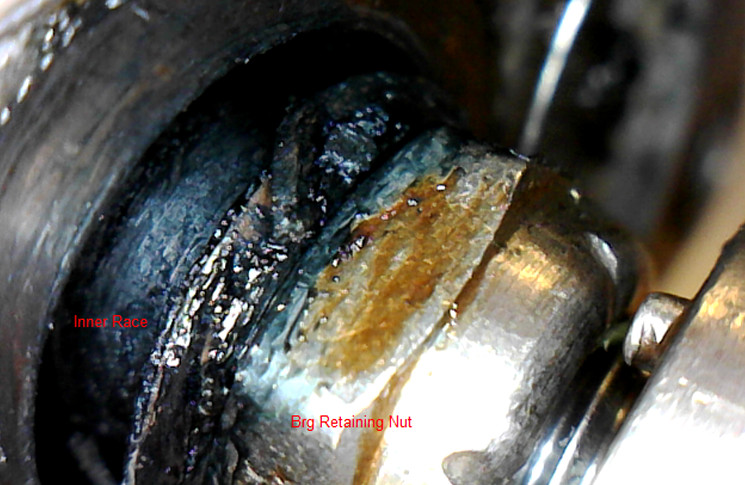 ALLISON 250 C20B–ATA 7321 FUEL CONTROL/TURBINE ENGINES–FCU–FAILED BEARING. DR 611749980 (photo above)
Erratic fuel flow and control behaviour. RPM would not reduce below approximately 75% at Idle. Throttle was returned to cut off position to shutdown engine. When Fuel Control was removed, some of the shaft bearing balls were found separated from the bearing assembly. FCU was replaced. Maintenance and flight crew briefed accordingly.
PRATT AND WHITNEY PW123 D–ATA 7261 TURBINE ENGINE OIL SYSTEM–TURBINE ENGINE–Oil leak. DR 611749995
After starting engines, bleed air selected on. Toilet smoke alarm activated, haze observed in flight deck and in cabin. Musty smell with slight taste observed. Aircraft return to blocks for maintenance troubleshooting. Troubleshooting per P&W123MM confirmed LH engine oil leak around the #5 bearing area with significant oil wetting evident in the bleed air system. Engine change in progress.
ROLLS ROYCE RB211 972 84–ATA 7230 TURBINE ENGINE COMPRESSOR SECTION–COMPRESSOR CASE–CRACKED. DR 611750001
During a shop visit the Compressor Intermediate Case P/N FW61486 was found to have a crack in the rear web.
PRATT AND WHITNEY PW123 E–ATA 8010 ENGINE CRANKING SYSTEM–STARTERGENERATOR–BURNT OUT. DR 611750004
Immediately after #1 engine start, an abnormal indication relating to the number 1 DC generator was observed by the flight crew and main and auxiliary batteries appeared to be discharging while the load was above normal limits. Number 1 DC generator caution light illuminated and a few seconds later the ground crew reported smoke coming from the number one engine. The engine was shut down. Significant engine electrical damage was found. Number 1 starter generator was burned out, contact 2431-K1 was found welded closed and external power current limiters found blown. Number 1 DC GCU also required replacement due to "#1 DC GEN Caution" light illuminated. An investigation into the cause of this event has commenced.   
PRATT AND WHITNEY PW150 A–ATA 7230 TURBINE ENGINE COMPRESSOR SECTION–TURBOPROP ENGINE–LEAKING. DR 611750005
After #2 engine start with recirc fan on, Cabin crew reported fume smell in the aircraft cabin. Fumes remained for more than 3 min and increased toward front of the cabin. Borescope inspection of #2 engine LP and HP compressor carried out – evidence of oil contamination found. #2 engine replaced.
ALLISON 250 C20R2–ATA 7240 TURBINE ENGINE COMBUSTION SECTION–COMBUSTION CASE–CRACKED. DR 611750012
The pilot noticed the TOT indication was different to the usual power setting of torque and N1 during cruise on a flight back to base. Upon landing a crack in the armpit area of the outer combustion case was observed. An overhauled OCC assy was installed.
PRATT AND WHITNEY PW123 E–ATA 7200 ENGINE (TURBINE/TURBOPROP)–TURBINE ENGINE–SUSPECT FAULTY. DR 611750026
PAN due to Number 2 Engine failure (uncommanded autofeather). Investigation continuing.
CFM CFM56 7B 26–ATA 7830 THRUST REVERSER–THRUST REVERSER–FAILED TO DEPLOY. DR 611750050
Pilot reported on landing number 2 engine thrust reverser did not deploy when selected. Defect confirmed – #2 outboard thrust reverser not deploying fully. The Actuator or Sync shaft is considered suspect requiring the aircraft to undergo further troubleshooting.
PRATT AND WHITNEY PW118–ATA 7261 TURBINE ENGINE OIL SYSTEM–HOSE–Oil leak. DR 611750101
Oil leak from #1 engine, oil dripping from front of main gear door. Leak traced to a weeping oil cooler return hose assembly. Hose replaced, leak check carried out, no leak evident.