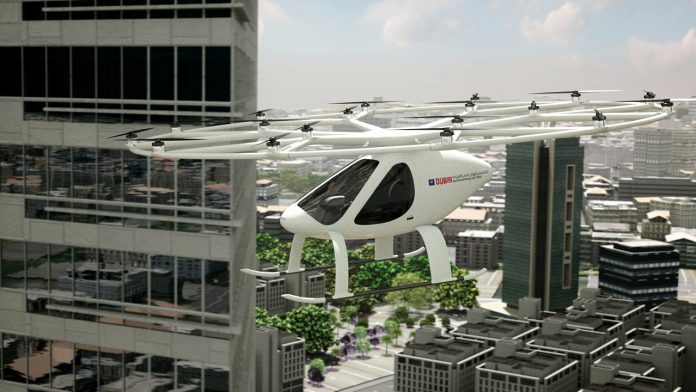 German electric aircraft maker Volocopter has signed an agreement with the government of Dubai to test fly autonomous air taxis in the emirate by the end of this year, the company announced at the Paris Air Show last week.
The Gulf state of Dubai is pursuing a 'Smart Autonomous Mobility Strategy' that seeks to have a quarter of the short journeys in the emirate provided by autonomous transport by 2030. The autonomous air taxi (AAT) is part of this project. Volocopter, formerly E-Volo, is providing a Volocopter 2X two-seat version of its 18 rotor electric aircraft for testing. The company first flew a manned electric multi-rotor aircraft in 2011.
Dubai's Roads and Transport Authority says, 'The AAT is powered by electricity and has high safety features, thanks to its design comprising 18 rotors to ensure safe cruising and landing of the taxi in case of any rotor failure. The air taxi is characterised by its autopilot or autonomous flying, thus enabling the movement of people from one place to another without human intervention or a need for a flight license holder.'
The Volocopter design uses a ballistic aircraft emergency parachute and nine independent battery systems. Its maximum flight time is about 30 minutes at a cruise speed of 50 km/h (27 knots), and maximum airspeed is given as 100 km/h (54 knots).
Dubai also announced the trial phase of the project was expected to take about five years, 'during which all operational aspects will be assessed, including security, safety and rulemaking'. In February this year, Flight Safety Australia quoted the Dubai Roads and Transport Authority as saying the system would be carrying people across the city by July.
Flight Safety Australia first reported on the Volocopter in 2014.