EUROCOPTER AS365N3+–ATA 5320 FUSELAGE, MISCELLANEOUS STRUCTURE–PLATE–CRACKED. DR 611750206
During daily inspection, crack was suspected on L/H side 9 degrees frame splice. NDI carried out and confirmed cracking. Airbus helicopters notified. OEM to replace plate.
ROBINSON R44 II–ATA 7810 ENGINE COLLECTOR/TAILPIPE/NOZZLE–MUFFLER–BROKEN. DR 611750214
While carrying out a 100-hourly inspection, A755-13 heater hose was found broken emitting grey brown deposits over the engine. On removing the exhaust, the tail pipe came away from the muffler. If left to keep operating, the exhaust gases would have caused damage to the rotorcraft by coming out of the muffler hole instead of the tail pipe. Chances of carbon monoxide poisoning in the cabin is extremely high if undetected. New muffler fitted.
ROBINSON R44 II–ATA 6310 ENGINE/TRANSMISSION COUPLING–FREEWHEEL–Oil leak. DR 611750215
While carrying out a 100-hourly inspection, oil spray was noticed on the panels. On further inspection, oil weeping found to be originating from rear seal. Freewheel assy removed. After dissembling, oil was found to be extremely black and full of odour including burned smell. Oil replaced, flushed the seals and O rings. Assembly refitted to rotorcraft.
SIKORSKY S92 A–ATA 7800 ENGINE EXHAUST SYSTEM–TAILPIPE–BROKEN. DR 611750231
RH engine tail pipe became detached and fell to the ground during aircraft ground runs. No other damage was reported. Tail pipe mounting flange had fractured at all four mounting attachment points. Tail pipe was replaced.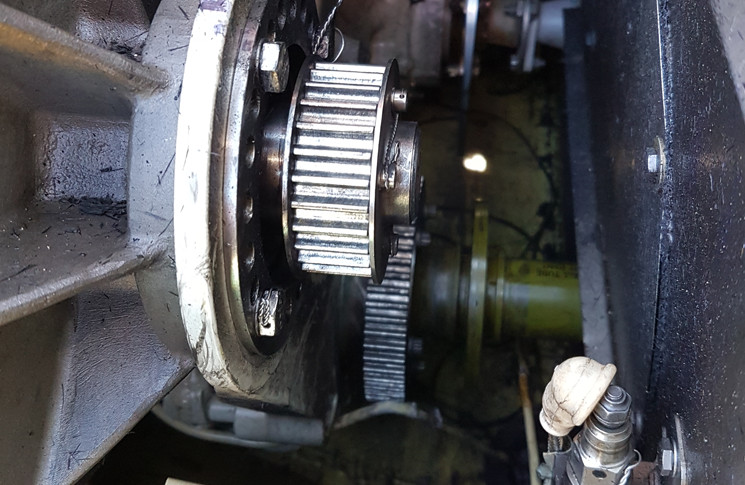 AGUSTA A109 E–ATA 6322 ROTORCRAFT COOLING FAN SYSTEM–COOLING FAN–SHEARED. DR 611750239 (photo above)
A single pop sound was noted to be coming from the engine area during approach for landing. After landing safely, engine oil temperature was rising and the pilot opted to shut the engines down. After investigation it was found that the oil cooler fan belt on engine #1 side was missing. There were pieces of belt teeth and strips of the outer belt throughout the main gearbox deck. The shear pin was found still intact although has visible signs of wear. The drive coupling therefore should have radial play although it took a lot of force to crack this as it was jammed. During rotation of the drive coupling it appears that there was a bent shaft also. Fan assembly and fan belt are in the process of being replaced.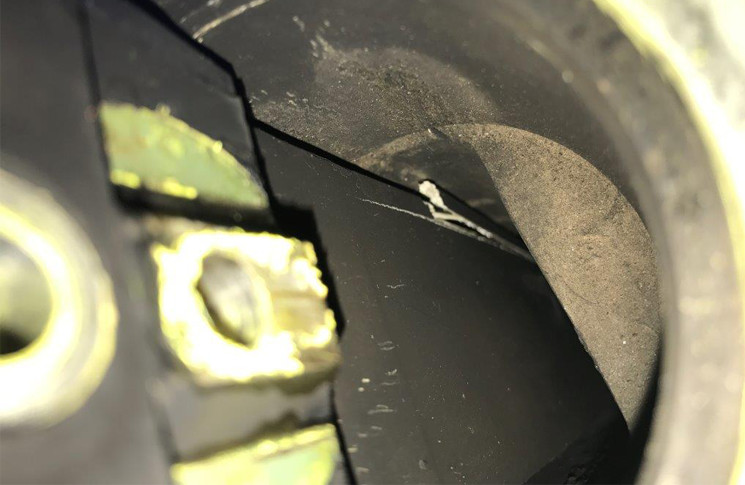 EUROCOPTER AS350 B2–ATA 6410 TAIL ROTOR BLADES–TAIL ROTOR–CRACKED. DR 611750261 (photo above)
Blade spar found fatigue cracked. Same replaced.
ROBINSON R44–ATA 6310 ENGINE/TRANSMISSION COUPLING–GOVERNOR–Underspeed. DR 611750267
While in cruise, pilot noticed the main rotor RPM decayed and low rotor horn activated. Pilot maintained RPM by manually opening the throttle and established that the governor controller was u/s. The helicopter was flown manually on the throttle per the approved flight manual. The Governor controller was replaced with an overhauled item per RHC MM.
AGUSTA AW139–ATA 6420 TAIL ROTOR HEAD–SCISSOR ARM–CRACKED. DR 611750275
During inspection, scissor pair found hard to move at the central joint. Further inspection revealed an apparent fracture line on one of the scissor halves. Suspected crack developed due incorrect shimming from factory. Parts are being replaced.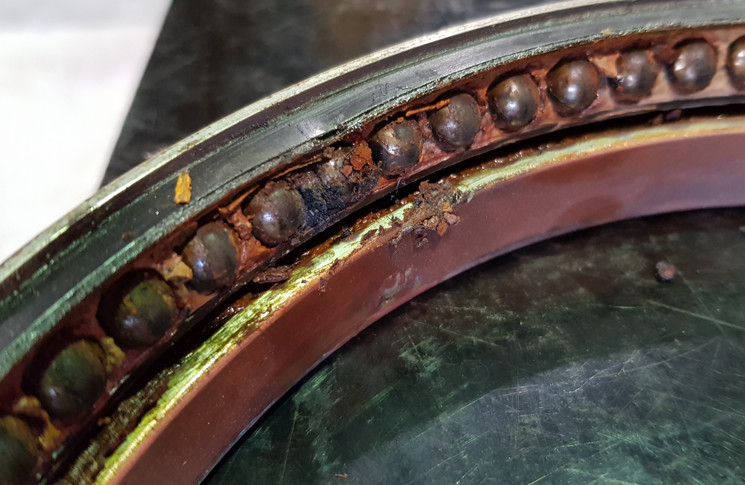 EUROCOPTER EC120 B–ATA 6230 MAIN ROTOR MAST/SWASHPLATE–BEARING–CORRODED. DR 611750283 (photo above)
During hangar inspection, main rotor could not be rotated. Investigation found swashplate was the issue with no movement in the rotating section of swashplate assy. Swashplate was removed from aircraft and stripped down. Bearing was inspected and upper bearing of the Duplex bearing was not able to be moved. Bearing was cut open and was found corroded due to lack of grease in upper section of bearing assy. Aircraft has been maintained IAW manufacturers requirements however grease has not been supplied to upper bearing which could not be noticed without disassembly. Before removal of swashplate from aircraft and in the disassembly, sufficient amounts of grease was found on assembly and lower bearing indicating greasing was carried out regularly. Bearing will be replaced with a new one.
EUROCOPTER AS350 B2–ATA 2931 HYDRAULIC PRESSURE INDICATOR–PRESSURE SWITCH–FAULTY. DR 611750289
Upon completion of search operation, PIC was alerted by hydraulic fail warning light illumination and audible horn. While maintaining rotor craft control, a safe 'run on' landing was made. During the course of rectifications, hydraulic pressure switch was found faulty. Therefore 'Indication' was established as false. Auxitrol hydraulic pressure switch was replaced with post SB 29.00.14 P/N 704A37721117. Hydraulic fluid replaced, along with new filter. Relevant external inspections completed. Aircraft released to service after satisfactory test flight.
AGUSTA AW139–ATA 2590 NON STANDARD EQUIPMENT SYSTEM–CSU–BURNT OUT. DR 611750307
While removing a flat panel patient light, a burn mark was immediately noticed on the side of the feed-through hole in the Ceiling Service Unit from which P105 & P106 pass though. Several other wires have also chaffed through to the conductor. Fleet wise inspection planned. In addition, introduction of Teflon spiral wrap to prevent any further chaffing as an interim measure was adopted. STC holder informed, awaiting further advice on preventive measures.
SIKORSKY S92 A–ATA 6220 MAIN ROTOR HEAD–DOWEL–CORRODED. DR 611750316
During daily inspection, it was noted that the main rotor flap stops had moved from their normal position. The engineer removed flap stops and discovered that the dowel pins were corroded to the point that the dowels were not protruding into the flap stop. The hub is original to the aircraft and has 4828 of operational hours and a 9000 retirement life. This condition was reported to Sikorsky and advice was requested as to a possible field replacement of the dowel pins. Sikorsky requested that the Main Rotor head be replaced and the removed Main Rotor head be returned to Sikorsky for further investigation. Main Rotor Head and associated parts are being replaced. Fleet wise inspection planned. Further, it is recommended to review periodic inspection interval/technique for effectiveness.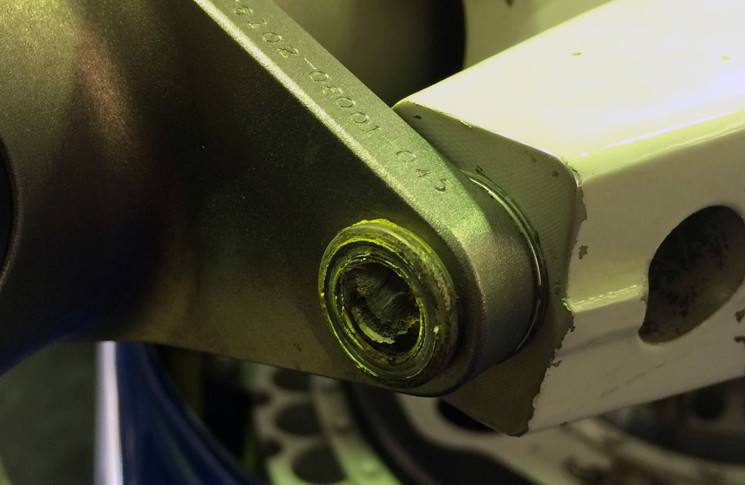 SIKORSKY S76 C–ATA 6220 MAIN ROTOR HEAD–BOLT–FAILED. DR 611750386 (photo above)
During a pre-flight inspection, LAME found a bolthead on oil tank/oil cooler upper cowling, forward of the engine oil servicing door. Further inspection revealed the bolthead belonged to the 'yellow' main rotor spindle to pitch horn outer attachment bolt, P/N NAS 1307-18D. OEM informed. Failure mode is unknown, metallurgical testing is required to determine root cause. Flights suspended until response is provided by the TC Holder (Sikorsky). Replacement planned.
SIKORSKY S92 A–ATA 6400 TAIL ROTOR SYSTEM–BEARING–OVERHEATED. DR 611750391
During post flight/daily inspection, while complying with AD 2017-05-51[e] [2] and ASB 92-64-012A, it was discovered that all 4 temperature indictor dots had been active. Further detailed reviews of the HUMS data was carried out with no indications of changes to the vibration levels. Incident was reported to Sikorsky. Suspected possible over temp' off the tail rotor pitch change shaft bearing. Tail rotor pitch change shaft assembly has been replaced. Detailed investigation to be conducted at OEM, strip report has been requested.
SIKORSKY S92 A–ATA 6400 TAIL ROTOR SYSTEM–BEARING–OVERHEATED. DR 611750430
While carrying out inspections against AD 2017-05-51[e] [2] and ASB 92-64-012A, it was discovered that all 4 temperature indicator dots had been activated. Further detailed review of the HUMS data was carried out with no changes to the vibration levels evident. Incident was reported to Sikorsky. Further detailed inspection of the removed shaft and bearing assembly will be conducted by the OEM; a detailed strip report has been requested. Tail rotor pitch change shaft assembly has been removed, replacement serviceable assembly to be fitted after parts sourcing.
EUROCOPTER AS365N3+–ATA 5312 FUSELAGE MAIN, BULKHEAD–RIB–CRACKED. DR 611750442
A crack was found in the Intercostal rib used to attach a FLIR Mount Support Strut. The crack was running vertically at the end board end of where the support strut was attached to the Intercostal Rib. Possibly could be due to incomplete load path distribution. Repair carried out in accordance with EO ER-XX.