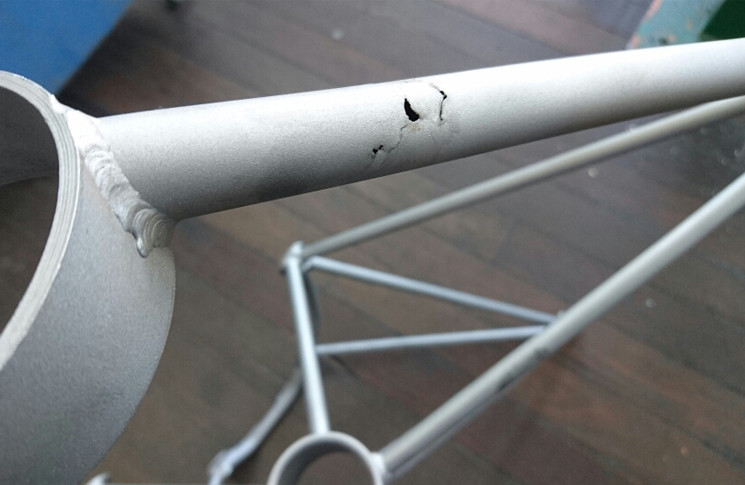 CESSNA 150 M–ATA 7120 ENGINE MOUNT SECTION–LOAD FRAME–CORRODED. DR 611750179 (photo above)
Engine mount frame found internally corroded while being prepared for MPI as required by Cessna SID 71-20-01. The paint on the frame covered the corrosion holes and at the frame was bead blasted, holes became visible. Corroded tubes repaired IAW an approved repair scheme.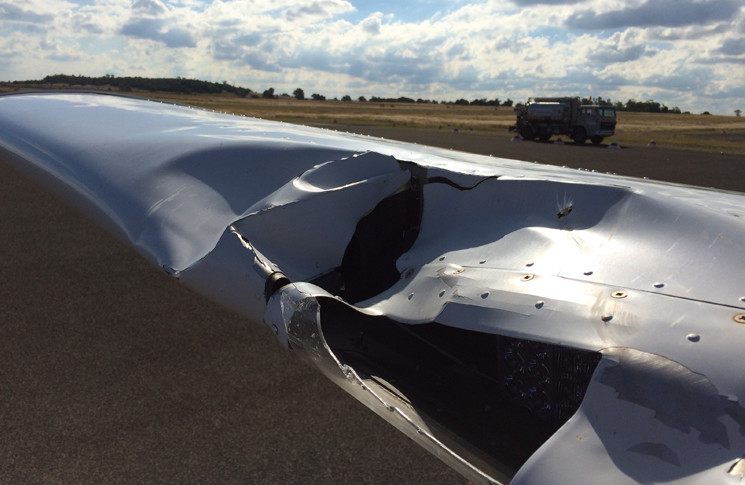 CESSNA 206 H–ATA 5700 WING STRUCTURE–WING–BIRDSTRIKE. DR 611750180 (photo above)
RH wing damaged due to birdstrike. Repairs arranged.
CESSNA 182 G–ATA 5720 WING, MISCELLANEOUS STRUCTURE–FITTING–CRACK INDICATION. DR 611750181
Lower left wing strut fitting failed eddy current inspection against SIDs 57-40-01. Wing strut fitting replaced.
PIPER PA31 350–ATA 2810 FUEL STORAGE–Cap seals–LEAKING. DR 611750204
LH engine reported surging on left-hand main fuel tank. Later on it was learned that there was insufficient fuel due to failed fuel cap seals. Faulty fuel cap seals replaced.
CESSNA 172 R–ATA 2842 FUEL QUANTITY SENSOR–Sender–HIGH RESISTANCE. DR 611750205
Intermittent low fuel warning presented with aircraft tanks full. Fuel sender removed and bench tested indicating above limit reading. Resistance is 3 ohms, (limit +2 or -2 ohms with tanks empty). Resistance is 90 ohms, (+5 or -5 ohms with tanks full). Part is low hour removal. Warranty claim processed.
PILATUS PC12 47E–ATA 2497 ELECTRICAL POWER WIRING–CIRCUIT BREAKER–FAILED TO OPEN. DR 611750219
When carrying out a phase 4 DC Generation functional tests, bus tie RCCB located on the overhead control panel failed to trip when selected to do so on the maintenance box. After about 5 seconds, smoke was seen emanating from the circuit breaker and the test was stopped. The panel was replaced with a serviceable unit and the test was completed with no further issues.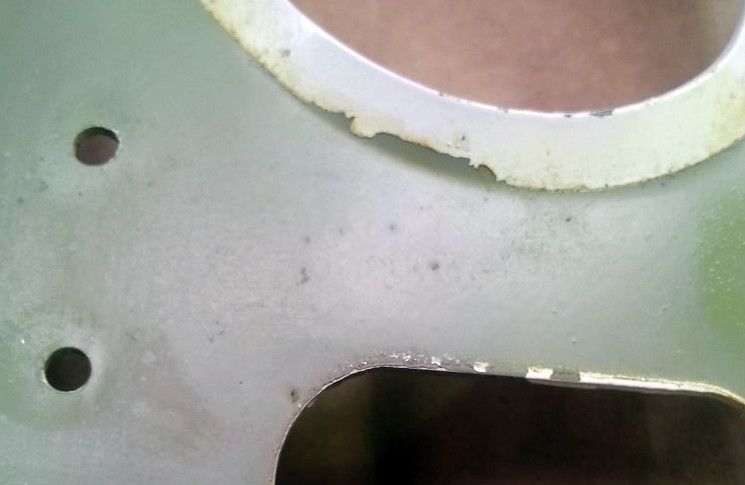 CESSNA 210 N–ATA 5511 HORIZONTAL STABILIZER, SPAR/RIB–SPAR–CRACKED. DR 611750228 (photo above)
During inspections, a crack was found in the horizontal stabilizer spar. Could be due to flight loads. Part replaced.
BEECH 200–ATA 5210 PASSENGER/CREW DOORS–HINGE PIN–CRACKED. DR 611750229
A small section of cabin door hinge was found missing during post flight inspection. Door inspected, missing hinge as well as door channel was found cracked. No definite cause could be determined. Door channel and hinge assembly has been replaced after damage assessment.
CESSNA 404–ATA 2140 CABIN HEATING SYSTEM–COMBUSTION HEATER–Decay test failed. DR 611750249
During scheduled maintenance, heater failed pressure decay test required by FAA AD 2017-06-03 sub para (g)(4). The failure was confirmed using the immersion test with air escaping from a crack around the spark plug attachment boss and also from inside of the shroud. Failed heater has been disabled IAW the AD.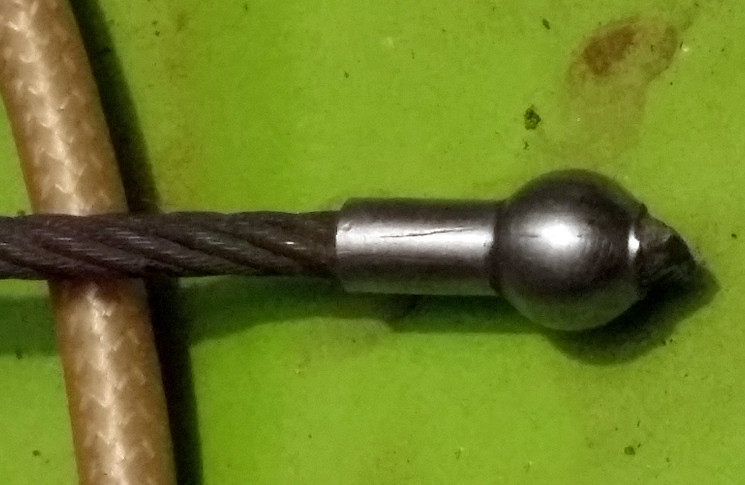 CESSNA 210 N–ATA 2720 RUDDER CONTROL SYSTEM–TERMINAL–CRACKED. DR 611750259 (photo above)
Upon sliding the cable's forked end away from the swagged ball fitting, a crack in rudder cable terminal found during inspections. Could be due to stress corrosion. Cable replaced.
CESSNA 210 L–ATA 3260 LANDING GEAR POSITION AND WARNING SYSTEM–DOWNLOCK–Indication. DR 611750262
Gear down light extinguished during taxi and warning horn sounded. Suspected some taxi bump caused indication trigger. Down lock removed, cleaned and lubricated. Retraction checks satisfactory. Over centre go/no go found ok.
CESSNA 210 M–ATA 2913 HYDRAULIC PUMP, (ELECTRIC/ENGINE), MAIN–MOTOR–BURNT. DR 611750263
After take-off, landing gear could not retract with burning smell experienced. Defect traced to gear motor failure. Gear motor replaced. Disassembly of motor revealed failed solder joint and burnt commutator.
PIPER PA31 350–ATA 5730 WING, PLATES/SKIN–SKIN–DAMAGED. DR 611750268
During take-off roll, LH outboard leading edge came into contact with bird. Leading edge skin removed and area beneath inspected. Nil further damage noted. Skin replaced and a/c returned to service. Birdstrike in leading edge between two ribs. Previous insert repair carried out in the same area. Skin removed and structure beneath inspected. Damage found restricted to skin.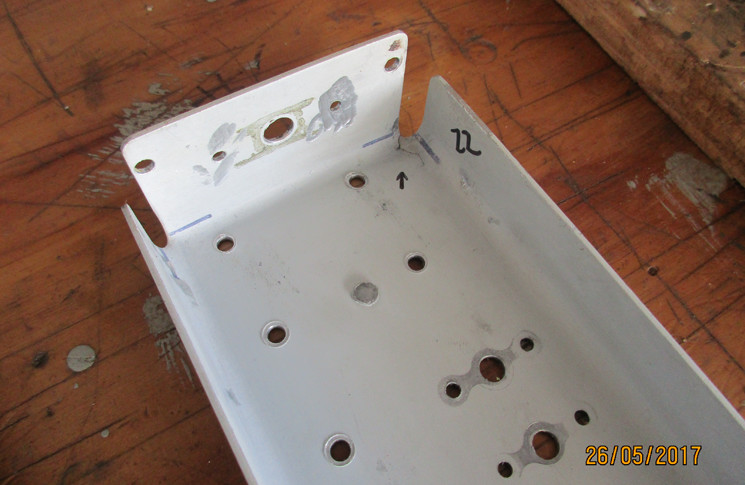 GIPPSLAND GA8–ATA 5322 FUSELAGE INTERNAL MOUNTING STRUCTURE–SUPPORT–CRACKED. DR 611750287 (photo above)
Pilot rudder/brake pedal bearing support inboard and outboard channels found cracked in the corners. Suspected localised stress raiser triggered crack. Parts were renewed.
BAE JETSTREAM 3100 3206–ATA 3211 MAIN LANDING GEAR ATTACH SECTION–PINTLE–CRACKED. DR 611750298
RH MLG pintle found cracked. MLG assembly replaced.
CESSNA 402 C–ATA 3211 MAIN LANDING GEAR ATTACH SECTION–TRUNNION–SUP. DR 611750304
Upon inspection of the part in question PN 5141103, it appeared to be of different configuration to the IPC. Part is labelled as PN 5141103-5 however looking at the IPC it appears to be PN 5190112-1. This PN is associated with frequent 50-hourly inspections or replacement by superseded PN 5141103-5. (Part ordered) by Cessna service information letter ME79-11.
CESSNA 402 C–ATA 3211 MAIN LANDING GEAR ATTACH SECTION–TRUNNION–SUP. DR 611750319
LH MLG leg removed from service due to being loose around top attach point. Upon removal, it was evident that new PN 5141103-5 trunnion top with one bolt hole had been fitted to an older style leg with 4 bolt holes. PN 5190112-1 these items have been pressed together, this appears to be an unapproved modification; this is probably the reason it has become loose over time.
CESSNA 404–ATA 5730 WING, PLATES/SKIN–PANEL–DISBONDED. DR 611750327
During NDT inspection of LH & RH wing upper surface bonded wing panels IAW AD/CESSNA/108, a disbond was detected along wing trailing edge, forward of ailerons. LH wing from STN PWS 67.80 to PWS 108.20 and RH from STN SWS 67.80 to SWS 148.34 approx. 4 inches FWD from panel trailing edge. Disbond to be repaired IAW MEB95-11.
CESSNA 207–ATA 3246 WHEEL/SKI/FLOAT–WHEEL–CRACKED. DR 611750330
Pilot reports tyre scrubbing on spot. Upon inspection it was found that tyre bulge is due to cracked wheel half. Time since last maintenance is 61 hr.
BEECH 23–ATA 2820 AIRCRAFT FUEL DISTRIBUTION SYSTEM–FITTING–LOOSE AND LEAKING. DR 611750388
Excessive fuel consumption coupled with high EGT. Troubleshooting found, fuel supply line loose at firewall. Loose fitting was tightened.
DE HAVILLAND B1900–ATA 3246 WHEEL/SKI/FLOAT–WHEEL–CRACKED. DR 611750400
Crack discovered during NDI. Crack emanating from fastener hole 12 mm long.
SWEARINGEN SA227 DC–ATA 7603 POWER LEVER–LEVER–STUCK. DR 611750413
Once aircraft had levelled off in the cruise, crew tried to set cruise power and found that the right speed lever was stuck at high speed position. Stuck lever could not be moved so crew elected to land back at the departing base. After parking, lever was released by crew and a normal engine shutdown was executed.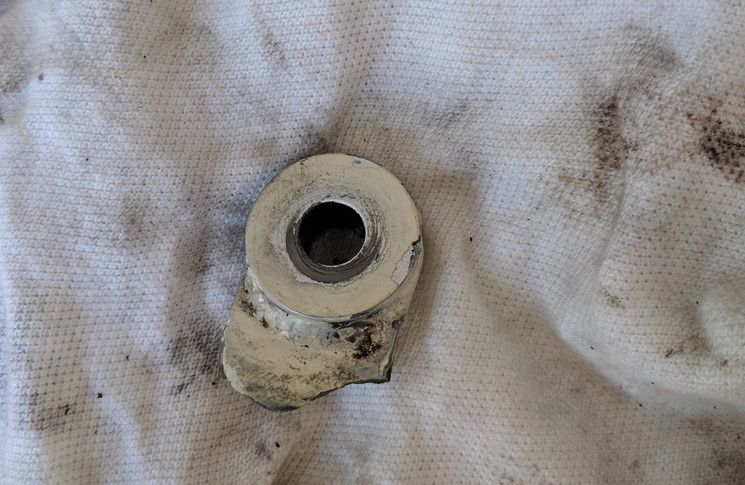 PIPER PA25 235–ATA 3213 MAIN LANDING GEAR STRUT/AXLE/TRUCK–LUG–FAILED. DR 611750423 (photo above)
Port MLG had a failure of the rear strut attachment lug cutting one of the 2 bungees. Main Leg, bungees and struts would be replaced. Strut is also due for replacement as over extended.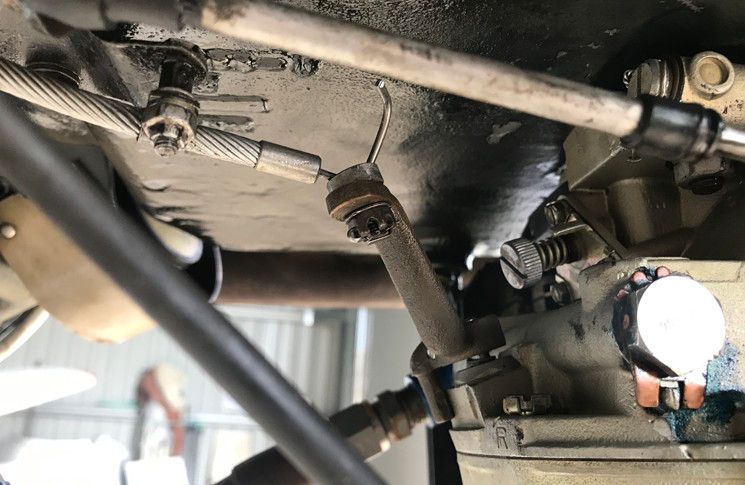 PIPER PA25 235–ATA 7600 ENGINE CONTROLS–CABLE–FAILED. DR 611750425 (photo above)
Mixture control inner cable at the carburettor attachment, failed after engine start. Fatigue and age could be the contributory factors. Cable was replaced.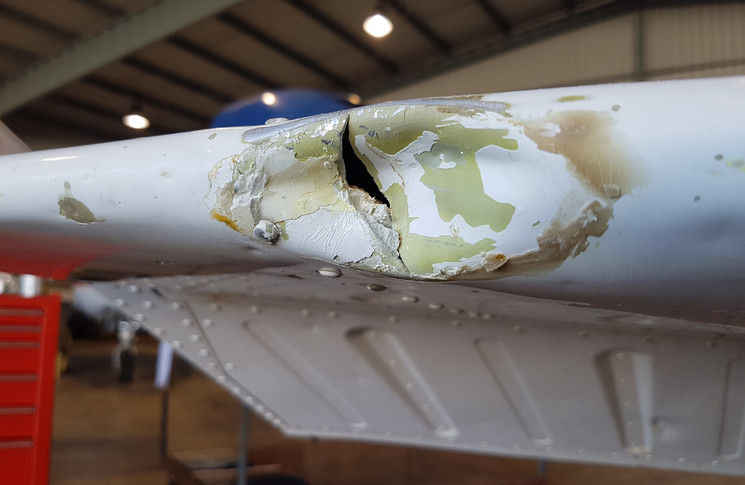 MOONEY M20R–ATA 5511 HORIZONTAL STABILIZER, SPAR/RIB–STABILIZER–DAMAGED. DR 611750230 (photo above)
Substantial damage to the horizontal stabilizer leading edge was noticed after rubber boot removal.