BOEING 717 200–ATA 2780 LEADING EDGE SLAT CONTROL SYSTEM–Flap Track Module–FOD. DR 611750453
Crew unable to extend slats due to plastic object stuck in flap track (module). Object shifted after third attempt, thereafter normal approach and landing conducted. Crew discussion confirmed track plates on cockpit flap lever panel assy had fallen out and jammed lever. Light plate panel reassembled and installed onto pedestal IAW 33 13 XX and 27 51 XX. Serviceability checks completed. Root cause behind detachment of light cover (track plates) plates could not be established.
SAAB 340 B–ATA 3241 BRAKE ANTI-SKID SECTION–Anti-skid release lights on–Wire damaged. DR 611750461
With LGs selected down, anti-skid CWP annunciator illuminated. With gears up, warning was no longer presented. Annunciator illuminated once again when gears were extended. Crew made a PAN call and the landing was made without incident. Defect was traced to a broken wire at LH I/B MLG wheels speed transducer. Wire repaired by crimping of new contact pins IAW SAAB 340 AWM CH 20 20. Defect confirmed to be rectified through extinguished annunciator on CWP. Anti-skid functional checks carried out IAW AMM.
EMBRAER ERJ190100–ATA 3610 PNEUMATIC DISTRIBUTION SYSTEM–NAPRSOV–Internally leaking. DR 611750465
'Bleed 2 Fail' EICAS message appeared on landing. #1 bleed was already under MEL. Therefore, flight crew performed an air return to departing base due to loss of both bleeds. During course of troubleshooting, #1 engine NAPRSOV butterfly sealing ring found dislodged. Fleet technical suggested NAPRSOV at fault. #1 and #2 engine NAPRSOV replaced per AMM Task 36 11 03 400 XX. Subsequent operational test of both bleeds carried out satisfactory. Shop report for NAPRSOV confirms primary finding of a broken and worn butterfly valve assy disc ring. NAPRSOV found seized with the disk ring jammed in the ring to valve housing. These findings are in line with the known world fleet findings. OEM is still working on a permanent solution for the poor reliability of the NAPRSOV.
DE HAVILLAND DHC8 102–ATA 5270 DOOR WARNING SYSTEM–GAS STRUT–Less force required to operate. DR 611750473
Passenger door warning appeared at 5000′. QRH checklist followed, requiring the aircraft to be depressurised. The passenger door handle over centre gas strut had weakened to the point where the door could be 'unlocked' by applying very light pressure to the handle. In consultation with Bombardier, it was established that forces required to operate strut from fully extended position to fully compress were well below the AMM figures (30.8 37.5 lbs against required figures ranging from 36 58 to 55 86 lbs. The strut was replaced and all door operation and indications checked normal as per AMM.
BOEING 737 838–ATA 3210 MAIN LANDING GEAR–SPRING–Part Departed Aircraft. DR 611750477
During walk around, RH MLG FWD up lock spring found missing. Airport authorities informed, spring replaced. Boeing aware, FTD 737NG FTD 32 03004 refers. Boeing has issued two SLs specific to ranges of aircraft that had quality issues with production delivery installed springs. Because the springs are coated with a plastic Duralon material to protect the spring wire from damage, it is not possible to inspect the springs for cracks using visual or non-destructive test methods while in service. OEM is currently not considering a design change. Event monitoring will continue.
BOEING 737 8FE–ATA 2711 AILERON TAB CONTROL SYSTEM–BUSHING–SUP. DR 611750483
SUP No: 2017 20170125002 was issued to advise operators on unapproved bushings manufactured by ESNA Aerospace (Formally Fitz Manufacturing Ind.) between August 2001 and September 2015 and distributed by Wesco Aircraft. ESNA Aerospace and Wesco Aircraft are not FAA production approval holders. Bushings are fitted to the aileron feel and centring mechanism assembly support arms where they attach to the airframe, IPC 27 11 81 01 item 40 refers. The connection points do not rotate. The bush is a sacrificial wear component for the airframe mounting point, the 0.25 inch securing bolt which passes through the bush is the principle shear restraint. Affected bushings will be replaced at the earliest opportunity once spares are available.
BOEING 717 200–ATA 2200 AUTOFLIGHT SYSTEM–FCC–DRY SOLDER JOINT. DR 611750498
Erroneous readings, yaw damper under MEL, FD G/A only displayed on take-off. Nil faults logged for FCC1, unable to communicate with FCC2 through CFDS (error shown as 3BY). FCC2 CB's recycled and fault history accessed. #2 FCC removed and replaced IAW AMM 22 01 XX. Removal reason was not confirmed as FCC may have suffered an intermittent failure. However, overhaul shop recommended reflow of solder joints of unit CCAs per SIL 55, cleaning of MB chassis and CCA connectors. No further AP defects have been observed since replacement of FCC2.
BOEING 737 838–ATA 2913 HYDRAULIC PUMP, (ELECTRIC/ENGINE), MAIN–Case drain Pylon disconnect–LOOSE AND LEAKING. DR 611750501
On climb, # 2 EDP light illuminated due EDP failure. Loss of hydraulic sys B, engine fail/shut down checklists actioned, one engine out approach conducted. During walk around checks, heavily contaminated with Skydrol was observed. EDP replaced, relevant maintenance completed. Initial investigation found #2 engine EDP case drain pylon disconnect fitting 1/2 turn loose to full disconnection. Area was last accessed during scheduled engine change event couple of months ago. Investigation was unable to conclusively determine time and space where subject case drain coupling was disturbed after last engine change. Discussion with the crew involved with the engine change revealed nil issues associated with the coupling fitment and highlighted the importance of positive fitment during case drain hose fitment. To raise awareness of the risk associated with connection of the case drain line, a demonstration video has been produced for recurrent training of maintenance crew.
AIRBUS A380 842–ATA 5400 NACELLE/PYLON STRUCTURE–STRUT–LEAKING. DR 611750509
Whilst carrying out drain test of the #4 pylon drain system with water per AOT A54R008 17, a leak was noted from the compartment through pylon structure onto engine compressor case. Leak originated from around bolt and rivets forward of the drain hole. Sealant was in poor condition and was separating around the bolt head. The bolt heads, rivet tails and faying surfaces were resealed IAW A54R008 17. Subsequent drain test carried out with nil evidence of leak around bolts. Engineering investigation is in progress.
AIRBUS A321 231–ATA 5753 TRAILING EDGE FLAPS–COVER PLATE–Part Departed Aircraft. DR 611750523
During pre-flight inspection, #2 inboard, right-hand flap track moveable fairing pivot bolt cover was found missing. High speed tape was applied per CDL 57 55 00 XX. Pivot bolt cover was later replaced and aircraft declared serviceable. Please note this PDA has also been reported to Airbus.
BAE BAE146 200A–ATA 5610 FLIGHT COMPARTMENT WINDOWS–WINDSHIELD–CRACKED AND ARCING. DR 611750536
In flight, arcing (anti-ice elements failed) started in LH 'A' screen, and as a result it cracked. Check lists was completed and unpressurised descent to 8000 feet, was carried out. Remainder of flight completed without incident. Windscreen replaced.
FOKKER F28 0100–ATA 3230 LANDING GEAR RETRACT/EXTENSION SYSTEM–CHECK VALVE–Internally leaking. DR 611750561
After repeated application of park brake, flight crew encountered a triple chime master warning; associated red landing gear (LG) not down and amber left-hand MLG unsafe messages; an illuminated blue LG transit light on the LG selector lever; and an extinguished left-hand LG down light. Preliminary inspection found LG had actually unlocked and warnings were true. Aeroplane made safe by over centring thereby achieving positive down and locked status. Detailed investigations found check valve IPC 32 32 04 01 item 200 (at selector main landing gear) defective with internal debris recovered. Being set up as a consumable part, subject valve is currently not reliably tracked, however, after reviewing historical data safely, considered an isolated event.
EMBRAER EMB120–ATA 3260 LANDING GEAR POSITION AND WARNING SYSTEM–SENSOR–FAULTY. DR 611750573
During gear retraction, RH main gear system 'B' green light remained illuminated. During troubleshooting, engineers confirmed 'B' system down lock sensor defective. The sensor was replaced with a serviceable item, gear retraction checks carried out and the system tested serviceable.
AIRBUS A320 231–ATA 2565 ESCAPE SLIDE–SLIDE–FAILED TO DEPLOY. DR 611750576
Scheduled operational check of the off wing emergency exit escape slide deployment was carried out and the automatic deployment of the slide on the RH off wing exit test failed as per AMM 25 62 00 710 002 A. The over wing exit hatches were unable to be remove in the armed position. Manual deployment was then attempted using the handles and again the handle did not move and the slide did not deploy.
SAAB 340 B–ATA 3246 WHEEL/SKI/FLOAT–WHEEL–TREAD SEPARATION. DR 611750621
Post flight inspection found #3 wheel assembly tread had delaminated. The section of tyre tread missing was approximately 12' x 1.5'. No secondary damage noted. I/B and O/B tyre pressures were found to be within serviceable limits. Affected wheel assy was replaced.
BOEING 737 838–ATA 2731 ELEVATOR TAB CONTROL SYSTEM–TAB–Not balanced after painting. DR 611750624
Elevator tab was not weighed after being painted contrary to the SRM procedure of 51 61 06 'General–Elevator Tab Balance Procedure'. It could be due to misinterpretation when reading the task sequence 12 item 5 'Balancing of Ailerons and Elevator'. Recurrent training requested for structure shop personnel with respect to flight control surface balancing after repainting. Further, revision of Quality Procedure (QP) 'Control of Aircraft Painting process' was agreed.
ATR ATR72 212A–ATA 3246 WHEEL/SKI/FLOAT–WHEEL–CRACKED. DR 611750632
Crack indication found during eddy current inspection and confirmed via dye penetrant inspection.
FOKKER F27 50–ATA 5320 FUSELAGE, MISCELLANEOUS STRUCTURE–PROFILE–CORRODED. DR 611750635
During general visual inspection of the side box top structure, between STA 16275 and the rear pressure bullhead, MPD task 534009 00 01 referring, level 2 corrosion was identified on a lower profile of the fuselage opening for the aft left-hand service entry door. Permanent repair instructions were requested from OEM embodied during current grounding.
BOEING 737 7FE–ATA 2560 EMERGENCY EQUIPMENT SYSTEM–Slide Pack–Velcro Defective. DR 611750657
After overnight layover, cleaners reported L2 door girt was catching on door sill while door being closed. Later on, it was found that girt Velcro strip had separated causing girt to drop lower. L2 slide inspected, slide pack removed, Velcro strips reattached, slide pack refitted. No previous history and there have been no repetitive occurrences. No further recommended actions.
FOKKER F28 0100–ATA 3242 BRAKE–Brake end plate–Bolt missing. DR 611750662
While replacing #2 MW assembly, a bolt was found to be missing from the end plate of the associated brake pack, along with several of the bolts being loose. It was also identified that the inside of the MLG wheel assembly had been scored significantly. Failure is considered unique within the fleet, and an isolated event. Brake and wheel assemblies will be forwarded to approved repair facility for inspection and repair. Request has been made to investigate the failure mode and preventive measures.
BAE AVRO146RJ 100–ATA 3610 PNEUMATIC DISTRIBUTION SYSTEM–Bleed Air Isolation valve–Out of Adjustment. DR 611750685
During climb, #3 & #4 engine air fault and #3 engine air valve annunciators illuminated. MEL N/A due to forecast icing conditions. Air return to departing base. Engineering carried out engine bleed air function check and found that engine #3 & #4 bleed air isolation/pressure reducing valves required adjustment. Engine #3 & #4 bleed air isolation/pressure reducing valves adjusted (#3 reduced from 46 PSI to 41 PSI, #4 reduced from 51 PSI to 41 PSI IAW AMM 36 11 00). Further engine ground runs conducted with nil defects. Aircraft returned to service.
DE HAVILLAND DHC8 402–ATA 2910 HYDRAULIC SYSTEM, MAIN–PUMP–FAILED. DR 611750704
In flight, master caution light along with #1 eng hyd pump, hyd ISO valve and associated caution lights were presented. Warnings were acknowledged, aircraft landed safely. Hydraulic system loss was caused by failure of the #1 engine driven hydraulic pump. #1 EDP was replaced with superseded P/N 66173 05. Relevant maintenance completed. Failure of the P/N XX 04 pump is a known issue. Replacement campaign is continuing.
BOEING 737 7FE–ATA 5511 HORIZONTAL STABILISER, SPAR/RIB–SPAR–CORRODED. DR 611750706
During GVI of the LH horizontal stab IAW task card 55 824 01 01, a bulge was observed in the stab upper skin 30 inch I/B from stab tip and 19 inch forward of stab T/E. Borescope inspection was carried out through the drain hole below the bulged area and revealed extensive corrosion along the upper side of rear spar. Subject corrosion finding is consistent with a level 2 finding in primary structure per OEM guidance. Repair scheme is controlled and approved by the OEM. Rectification of the damage is under way.
AIRBUS A320 232–ATA 3830 WASTE DISPOSAL SYSTEM–DRAIN VALVE–clogged. DR 611750712
On daily check, large quantity of coffee found leaking from FWD EE bilge drains. Leak was traced back to FWD galley drain valve which was clogged with coffee allowing fluids to overflow and drain into the FWD EE bay. The drain pipe is located above rack 107VU, drip tray and grommets around wiring prevented 90% of fluid entering the rack as designed, however, there was evidence of a large amount of fluid still entering the rack and running down the inside of the cabinet. There were no signs of damage or defects with the electrical equipment. The valve was replaced and A/C serviceable. Leak was close to rack 107VU, containing 3 phase A/C contactors supplying aircraft power distribution. Fleet wise cleaning of drain valves and hoses is being planned.
AIRBUS A320 232–ATA 5420 NACELLE/PYLON, MISCELLANEOUS STRUCTURE–FAIRING–Part Departed Aircraft. DR 611750714
LH pylon aft fixed fairing lower drain tubes support assembly and clamp block found missing. Clamp block and support assembly replaced. Airbus notified.
BOEING 717 200–ATA 2820 AIRCRAFT FUEL DISTRIBUTION SYSTEM–Discharge valve–PARTIALLY OPEN. DR 611750727
During cross feed operation, engine low fuel press Lo warning was reported. With left fuel tank 400 kg less than right, Lo press warning cleared when L pumps were turned on. Aircraft conducted an air return to maintenance base. During the course of troubleshooting, centre tank pump discharge valve was found to be defective. Same replaced. Valve confirmed faulty due seal migration within the valve causing a jammed 'partial open' configuration. Aircraft returned to service.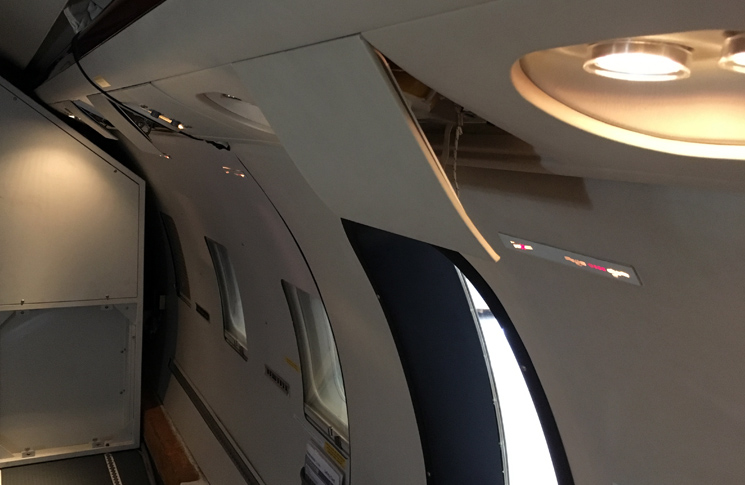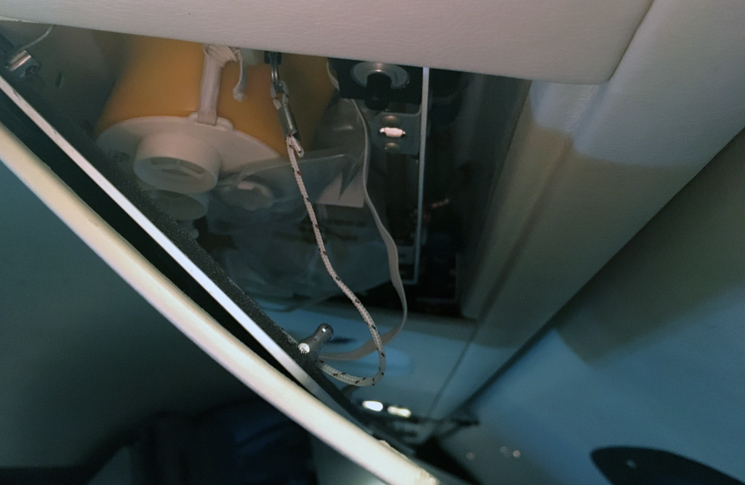 BOMBARDIER CL600 2B16–ATA 3520 PASSENGER OXYGEN SYSTEM–OXYGEN MASK–FAILED TO DEPLOY. DR 611750729 (photo above)
During operational test of pax oxygen system, it has been found that all the PSU trim covers in the cabin failed to drop down resulting in all pax oxygen masks not deployed correctly. During further inspection, lower oxygen bottle was found with shut-off valve in the halfway OPEN position. During the course of troubleshooting, it was found that PSU trim cover got jammed by misaligned ceiling panel. Fleet wide inspection of PSU trim covers requiring adjustment as well as oxygen bottles completed. SMS procedure will follow.
AIRBUS A320 232–ATA 2750 TRAILING EDGE FLAP CONTROL SYSTEM–HANDLE–STICKING. DR 611750744
Crew report intermittent flap handle locking on approach. After some manipulating, selection was made on the third attempt. Engineers advised that handle gates appear to be worn out. Flap lever assembly replaced and test satisfactory. Aircraft return to service.
FOKKER F27 50–ATA 5730 WING, PLATES/SKIN–Skin strap–CORRODED. DR 611750763
During general visual inspection of the outer wing structure, leading edges, fixed trailing edge and fixed tip, including the flap track and supporting structure and the aileron hinges and supporting structure, MPD task 572001 00 01 referring, level 2 corrosion was identified at five locations on the upper LH wing surface at rib 1040, surrounding several rivet heads. Permanent repair instructions were requested from OEM and embodied.
BOEING 787 8–ATA 3510 CREW OXYGEN SYSTEM–OXYGEN MASK–FAILED TEST. DR 611750783
During pre-flight, O2 mask failed to pass crew checks. Line maintenance attended the aircraft where captain's O2 mask was swapped with the 2nd observer's followed by application of MEL 25 11 XX.
SAAB 340–ATA 3610 PNEUMATIC DISTRIBUTION SYSTEM–DUCT–LEAKING. DR 611750801
On climb out, right 'bleed air leak' light was illuminated. Appropriate failure management procedure carried out. During the course of bleed system leak check, RH ejector valve found leaking from body. Moreover, RH goose neck rubber duct found to be completely disbonded. Ejector valve and rubber duct (goose neck) were replaced. OEM notified.
AIRBUS A321 231–ATA 2120 AIR DISTRIBUTION SYSTEM–SKIN AIR VALVE–STUCK. DR 611750809
ECAM 'vent skin valve fault' followed by 'vent blower fault' presented. Five mins after initial ECAM, 'cab pr excess cab alt' warning chimed. A precautionary ATB conducted. Investigation revealed skin air outlet valve main flap stuck in a mid position and unable to be moved manually. AEVC test also faulted skin air valve 22HQ. Rectifications planned.