CESSNA 441–ATA 5711 WING SPAR–SPAR–DAMAGED. DR 611750527
During phase 47 check, task A571008 supplementary inspection 57-10-07, a significant portion of damage was found to the main spar at F.S 177.45 zone 152. The damage appears to be a result of grinding to allow access behind the spar. The aircraft is post STC and this is the first occurrence at phase 47 check.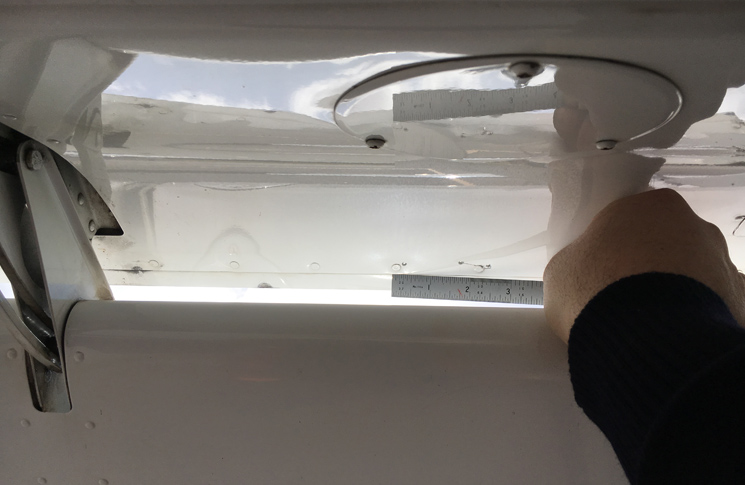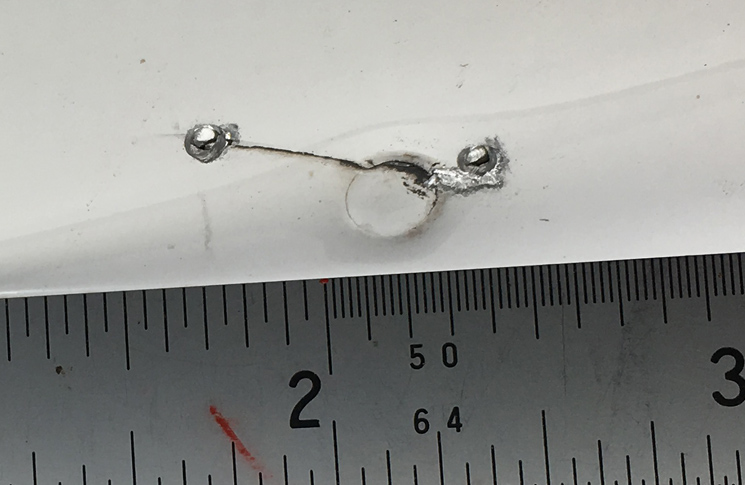 CESSNA 172 R–ATA 5700 WING STRUCTURE–WING–CRACKED. DR 611750545 (photo above)
Cracks found propagating from RH wing trailing edge rivets between WS22.875 and WS39.00. Could be due to vibration. Cracks stop drilled. Cessna contacted for installation of mod kit number MK172-57-04 IAW SB06-57-01. Six similar defects reported.
CESSNA 210 N–ATA 2910 HYDRAULIC SYSTEM, MAIN–Hyd line flare–LEAKING. DR 611750550
Pilot reported fluid leaking from around centre pedestal. Landing gear was selected up at the time. Aircraft jacked and gear swings carried out. Fluid found on rudder trim wheel and surrounding structure. Gear selector found to have leaking hydraulic line flare. Line repaired. Gear swings carried out. Aircraft returned to service.
CESSNA 402 C–ATA 7721 CYLINDER HEAD TEMP (CHT) INDICATING SYSTEM–PROBE–FAULTY. DR 611750570
RH CHT exceeds max after take-off limit. Defect was traced to unserviceable CHT probe. Probe was replaced and wiring repaired.
PIPER PA28 161–ATA 2820 AIRCRAFT FUEL DISTRIBUTION SYSTEM–PIPE–Pin hole leak. DR 611750589
During pre-flight inspection, pilot reported a strong smell of fuel in the cockpit. The LH carpet/trim was also found wet from fuel. Investigation found aluminium fuel supply pipe connecting fuel selector valve to the wing had a pin hole failure. No chaffing was observed and pipe was not in contact with the bulkhead it passed. SMS investigation has initiated. OEM informed.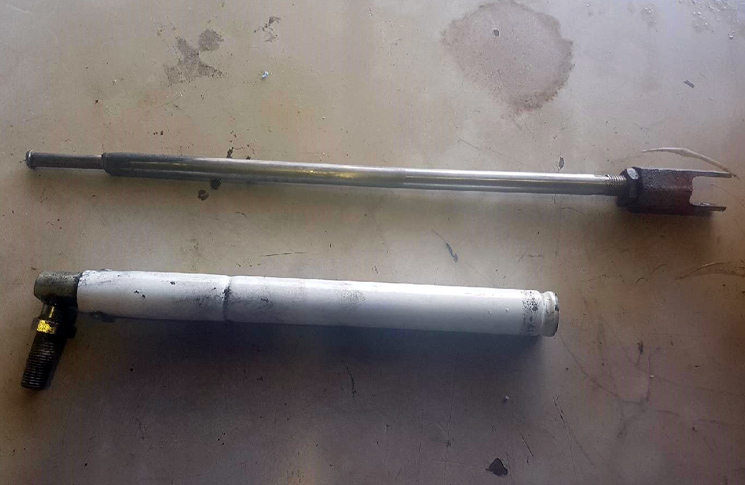 CESSNA 152–ATA 3251 STEERING UNIT–BUNGEE–UNSERVICEABLE. DR 611750590 (photo above)
Excessive nose wheel shimmy on landing/take-off reported. Investigation found right-hand steering bungee had internal failure. Serviceable bungee installed.
PIPER PA44 180–ATA 3260 LANDING GEAR POSITION AND WARNING SYSTEM–LIMIT SWITCH–FAULTY. DR 611750602
On gear extension in flight, NLG indicated red. Nose gear up limit switch remained closed when gear extended. Affected switch replaced.
CESSNA U206 G–ATA 2510 CREW STATION EQUIPMENT SYSTEM–ROLLER–WORN. DR 611750608
During inspection against AD 2011-10-0, seat roller washers were found worn out. Roller washers were replaced with new items.
BEECH 200 B200–ATA 2730 ELEVATOR CONTROL SYSTEM–BOLT–INCORRECT FIT. DR 611750609
Stop limit bolt visually inspected and found to be incorrectly positioned. The assembly was inspected IAW B200 MM Special Inspection # 70. The Jam nut on the stop limit bolt # 4 was completely stripped. No other damage apparent. The position of the bolt rendered it useless as a stop limit. Nut was replaced and bolt fitted in accordance with the MM.
CESSNA 210 M–ATA 2810 FUEL STORAGE–SEALANT–DAMAGED. DR 611750623
Fuel leak reported from LH wing in flight. Inspection found leak originating from fuel cap access panel. Fuel tank drained, panel opened, old sealant removed. Panel and doubler inspected. Nil defects. New sealant applied. Panel refitted and secured. Fuel tank serviced with nil leaks evident. Aircraft returned to service.
CESSNA 402 C–ATA 2121 AIR DISTRIBUTION FAN–BLOWER–BURNT. DR 611750631
Smoke in cockpit reported. Source was traced to seized blower fan. Air blower replaced with new item. HIGH–LOW–OFF positions confirmed operating normally. No rubbing or excessive noises evident.
CESSNA 402 C–ATA 2810 FUEL STORAGE–Cap seals–LEAKING. DR 611750633
R/H fuel cap was reported to be leaking in flight. Leak was traced to defective O rings in the fuel cap. Serviceable fuel cap fitted to RH wing and found satisfactory.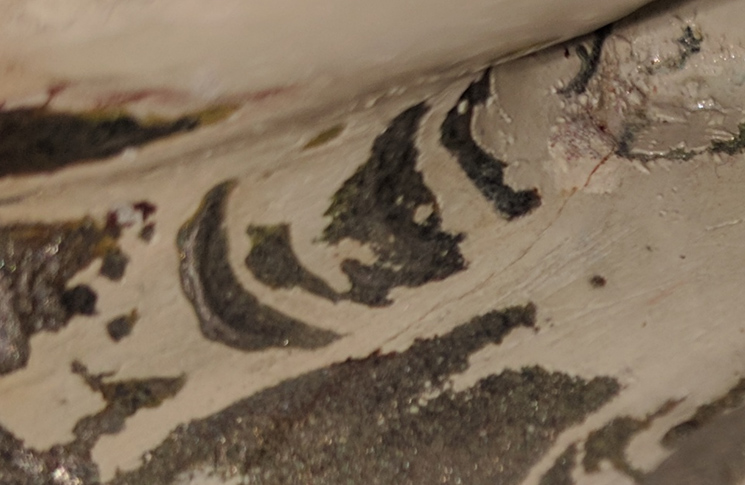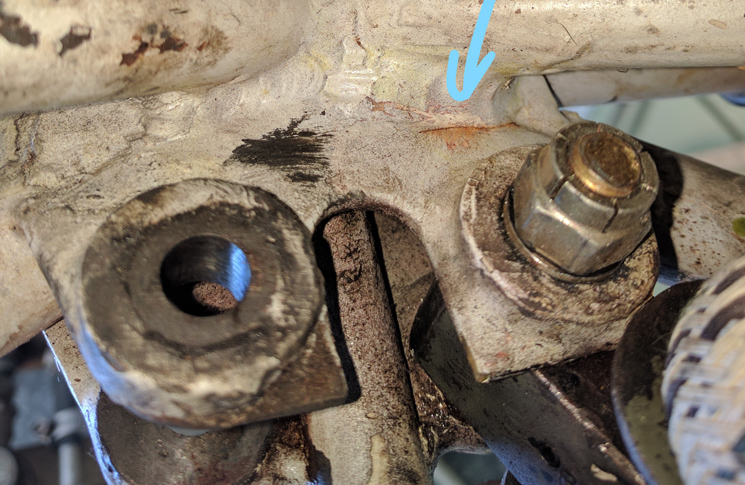 PIPER PA25 235–ATA 3211 MAIN LANDING GEAR ATTACH SECTION–LUG–CRACKED. DR 611750636 (photo above)
After MLG lug failure detected visually, dye penetrant check was used to confirm the flaw. A new plate was fitted IAW approved EO. New shock absorbers and bungee were fitted.
DE HAVILLAND DH82 A–ATA 5711 WING SPAR–SPAR–SUP. DR 611750568
Notification of suspected wing spars as supplied by Croydon Aircraft Co NZ. Nine other reports received.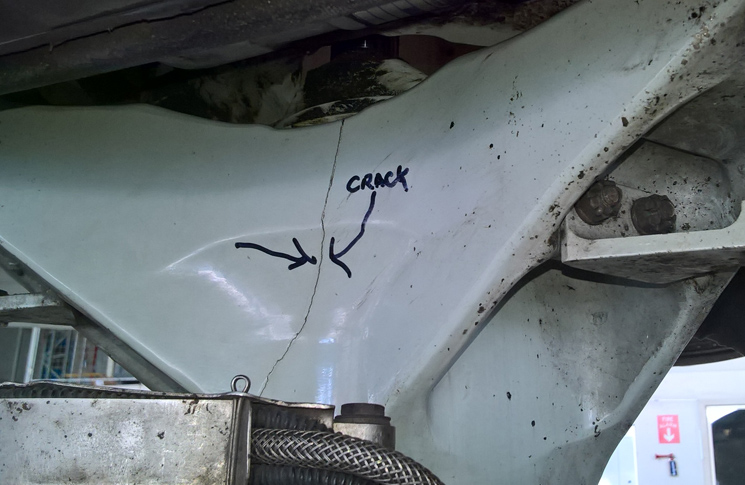 DE HAVILLAND DHC6 100–ATA 3222 NOSE/TAIL LANDING GEAR STRUT/AXLE–SHOCK ABSORBER–Surface corrosion. DR 611750782 (photo above)
During maintenance inspections, a crack was detected at the upper end of the nose landing gear outer cylinder. Bombardier Action centre was then contacted to report the defect and to hear if any other operators had experienced the same. It was found that other operators had also experienced similar failures and were advised to further this with the OEM as previous investigations had found that the crack originated from a corrosion pit found under the upper bearing installed on the outer cylinder. This is because the upper bearing migrates up and allows the moisture to penetrate. As a result a pit forms and thus results in the propagation point for a crack.
CESSNA 150 F–ATA 5511 HORIZONTAL STABILISER, SPAR/RIB–WEB–CRACKED. DR 611750637
During accomplishment of SID 55-11-03, NDI of 1: Elevator attach bracket reinforcement P/N_0432001-15 carried out, cracking found on vertical web at the port upper outboard hole. Reinforcement section removed. 2: Spar(s) P/N_0432001-56 carried out using dye-penetrant method, port-side spar found cracked at same position. Parts renewed.
BEECH 76–ATA 3230 LANDING GEAR RETRACT/EXTENSION SYSTEM–SPRING–RUSTED. DR 611750664
NLG gear extension assist spring found extremely rusty and stretched as aircraft operates in costal environment. Both landing gear assist springs replaced with new parts.
PIPER PA28 161–ATA 2510 CREW STATION EQUIPMENT SYSTEM–LOCK PIN–WORN. DR 611750665
Pilot seat became unlatched. Seat rollers and lock plungers (pins) found worn out. Seat rollers and X2 lock plungers (pins) replaced with new parts, seat cover removed to avoid interference.
BEECH 200 A200–ATA 5700 WING STRUCTURE–LEADING EDGE–DAMAGED. DR 611750694
During routine maintenance, engineers noticed a deformation to the bottom area of the LH inboard leading edge below the heat exchange inlet. Appeared to be heat damage, with mode of failure unknown. Part removed and repaired under an engineering order.
PIPER PA46 350P–ATA 5741 WING, FUSELAGE ATTACH FITTINGS–SPAR–LOOSE. DR 611750711
During five-yearly inspection, R/H aft wing spar attach fitting HI-LOK fastener was found to be loose. Repeated flight loads had elongated the R/H aft wing spar attach fitting holes on both the fuselage and wing sides. Loose fastener was removed, wing aft spar and fuselage wing aft spar attach fitting holes were reamed two steps oversize, and a two-step oversize HI-LOK fastener was installed. All work carried out IAW a Part 21.M Engineering Order.
DIAMOND DA40–ATA 2720 RUDDER CONTROL SYSTEM–CABLE–WORN. DR 611750717
Rudder cables worn to limits in area of Teflon guide tubes. All rudder control cables replaced with new items.
PIPER PA31 350–ATA 5700 WING STRUCTURE–STRUCTURE–CRACK INDICATION. DR 611750722
During eddy current inspection IAW AD/PA-31/37, a flaw was detected. Further investigation being carried out, CASR 21M person consulted.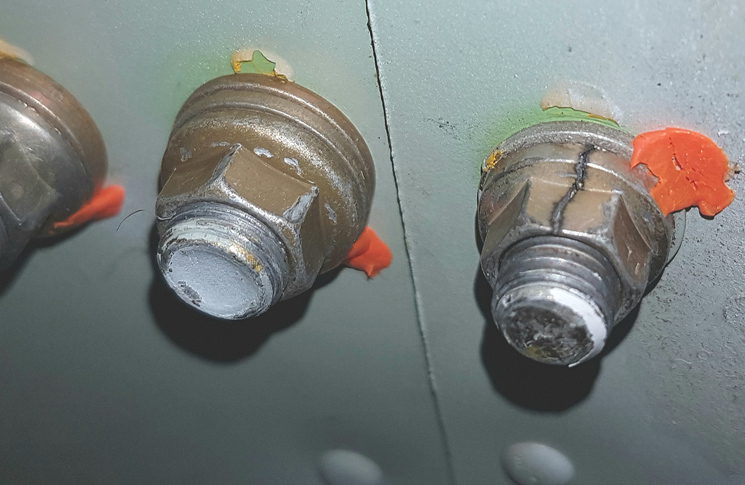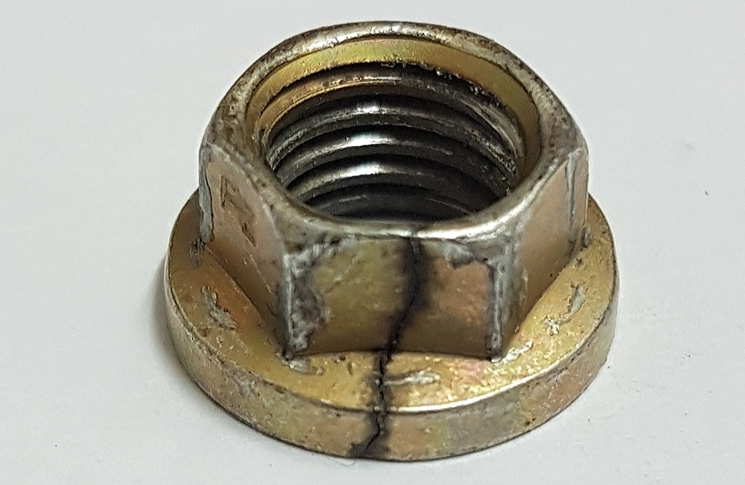 PIPER PA44 180–ATA 5740 WING, ATTACH FITTINGS–NUT–CRACKED. DR 611750723 (photo above)
While carrying out 100-hour inspection IAW Piper PA44-180 maintenance schedule, a MS21042-5 nut on the right-hand wing lower main spar attachment bolts was found to be cracked. Nut replaced with new item IAW PA44-180 manual.
PIPER PA32 300–ATA 5751 AILERONS–BALANCE WEIGHT–LOOSE. DR 611750736
During daily inspection, it was noted that the LH aileron balance weight was loose. Rivets holding balance weight to the aileron had corroded off allowing the balance weight to move. Aileron removed and disassembled, corrosion removed cleaned and treated, balance weight riveted.
BEECH 200 B200–ATA 5311 FUSELAGE MAIN, FRAME–FRAME–CRACKED. DR 611750754
During inspection (05-20-05 scheduled inspection program–special) of fuselage against ATA 53-8 FRAME WEB FS 179 through FS 271, FS 246.75 LH side under outboard seat track found cracked. This inspection refers high utilisation inspection program (HUIP) maintenance manual supplement (P/N 101-590010-559). Crack exceeds repair limitations. Services of CASR part 21 organisation engaged to develop repair scheme.
CESSNA 402 C–ATA 2520 PASSENGER STATION EQUIPMENT SYSTEM–Seat rail–SUP. DR 611750764
Suspected unapproved parts detected during incoming stores inspection. Accompanied ARC appears forged.
PILATUS PC12 47E–ATA 2742 STABILISER ACTUATOR–trim actuator–Runaway. DR 611750790
During climb out at 4600 feet, AFCS on pitch trim runaway with aural and visual 'trim runaway' message alerts received. Control force in the pitch attitude also became very heavy. Alternate stab trim used to return to trimmed flight. After a safe landing, pitch trim actuator was replaced. Test flight carried out, serviceable.
PIPER PA44 180–ATA 3230 LANDING GEAR RETRACT/EXTENSION SYSTEM–MLG–Did not extend. DR 611750793
With gear lever selected down, gear unsafe warning light on with no green lights. Thereafter, gears were confirmed up through visual inspection. Emergency gear extension system utilised.
AYRES S2R T34–ATA 3610 PNEUMATIC DISTRIBUTION SYSTEM–HOSE–RUPTURED. DR 611750825
Pilot reported propeller control very stiff to operate. Later on, it was identified that bleed hose had ruptured causing thermal damage to CSU cable. New bleed hose and new CSU cable ordered. Investigation into cause is under way.