BELL 206 L1–ATA 6710 MAIN ROTOR CONTROL–BOLT–LOOSE. DR 611851491
During inspections, a bolt was found to be lying on transmission deck. Bolt originated from R/H cyclic bell-crank bracket on the transmission case. All 3 bolts re fitted and torqued. Log book was reviewed, it was established that this area was accessed in recent past for routine inspection. As task was carried out by a third-party maintenance organisation, they have been notified.
EUROCOPTER AS350 B2–ATA 2590 NON-STANDARD EQUIPMENT SYSTEM–RESCUE HOIST–INCORRECT REPAIR. DR 611851498
Hoist defect trouble shooting undertaken due hoist tripping CB. Initially, burnt wires at connector on main loom observed. On removal of cover on hoist unit, an apparent wiring repair was noted. Removal of tape identified squib loom shielding cut with jumper wire soldered across un-shielded section. One slice had exposed wire tail. Chief engineer of the repair organisation contacted. Investigation outcomes requested on completion.
AGUSTA AW139–ATA 2590 NON-STANDARD EQUIPMENT SYSTEM–Rescue hoist–Failed load test. DR 611851549
Routine hoist load check failed. Strict criteria is that hoist must hold a load in excess of 1200 lbs. Hoist failed with clutch slipping at approximately 700 lbs. Subject hoist is fitted with latest upgraded POP2 clutch assembly which was designed to resolve previous slippage issues. Advice is being sort from Goodrich. Item will be returned to OEM for investigation.
AGUSTA AW139–ATA 6220 MAIN ROTOR HEAD–Cantering Plates–DELAMINATED. DR 611851552 (video above)
Visual inspection found delaminated cantering plates. OEM has released -34 version mitigating the issue with an improved 'wrap around' robust design.
KAWASAKI BK117 B2–ATA 6410 TAIL ROTOR BLADES–TAIL ROTOR BLADE–FOD. DR 611851597
Damage to tail rotor blades due FOD. Blades were replaced.
SIKORSKY S92 A–ATA 2910 HYDRAULIC SYSTEM, MAIN–HYDRAULIC LINE–FRACTURED. DR 611851598
During scheduled inspection, HYD SYST's were found contaminated requiring flushing. During flushing procedure, ground pump supply line (inner radius of bend) fractured. OEM contacted informing of failure. Defective part replacement planned.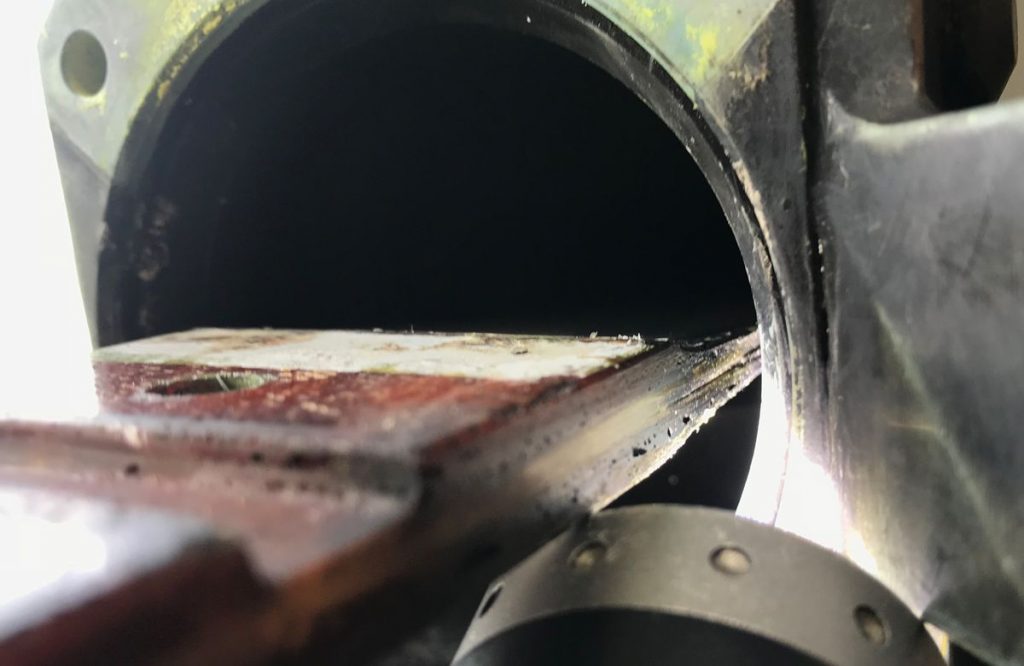 EUROCOPTER AS350 B3–ATA 6410 TAIL ROTOR BLADES–SPAR–CRACKED. DR 611851634 (image above)
Crack found in lamination of tail rotor assembly spar. New assembly installed.
AGUSTA AW139–ATA 6210 MAIN ROTOR BLADES–MAIN ROTOR BLADE–ground damage. DR 611851636
During ground manoeuvre, 5 main rotor blades were damaged after hitting a maintenance stand. Damage is being assessed by OEM. The impact was felt as a vibration through the rotor system but no effect to the fuselage or forward motion of the helicopter.
ROBINSON R44 II–ATA 2150 CABIN COOLING SYSTEM–AIRCONDITIONING–Defective. DR 611851639
Air conditioner was blowing hot air upon first flight after installation. Necessary rectifications planned.