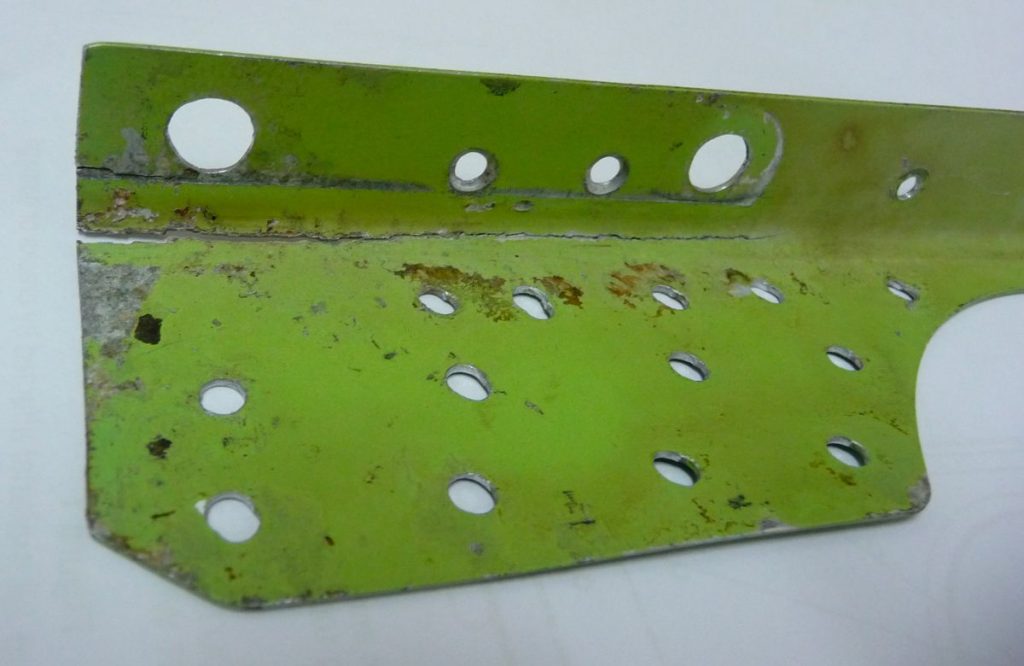 PIPER PA44 180–ATA 5712 WING, RIB/BULKHEAD–RIB–CRACKED. DR 611851493 (image above)
Inspect affected area IAW. Piper SB. NO. 1161A. Carry out Piper SB. NO. 1161A. Rib. Assy. Insp. & Modification. Aft Wing, WS 49.25. Remedy: Install kit P/N: 767-397 L/H 767-398 R/H.
CESSNA 210 N–ATA 5511 HORIZONTAL STABILISER, SPAR/RIB–SPAR–CRACKED. DR 611851504 (image above)
Horizontal stabiliser FWD spar found cracked. Crack is at the lower LH radius of the centre cut out. The spar is a three-layer construction with only the middle layer cracked. The crack is very fine and only has a total length of 0.125″. Repaired I.A.W. approved EO. i.e. stop drill and doubler repair.
AEROPRAKT 22LS–ATA 5551 HORIZONTAL STABILISER, ATTACH FITTING–Stabiliser attach bolts–LOOSE. DR 611851562
When aircraft was presented for maintenance, it was noted that the forward horizontal stabiliser attach bolts were loose, allowing tailplane to 'rock' slightly. Further investigation revealed extensive damage to attach brackets, rear tail boom skin (LH) and horizontal stabiliser skin.
SWEARINGEN SA227 AC–ATA 3230 LANDING GEAR RETRACT/EXTENSION SYSTEM–Arm assembly–STIFF. DR 611851567
Pilot reported NLG failed to unlock with landing gear selector in the down position. Emergency extension carried out without issue. Inspections have found that up lock shaft is stiff to operate. After removal of the upper drag brace, it was discovered that there was binding in the up lock hook shaft. Disassembly of the drag brace showed a migrated bushing which may have contributed to the binding. Further disassembly of the arm assembly from the cam up lock show a migrating crack from the securing bolt hole. This crack could be the potential root cause of the binding. The new arm assembly (preferred PN) and a new cam up lock assembly has been installed into the main drag brace. Several nose gear extensions were carried out and with no further evidence of binding. Fleet inspection completed for preferred PN installation.
CESSNA 208 B–ATA 7603 POWER LEVER–SPACER–MISSING. DR 611851581
Power lever spacer/washer found on floor following engine ground run. Investigations continuing.
PIPER PA44 180–ATA 5712 WING, RIB/BULKHEAD–RIB–CRACKED. DR 611851582
During scheduled inspections against PIPER SB 1161 part 1, engineers found LH & RH aft wing WS 49.25 had cracked. PIPER SB 1161 part 3 has been scheduled and will be implemented prior to next flight.
PILATUS PC12 47E–ATA 5752 AILERON TAB STRUCTURE–HINGE–CORRODED. DR 611851607
During functional check of aileron system, movement of LH trim tab was found not to be in limits. Further investigation determined that the trim tab hinge was frozen. This hinge is lubricated in situ every 100 hours.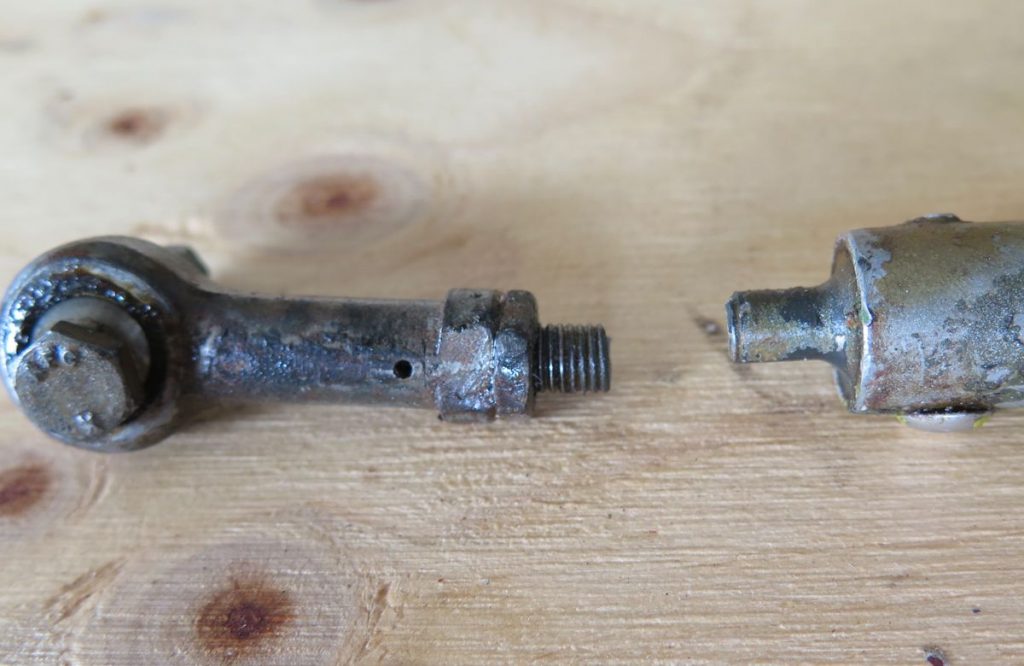 CESSNA U206 G–ATA 2750 TRAILING EDGE FLAP CONTROL SYSTEM–Sync Rod–BROKEN. DR 611851615 (image above)
Aircraft required significant right aileron input to remain straight and level. Flaps retracted in stages and flight diverted to alternate for flapless straight on approach. On landing with flap selector set to 0 degrees, flaps extended towards 20 degrees during rollout. During ground inspections, RH flap sync tube assembly was found to be failed. Rectifications and investigation is continuing.
SWEARINGEN SA227 DC–ATA 2150 CABIN COOLING SYSTEM–AIRCYCLE MACHINE–FAILED. DR 611851618
Haze-like substance witnessed in cockpit and cabin after landing. Defect was traced to LH cooling turbine failure i.e. cooling turbine seized and damaged.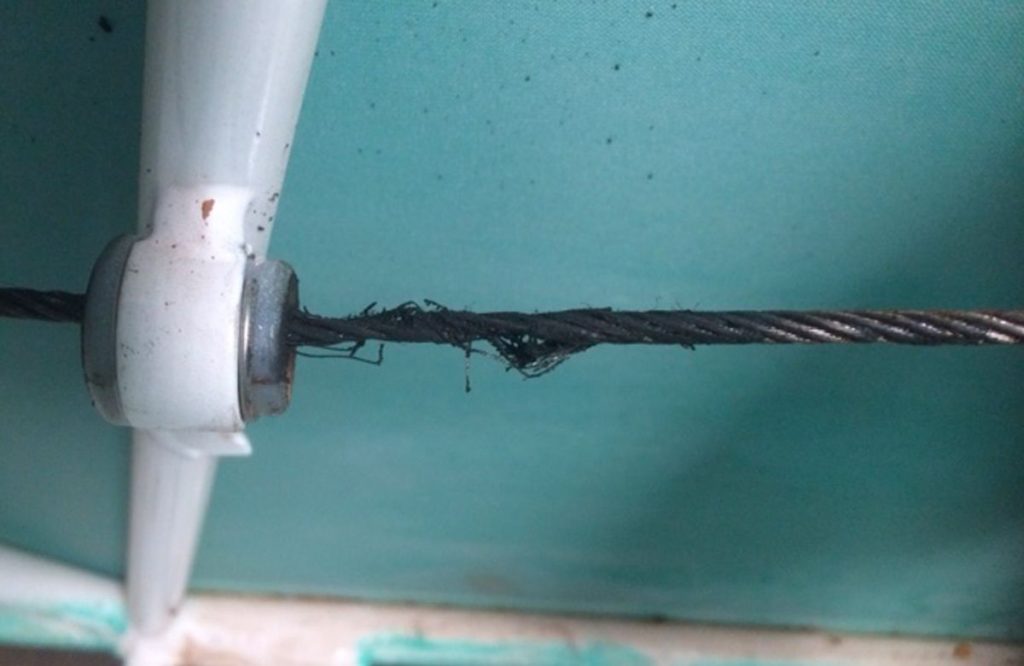 PIPER PA25 235–ATA 2720 RUDDER CONTROL SYSTEM–CABLE–DAMAGED. DR 611851627 (image above)
Damaged rudder cables were noticed after removing turtle deck. Preliminary examination indicated that cables may have been lubricated where they ran through the plastic guide bushes down to the rear sides of the fuselage. Cables were covered in dust which had adhered to the lubricated cables, forming a grinding paste. Maintenance organisation has been notified. RH rudder cable had approx. 60% of the wire strands broken. Whereas LH cable was similarly damaged with approx. 40% of wire strands broken.