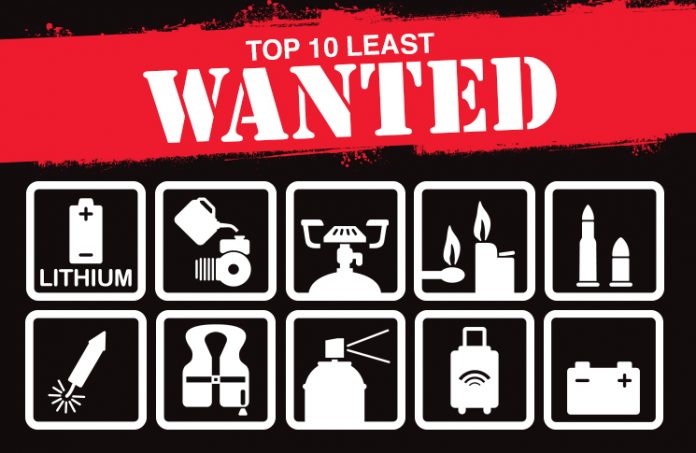 If you are an observant occasional air traveller, you have probably noticed a new cabin safety briefing warning along the lines of 'if you lose your mobile phone don't move your seat'. What's that about?
It's because lithium batteries, the type found in your smartphones, computers and tablets, have once again topped the charts for the most problematic passenger item in Australian skies. Why? These types of batteries can spontaneously overheat and burst into flames. Battery fires have been the cause of a number of mid-air emergencies including a Qantas incident in June 2016 and on a recent China Southern Airlines flight from Guangzhou to Shanghai.
The main culprits are smartphones that can be accidently crushed when you adjust your seat. If you drop your smartphone while flying don't move your seat and alert the cabin crew for assistance. The growing rate of these incidents have seen airline carriers such as Qantas and Virgin update their passenger safety videos warning passengers not to move their seat if they lose an electronic device.
The 'least wanted' dangerous goods list, released annually by CASA, highlights the top ten most hazardous items air travellers pack in their luggage and carry on board domestic flights. In 2017 these were:
Lithium batteries
Items such as chainsaws with internal combustion engines
Flammable gas canisters and camping stoves
Lighters, lighter refills and matches
Ammunition
Fireworks, sparklers and party poppers
Non-flammable gas canisters as used in life jackets and bicycle tyre inflators
Aerosols and household sprays
Smart bags
Other non-lithium batteries
Passengers packing these items into their luggage remain a constant threat to aviation safety despite widespread warnings. With batteries, all spare batteries not contained within equipment must be in carry-on luggage with their terminals protected. There have been several examples of lithium batteries short-circuiting in checked-in luggage causing cargo fires, including a 2014 flight from Melbourne to Fiji.
Smart bags and ammunition made the list for the first time in 2017. Smart bags, with non-removable batteries, are now banned by many airlines around the world including Qantas, Virgin Australia and several US carriers. Smart suitcases, which can charge mobile phones, weigh themselves, be tracked by GPS and act as a transport device for the weary traveller, are powdered by lithium batteries and are a fire risk when packed in cargo holds. They can only be used if the battery can be removed from the bag and packed into carry-on luggage.
CASA has produced a 'Can I pack that' dangerous goods app that advises passengers on what they can and cannot pack into their luggage. It tells you if an item can be packed in your checked-in luggage, carry-on luggage or if you need prior permission from the airline to carry it.
CASA has also created a 'Travelling safely with batteries and portable power packs' webpage outlining the different safety issues relating to batteries and what you need to do before you fly. It also tells you what to look out for when buying batteries online.
For more information on dangerous goods see CASA's website.