BOMBARDIER CL600 2B16–ATA 2840 FUEL INDICATING SYSTEM–FUEL IND SYSTEM–erroneous. DR 611851643
Crew reported LH main tank overfilled in flight (indicated 4870 lbs), RH tank indicated 4840 lbs. No relevant CAS messages triggered in flight, no fault codes logged in the MDC. Fuel Quantity Computer self-test c/o and found satisfactory. Defect monitored for some time, no further reports. Considered satisfactory.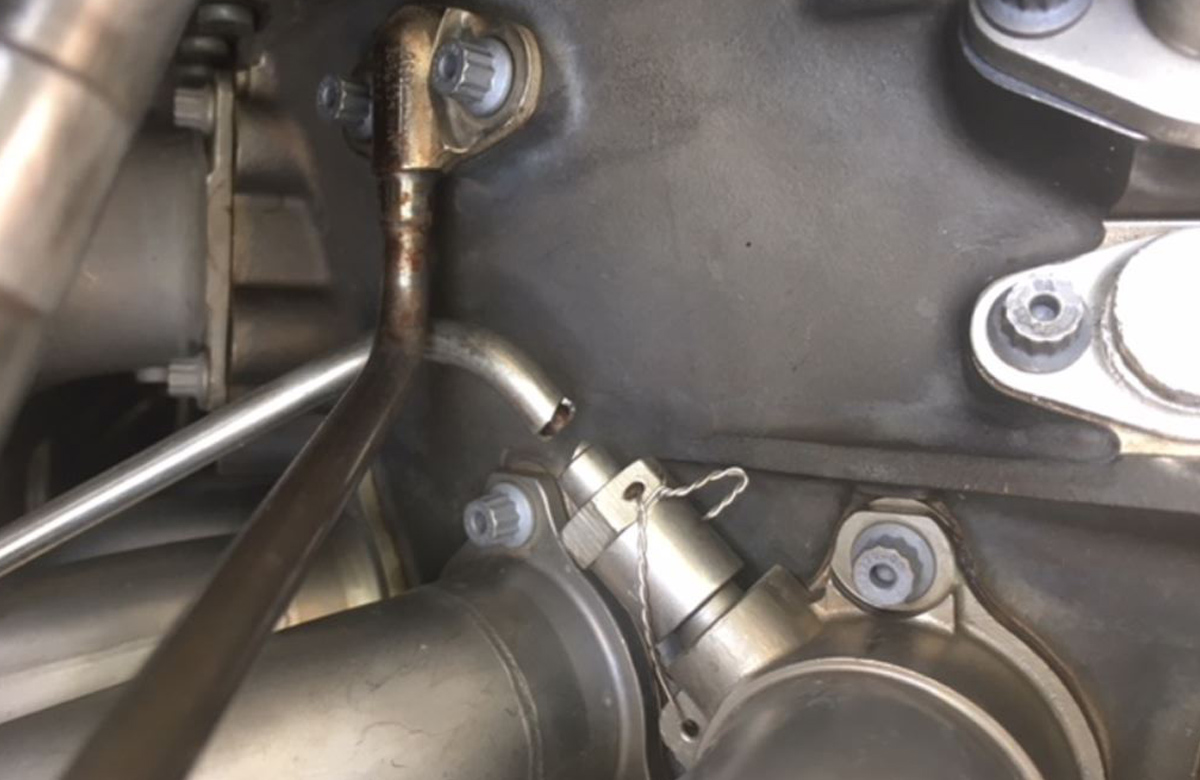 DE HAVILLAND DHC8 202–ATA 3610 PNEUMATIC DISTRIBUTION SYSTEM–Muscle Pressure Line–FRACTURED. DR 611851653 (photo above)
Number 1 engine experienced power loss of 20 to 25% Tq with climb power set @1050 Np. NH parameter however matched. Open cowl inspection carried out, #1 bleed valve muscle line found fractured. Line replaced. OEM notified.
SAAB 340 B–ATA 5280 LANDING GEAR DOORS–LANDING GEAR DOOR–Wasp Infestation. DR 611851655
Mud wasp nest found in RH main landing gear outboard door. Nest has been removed.
BOEING 737 8FE–ATA 3411 PITOT/STATIC SYSTEM–PROBE–BLOCKED. DR 611851676
Flight crew reported, on rotation, IAS disagreed with speed discrepancy of 10-15 Knots. ATB performed to departing base. Captain pitot probe found blocked with mud-wasp deposit. Pitot probe replaced, operational test completed satisfactory as per AMM 314-11-. During descent, crew observed strong electrical/burning smell in LHS flight deck. Engineering carried out troubleshooting and found slight odour in the FWD avionics compartment. Captain's static Inverter inspected for any visible signs of burning marks or smell, none was noted, however electrical output was zero. Static inverter was found at fault, same replaced.
AIRBUS A320 232–ATA 3222 NOSE/TAIL LANDING GEAR STRUT/AXLE–BARREL–CORRODED. DR 611851715
During scheduled maintenance, NLG was found with corrosion on the upper shock strut upper support plate bolts. After removal of the upper support, the bolts, upper support mating surface and inner matting surface were found corroded. OEM (Safran) was engaged who requested the NLG assembly to be sent to their shop for barrel replacement. Overhaul facility advised that upper support will be scrapped as corrosion is beyond economical repair.
BOEING 717 200–ATA 5511 HORIZONTAL STABILISER, SPAR/RIB–fastener hole–CRACKED. DR 611851719
Whilst carrying out the repeat inspection requirements of SB 717-55A0012 as mandated by FAA AD 2016-09-05, crack indications were discovered at two locations both at leading edge attachment hole locations. Open hole high frequency eddy current inspection of the vertical stab front spar cap FWD flanges carried out. Crack evident LHS lower most hole, also crack evident RHS 5th hole from bottom. Inspection being carried out as part of the repeat inspections for the referenced SB, which at this time included x-ray as well as HFEC insp. Boeing notified.
BOEING 717 200–ATA 4940 APU START/IGNITION SYSTEM–Starter–OVERHEATED. DR 611851723
On arrival, attempt to start APU failed. Initial inspection indicated that starter was burnt out along with several cables. Due concerns regarding temperature achieved by starter and subsequent heat sync effect to the AGB and drive train, P & WC recommend removal and replacement of the APU. APU and ECU currently being replaced along with a number of relays. Troubleshooting is continuing.
AIRBUS A330 303–ATA 3246 WHEEL/SKI/FLOAT–WHEEL–SHIMMY. DR 611851725
During take-off roll, significant nose wheel shimmy onset at approximately 90 knots. Take-off was rejected at approximately 100 knots, with crew reporting unable to read flight instrument displays. Both nose wheels were subsequently replaced. Investigation is in progress.
BOEING 737 838–ATA 4910 APU COWLING/CONTAINMENT–DRAIN MAST–Part Departed Aircraft. DR 611851731
During pilot pre-flight, it was noted that the APU fuel feed line shroud drain mast was missing. Drain mast was subsequently replaced at the next port. Investigation noted nil reports of impact and FOD during ground operation. The type certificate holder/OEM has been notified.
BOEING 787 8–ATA 2590 NON-STANDARD EQUIPMENT SYSTEM–PowerBank–SMOKE/FUMES. DR 611851737
During baggage unloading process, X1 checked bag was found to be burning/smoking. Bag opened, power bank was confirmed as the source of smoke. Investigations have started.