ATR72 212A–ATA 3246 WHEEL/SKI/FLOAT–Tie bolt hole–CRACKED. DR 611851929
During inspection, a large crack indication was found extending across the mating face to the outer edge of the tie bolt hole bore in the outer wheel half (P/No A36559-3). Dye penetrant inspection per CMM 32-49-42 Rev 3 confirmed the indication. The length of the crack is approximately 0.540 inches and it has extended to the shoulder of the tie bolt hole bore, but not into the bore.
AIRBUS A320 232–ATA 2150 CABIN COOLING SYSTEM–AIRCYCLE MACHINE–SEIZED. DR 611851970
ATB after one min due cabin crew reported smoke/fumes in cabin. QRH smoke/fumes procedure carried out. Smell appeared to subside approx. 10 min later. After landing, ECAM air pack two overheat messages were appeared. Troubleshooting carried out, RH pack ACM was seized. Rectifications are continuing.
AIRBUS A320 232–ATA 5330 FUSELAGE MAIN, PLATES/SKIN–SKIN–HOLED. DR 611851975
During embodiment of SB A320-53-1276 R01, cracked hole was found in centre fuselage skin between FR35-36 at stringer 30LH. Repair completed IAW Airbus instructions, classified as major without category. Repair life limitation is six months. RDAS XX refers.
AIRBUS A320 232–ATA 2421 AC GENERATOR-ALTERNATOR–IDG–Exciter field resistance out of limits. DR 611851997
Inflight, Gen 1 failed. Reset via ECAM unsuccessful. Consequently, AP 1+2, A/THR, NWS, Capt. Air data, GPS and main galley power failed. IDG oil level checked within range. As per TSM 24-20-00-810-900A step 4A(2) found resistance of exciter field 11.3 Ohm( out of limit). Necessary rectifications planned.
BOMBARDIER CL600 2B16–ATA 5312 FUSELAGE MAIN, BULKHEAD–INTERCOSTAL–CRACKED. DR 611851998
While carrying out detailed inspection of the intercostals and clips, ALI task 53-30-00-131 referring, an intercostal at FS624.5–FS627, RBL 45.75, WL 94.5 was found cracked on FS621 pressure bulkhead. Service request submitted to Bombardier for part number and instruction for the replacement. Bombardier EO (XX) issued to address this defect. FS621 pressure bulkhead is classified as Structure Significant Item (SSI).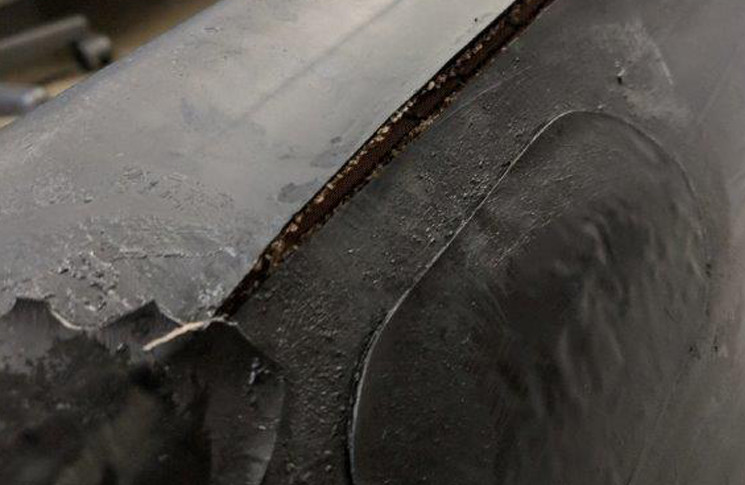 SAAB 340 B–ATA 3010 AIRFOIL ANTI-ICE/DE-ICE SYSTEM–De-icer boot–PUNCTURED. DR 611851999 (image above)
Stabiliser light not illuminating on both one cycle and continuous. Stabiliser boot found torn on RH side. Engineering confirmed de-icer boot split, leading edge assembly was replaced, and aircraft returned to service.
BOEING 737 7FE–ATA 2350 AUDIO INTEGRATING SYSTEM–AUDIO PANEL–SMOKE/FUMES. DR 611852025
In cruise just prior to descent, smoke was noted to be emitting from the right audio control panel (ACP) in the flight deck. An acrid odour was also present. Oxygen masks donned. After landing, engineering requested to isolate/quarantine suspect ACP. Replacement ACP installed IAW AMM 23-51-XX. LH and RH recirculation filters replaced. Air-conditioning packs run. Oxygen masks cleaned and re-stowed. Operational tests performed satisfactorily. Nil further defects noted. Removed audio control panel had evidence of smoke around the ADF # 1 R/X light with notable swelling of the light plate caused by heat. Engineering assessment has identified ACP as the sole cause of the event. Investigation initiated.
DE HAVILLAND DHC8 315–ATA 3461 FLIGHT MANAGEMENT COMPUTING SOFTWARE SYSTEM–FMS–Date anomaly. DR 611852027
During maintenance, it was noted that the UNS-1E FMS had updated itself to a future date. Date information for the FMS is received via GPS satellite connection and is unable to be manually changed. The change in date has sparked a message on the FMS to state that navigation database is out of date. Testing on further airframes then revealed that this anomaly was evident on all fleet aeroplanes. Vendor was contacted via AOG desk, who advised that this was a known issue. Issue is being sorted out.
BOEING 737 8FE–ATA 5514 HORIZONTAL STABILISER, MISCELLANEOUS STRUCTURE–fastener hole–CORRODED. DR 611852030
During heavy maintenance check, level 2 corrosion was found in the RH horizontal stabiliser trailing edge beam at panel attachment fastener holes. Rectification was accomplished by blending out IAW a repair plan provided by the OEM. OEM notified for CPCP purposes. No further action is recommended at this time.
SAAB 340–ATA 2611 SMOKE DETECTION SYSTEM–SMOKE DETECTOR–False warning. DR 611852045
With no real fire, lavatory smoke master warning indication came on in flight. During inspections, very small amount of dust found around smoke detector. Detector replaced for troubleshooting.