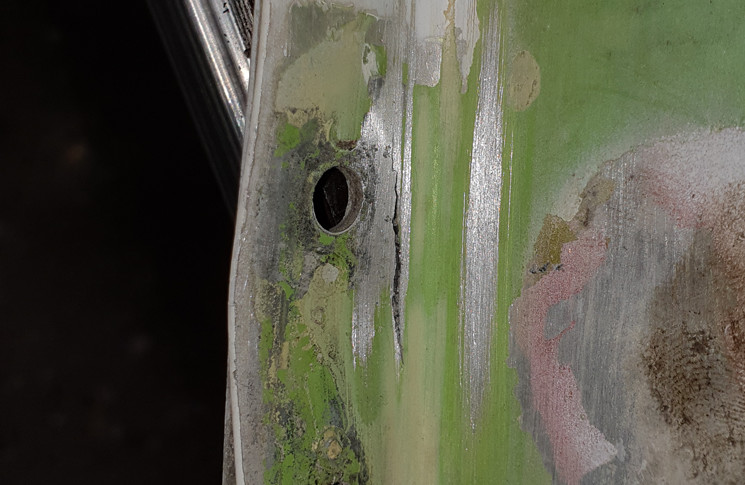 CESSNA 152–ATA 5511 HORIZONTAL STABILISER, SPAR/RIB–SPAR–CRACKED. DR 611851915 (image above)
During routine inspection, spar found cracked. No symptom against SIDs inspection. Spar/doubler replaced.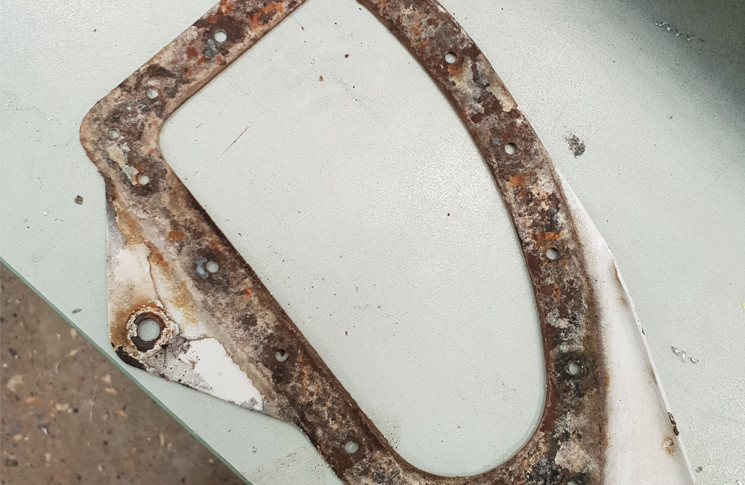 PIPER PA31 350–ATA 5740 WING, ATTACH FITTINGS–RIVET–SHEARED. DR 611851958 (images above)
Heads popped off rivets in inboard bracket part # 40177–05 due to corrosion. Remove and treat corrosion.
CESSNA 152–ATA 2510 CREW STATION EQUIPMENT SYSTEM–SPRING–WORN. DR 611851959
Pilots seat pin not engaging fully. Worn out spring replaced.
PIPER PA31 350–ATA 3213 MAIN LANDING GEAR STRUT/AXLE/TRUCK–AXLE–CRACKED. DR 611851960
Pilot reported dragging brake symptoms during taxi to apron. Upon inspection/rectification by maintenance teams, axle was found substantially cracked, allowing the axle to bend upwards until the brake disc contacted the fork. A serviceable fork/axle assembly was fitted. Failed axle is being held in quarantine.
CESSNA 210 N–ATA 3230 LANDING GEAR RETRACT/EXTENSION SYSTEM–DOWNLOCK–Rigged. DR 611851967
No green light when LG selected down. Fault could not be replicated in the hangar. For additional safety; LH down-lock actuator was re-seated. L and R down-lock rigging done. LH over centre hook adjustment carried out, five fault-free cycles completed. No defects evident.
DIAMOND DA40–ATA 3213 MAIN LANDING GEAR STRUT/AXLE/TRUCK–AXLE–CRACKED. DR 611851992
L/H MLG axle found cracked during wheel change. Axle replaced. Two similar defects reported.
PIPER PA28 181–ATA 7600 ENGINE CONTROLS–Throttle Cable–Broke. DR 611852008
During start-up/run up the throttle was not smooth in feel as usual. After returning and inspecting the engine, throttle cable appeared to be broken.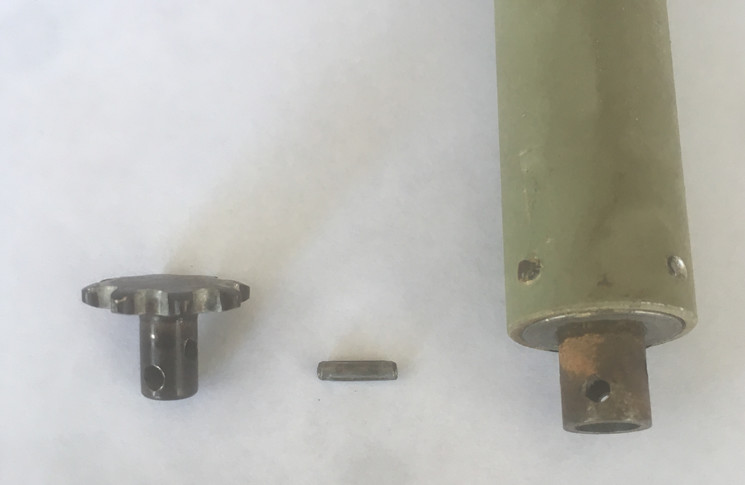 CESSNA 207–ATA 2731 ELEVATOR TAB CONTROL SYSTEM–ROLL PIN–DISLODGED. DR 611852028 (image above)
Pilot reported more than average nose down application required to keep level flight with trim fully nose down.
Initial inspection of elevator trim tab actuator found roll pins attaching shaft to sprocket dislodged, causing sprocket to spin free on shaft. One roll pin found in horizontal stabiliser, however, 2nd roll pin could not be located. Aircraft grounded, maintenance released endorsed, new part ordered.
CESSNA 404–ATA 5711 WING SPAR–SPAR CAP–INCORRECT REPAIR. DR 611852032
At centre wing, LH FWD spar lower cap in aft nacelle area, six fastener holes drilled through lower spar cap angles. Incorrect repair technique as well as poor engineering judgement. No record found in maintenance records. Further investigation will be done.
BEECH 76–ATA 3213 MAIN LANDING GEAR STRUT/AXLE/TRUCK–A FRAME–CRACKED. DR 611852035
R/H MLG 'A' frame assembly found cracked during compliance with AD/BEECH 76/18 Amdt 1. Serviceable R/H MLG 'A' frame installed.