AIRCRAFT BELOW 5700 kg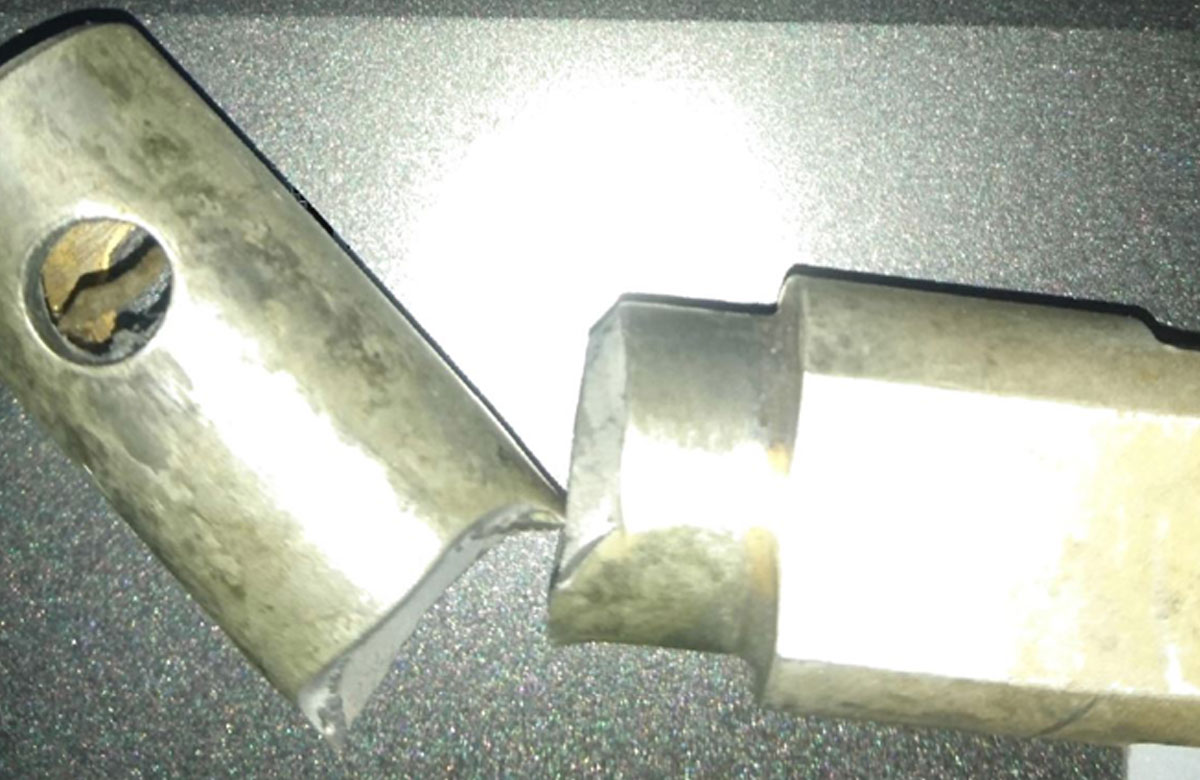 AERO COMMANDER 500 S–ATA 3213MAIN LANDING GEAR STRUT/AXLE/TRUCK–CLEVIS–FAILED. DR 611852577 (image above)
LH MLG green light did not illuminate on gear down selection. MLG did not extend under normal operation. Clevis fitted to the MLG actuator broke into two pieces preventing actuator extending gear fully. Clevis are ND tested at MLG overhaul. As a precautionary measure, clevis will be replaced at each MLG overhaul.
PIPER PA44 180–ATA 2740 STABILIZER CONTROL SYSTEM–PITCH CONTROL–UNSERVICEABLE. DR 611852588
Electrical pitch trim unserviceable. Manual operation normal. Pitch trim servo clutch slip torque found out of limits causing higher than normal torque to be applied to stabilator trim screw jack. This resulted in the limit split pin of the screw jack binding against the cable barrel. Jack screw limit split pins replaced. This binding was sufficient to prevent the electric pitch trim servo from being able to overcome the normal force required to move the jackscrew from its position at the nose up limit. Following issues found upon investigation of fault;
1) Scheduled maintenance listed under PA-44-180 MM 22-10-00 Section D (1) (C) for the GFC700 Autopilot is not listed, or referenced, under Chapter 05.
2) No published method for checking clutch settings in PA-44-180 MM. Clutch must be removed and tested IAW OEM I.M. which does not state individual aircraft settings or permitted tolerances.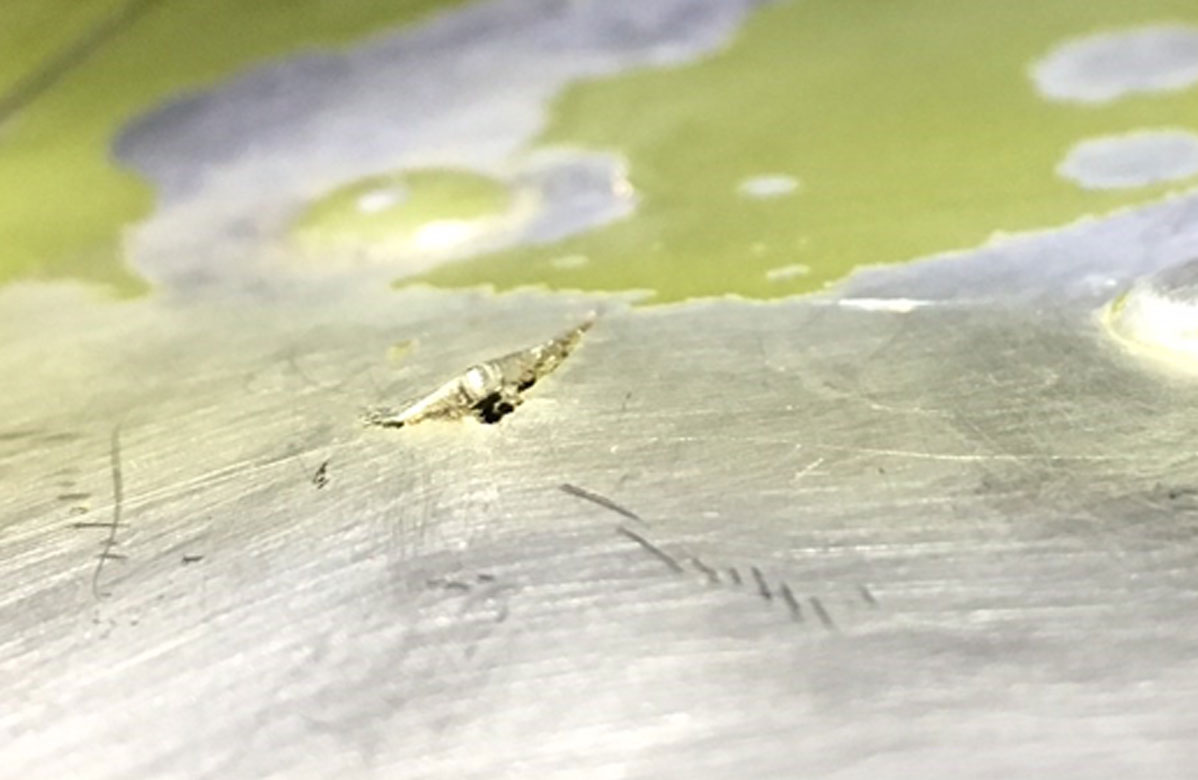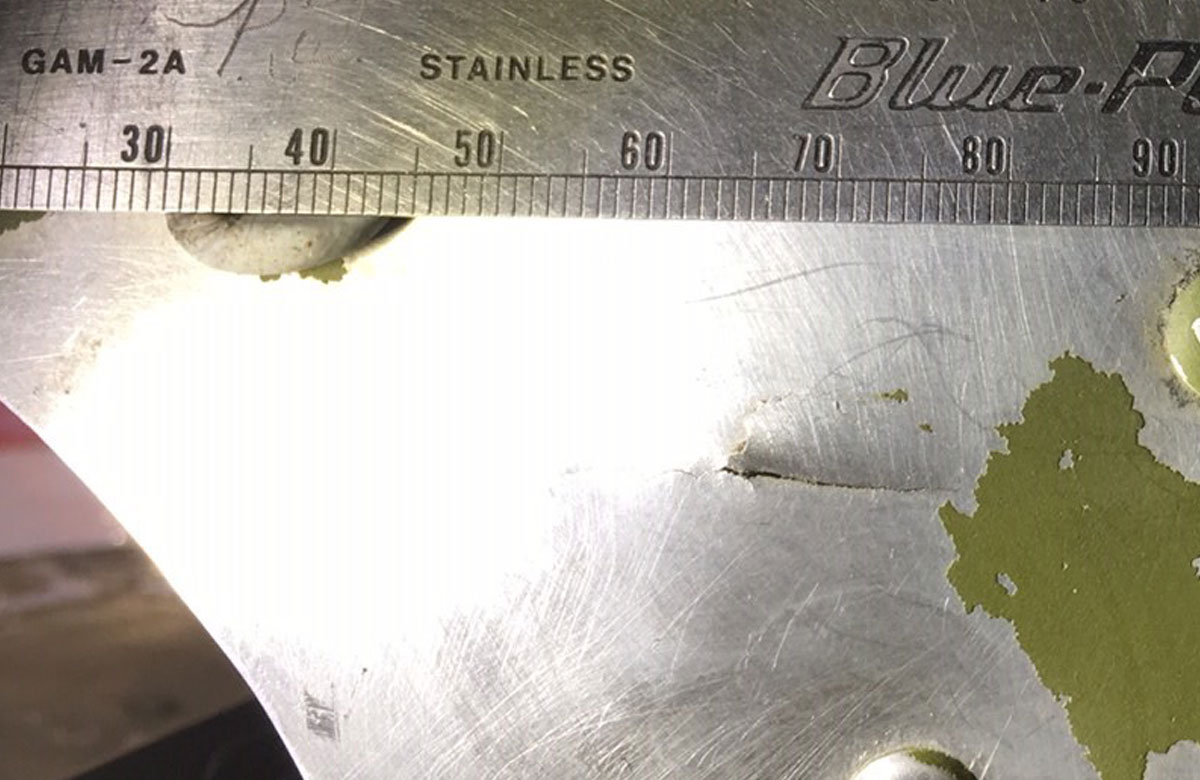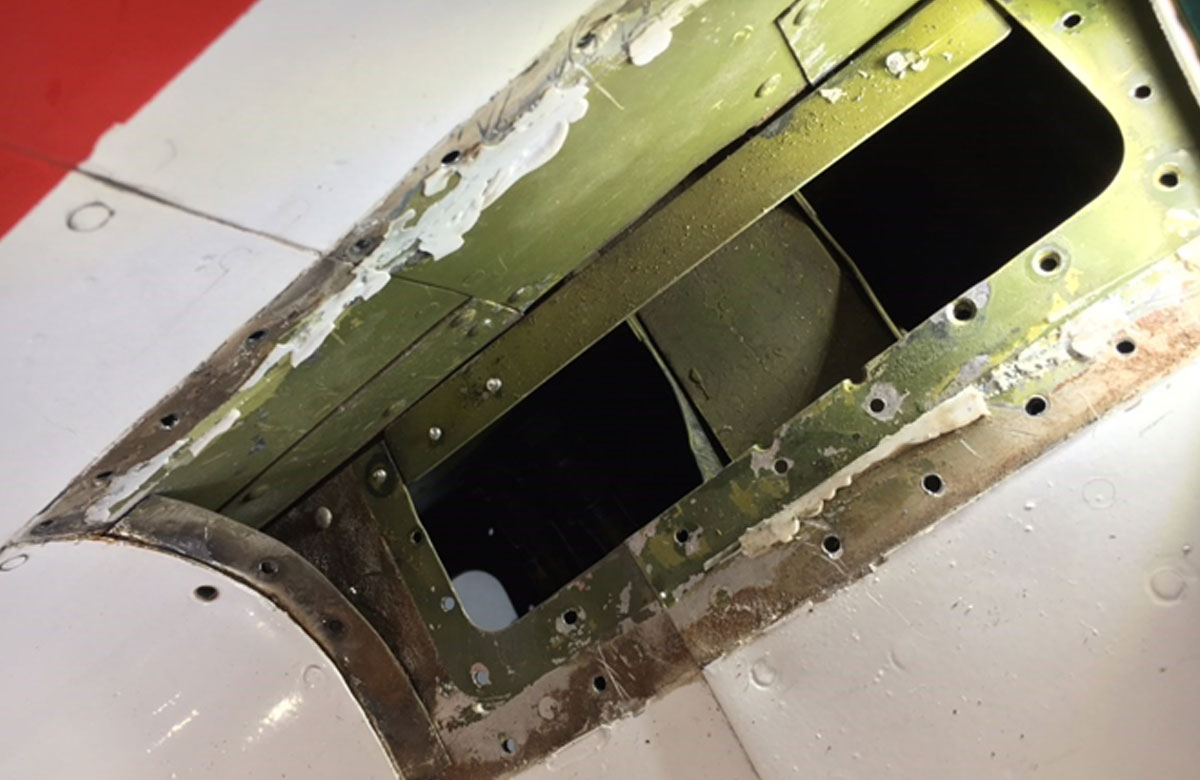 CESSNA 402 C–ATA 5711 WING SPAR–SPAR WEB–CRACKED. DR 611852590 (images above)
RH wing carry thru spar aft web flange found cracked in two locations at web flange bend radius. One was a tear in the middle of the spar web skin and the other was originating from the edge of the bend radius in parallel with the upper portion of fuselage angle. Several Cherry max rivet tails had been allowed to work between the spar and spar web causing the spar web skin to tear. Investigation is continuing.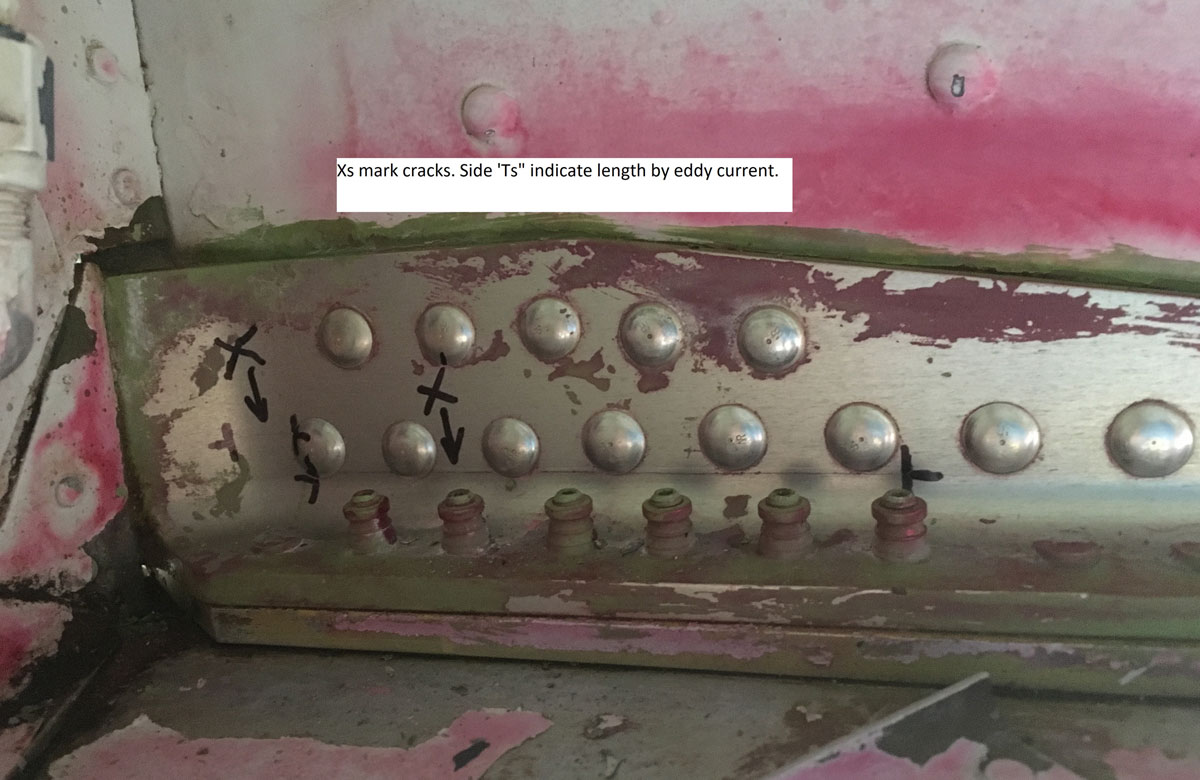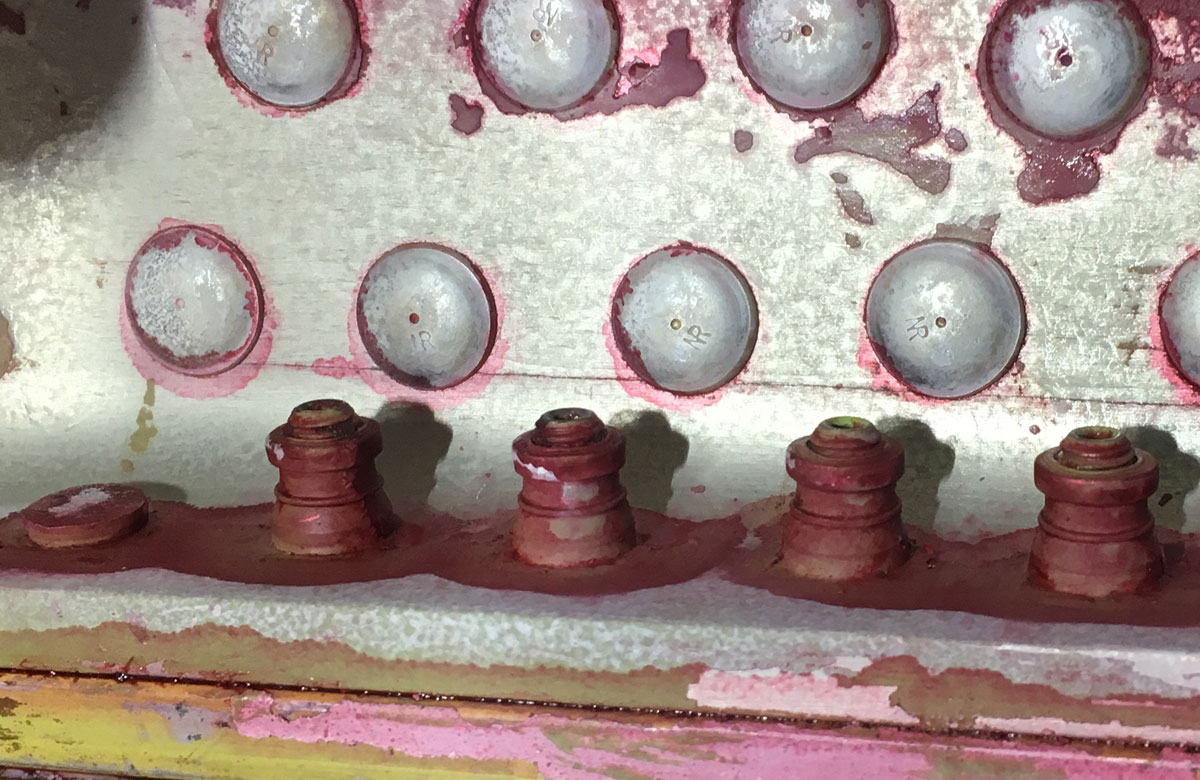 CESSNA 402 C–ATA 5740 WING, ATTACH FITTINGS–FITTING–CRACKED. DR 611852602 (images above)
During routine maintenance against CASA AD/Cessna 400/92, a crack was found starting at the most inboard fore/aft rivet and progressing outboard under 3 other rivets. The primer was removed from the fitting and a red dye check was carried out to confirm the length of the crack confirmed as approximately 100 mm. Fitting will be replaced.
CESSNA 152–ATA 2421 AC GENERATOR-ALTERNATOR–TERMINAL–BROKEN. DR 611852603
Amp Gauge reading 0. Alternator power cable dislodged. New terminal Part # S1367-4-8 fitted to power cable Part # S1562-4-9.
CESSNA 402 C–ATA 5711 WING SPAR–SPAR WEB–CRACKED. DR 611852618
During scheduled maintenance of main spar webbing, engineers observed a crack in the bend relief of the LH spar web. As per the ICAs, if cracks are found, aircraft to be grounded and further approved data obtained for repair. Approved repairs to be carried out.
BRUMBY AIRCRAFT AUSTRALIA R600–ATA 5521 ELEVATOR, SPAR/RIB–RIB–CRACKED. DR 611852638
Elevator end rib carrying balance weight found to be cracked. Weight of elevator balance weight, 1/2 kilo, too great for .020 alloy rib to carry it. 3/16 AN bolt with AN960 washer, broke it out of the rib.
CESSNA 182 Q–ATA 5531 VERTICAL STABILIZER, SPAR/RIB–RIB–CORRODED. DR 611852660
A/c was undergoing a full strip + repaint. Several rivets heads were discovered missing from a rib on the vertical fin. Upon inspection with touch + mirror, corrosion was discovered on the support in rib+ skin between fwd + aft spar. It was decided that some disassembly will be required to remove + treat the corrosion. Upon disassembly, extreme corrosion was discovered mid span on the rear spar, requiring replacement.