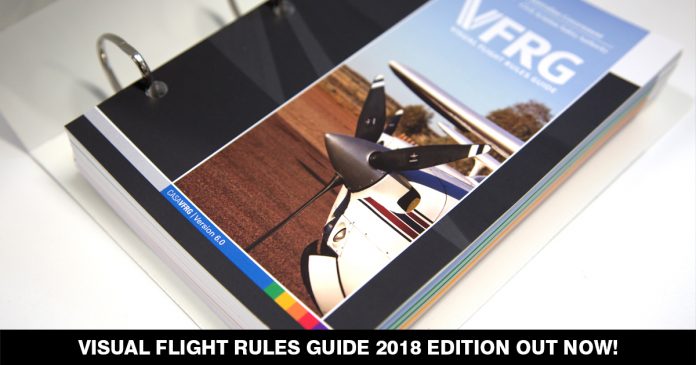 A new printed edition of CASA's Visual Flight Rules Guide (VFRG) is now available. The updated VFRG Version 6.0 will help pilots keep up-to-date with critical aviation safety information. The new version replaces the 2015 Version 5.0 and is available from our Online Store for $34.95 plus $15 postage and handling.
The VFRG features a comprehensive booklet with detailed safety information, diagrams, charts and maps.
The new edition features amendments to various rules and regulations and incorporates valuable feedback from the aviation community since Version 5.0.
Significant changes in the updated version are:
New fuel rules covering minimum fuel requirements that came into force on 8 November 2018.
Recent changes to aviation medical certification.
Substantial amendments to the Graphical Area Forecasts (GAFs) section and inclusion of Grid Point Wind and Temperature (GPWT) forecasts to provide a display of data derived from weather model data.
Streamlined information on NAIPS to remove outdated aerial forecast information with the introduction of GAF.
Amended examples (including calculations, graphics and charts) such as calculating quantity of usable fuel required and beginning of first light, to reflect the intent of the current rules.
Amendments to several references to respective CASRs, CARs, CAAPs, CAOs and AIP as it stands today.
Textual changes to improve clarity and readability.
Updated abbreviations and acronyms.
Remember that the online version of the VFRG is regularly updated on the VFRG website and should be used as the source for the most up-to-date information. The VFRG is also allowable in private pilots' examinations as a reference tool.
If you are using Version 5.0 of the VFRG you can (and should) download updates since 2015 from the VFRG website and use them to replace outdated information.