BEECH 1900 B200–ATA 2752 TRAILING EDGE FLAP ACTUATOR–ACTUATOR–CRACKED. DR 611852677
Flap actuator shaft found cracked. Actuator replaced.
DE HAVILLAND DHC8 402–ATA 3260 LANDING GEAR POSITION AND WARNING SYSTEM–PROXIMITY SENSOR–Out of Adjustment. DR 611852688
On approach with landing gear selected down, right main gear door light remained illuminated after landing gear extended. Confirmed gear door failed to close. Root cause: RH MLG door proximity switch gap out of limits (0.005″). Corrective action: Gap adjusted IAW Q400 AMM 32-61-XX. Retractions/ extensions c/o satisfactory. RTS completed.
AIRBUS A321 231–ATA 5345 FUSELAGE EQUIPMENT ATTACH FITTINGS–BUSHING–MIGRATED. DR 611852701
During accomplishment of SB A320-53-1195, both L+R MLG door actuator fittings found with migrated bushes. Both L+R fittings required repaired. NDT carried out with nil cracks event. This is a known OEM defect, with the inspections and rectification incorporated per mandatory Airbus SB A320-53-1195.
SAAB 340 B–ATA 3250 LANDING GEAR STEERING SYSTEM–CABLE–SHEARED. DR 611852708
During landing roll at approx. 60 KIAS, pilot felt resistance turning NWS control to left. Aircraft taxied to the gate using asymmetric braking. Rectifications found, nose wheel steering cable rod end at steering actuator attachment had sheared. NW steering cable was replaced, functional test carried out satisfactory.
AIRBUS A320 232–ATA 5311 FUSELAGE MAIN, FRAME–FRAME–CRACKED. DR 611852758
During SB-A320-53-1276 embodiment, rivet hole found cracked at fuselage FR36 STR 30 angle fitting. Repair carried out as per Airbus message.
BAE BAE146 300–ATA 2350 AUDIO INTEGRATING SYSTEM–SELECTOR PANEL–UNSERVICEABLE. DR 611852788
Captains audio selector panel failed, nil interphone and radio communications. Rectifications planned.
BOEING 787 8–ATA 2550 CARGO STATION EQUIPMENT SECTION–Decompression panel–DAMAGED. DR 611852792
Bilge Barrier PN C412706-109 (Post SB B787-81205-SB500008-00) and one of the decompression panels (PN C412715-575 Post SB B787-81205-SB500008-00) at STA825 were observed to be torn and disengaged/damaged respectively.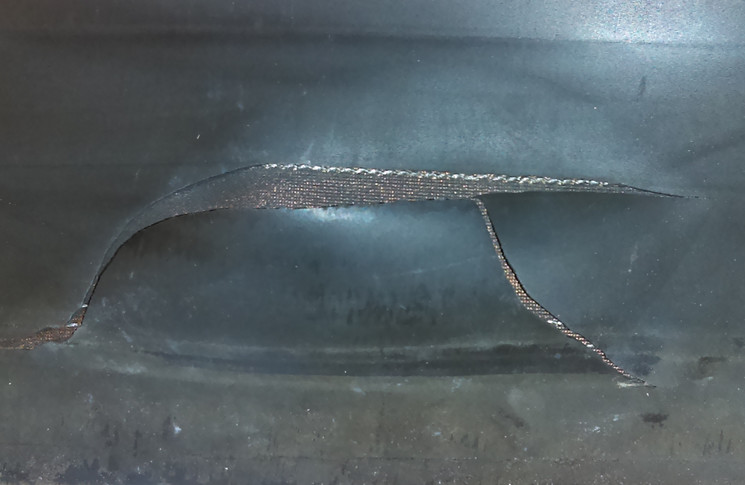 SAAB 340 B–ATA 3010 AIRFOIL ANTI-ICE/DE-ICE SYSTEM–De Icer Boot–PUNCTURED. DR 611852793
RH horizontal stabiliser de-ice boot has a hole in it. RH horizontal stabiliser leading edge replaced. Follow up tests satisfactory.
BOEING 717 200–ATA 2730 ELEVATOR CONTROL SYSTEM–CABLE–DAMAGED. DR 611852762
Whilst carrying out scheduled maintenance, flap input to elevator servo limiter cable was found to be damaged. Broken cable strands are believed to have been unravelled during normal operation. Detailed inspections are deferred till heavy maintenance. Defective cable is in the process of being replaced.
BOEING 737 8FE–ATA 5730 WING, PLATES/SKIN–SKIN–CORRODED. DR 611852795
During walk-around, exfoliation corrosion noted around forward section of fuel surge tank water drain receptacle. Damage location; inboard of WBL-616 panel splice. Corrosion assessed as Level 2 in Primary Structure Element. Necessary rework completed. Repeat inspections set up. OEM notified for CPCP purposes.