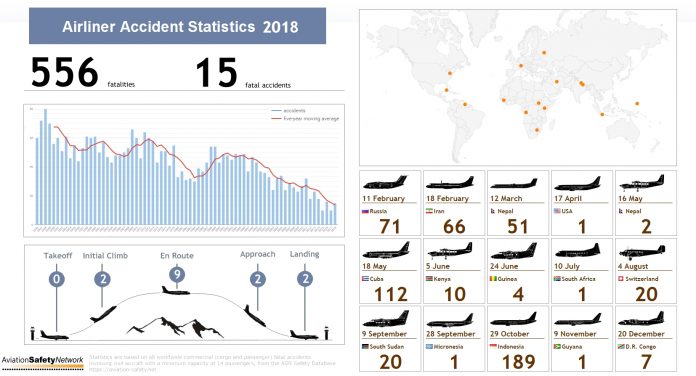 Despite several high-profile accidents, the year 2018 was one of the safest years ever for commercial aviation, according to analyses by independent consultants.
For 2018, the Aviation Safety Network (ASN) recorded 15 fatal accidents involving large (more than 14 seats) commercial aircraft accidents (passenger and cargo flights), resulting in 556 fatalities. This makes 2018 the third safest year ever by the number of total accidents and the ninth safest in terms of fatalities, the ASN said.
However, last year was worse than the five-year average.
The safest year in aviation history was 2017 with 10 accidents and 44 lives lost. But if you look at that five-year average of 14 accidents and 480 fatalities, last year was worse on both accounts.
Of the 15 fatal airline accidents last year, 12 involved passenger flights while three were cargo flights. Three out of 15 accident aircraft were operated by airlines on the EU 'blacklist', up by two compared to 2017.
The ASN calculates that with worldwide air traffic of about 37,800,000 flights, 2018 accident rate was one fatal accident per 2,540,000 flights.
Reflecting on this accident rate, ASN's CEO, Harro Ranter, stated that the level of safety has increased significantly. 'If the accident rate had remained the same as ten years ago, there would have been 39 fatal accidents last year. And at the accident rate of the year 2000, there would have been 64 fatal accidents. This shows the enormous progress in terms of safety in the past two decades.'
The statistics would have been worse if military aircraft were included in the figures. Consequently, the 11 April accident involving an Algerian Air Force IL-76 transport plane that killed 257 were not included. When combined with other military transport aircraft accidents, the total number of fatalities in 2018 would be 917 in 25 fatal accidents.
The following graph shows aviation accidents between 1946 and 2018 and highlights how safe flying now is compared to previous years. The deadliest year for fatalities was in 1972 when there were 72 airline crashes resulting in 2373 fatalities. The ASN's worst year by crash numbers was 1948, when 99 airliners crashed. But due to the larger size of aircraft in 1972, those 72 crashes killed many more people. Flight Safety Australia looked at some of the reasons why in 'The year of flying dangerously: 1972'.
And this decade has been the safest in aviation history. By contrast, the 1970s saw a total of 16,766 fatalities.