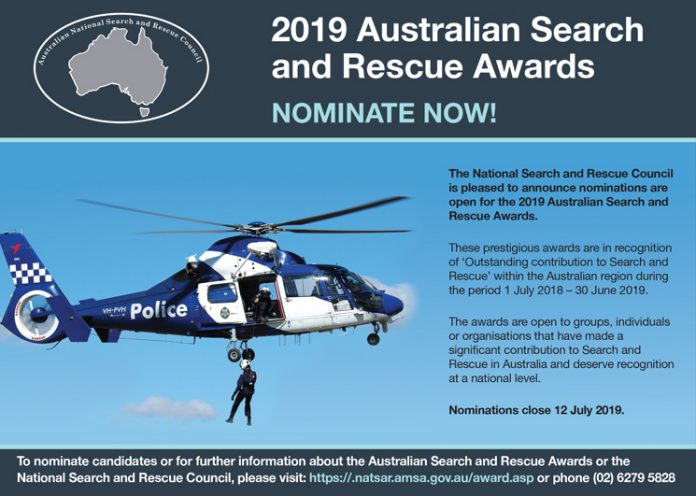 Do you know a person, group or organisation in the aviation industry who should be recognised for their efforts? Do you know someone who's gone over and above while involved in a search and rescue? Why not nominate them for an Australian Search and Rescue Award (SAR Award)?
Nominations are now open for the 2019 Australian Search and Rescue Awards. They are in recognition of 'Outstanding contribution to Search and Rescue' within the Australian region during the period 1 July 2018–30 June 2019. The awards are open to individuals, group or organisations that have made a significant contribution to search and rescue in Australia and deserve recognition at national level.
Awarded first in 1996, the inaugural winners were Senior Constable Aherne, Senior Constable Griffiths and MICA Officer Lamb of the Victorian Police Air Wing for their efforts in the rescue of three men stranded on a sinking trawler in Bass Strait on 23 August 1995. In the same year, two Highly Commended Awards were presented to Kevin Bald for his efforts in the rescue of a man off Kangaroo Island and to Sergeant Richard Mostard of the Bairnsdale Water Police, Victoria, for the rescue of a person from an upturned trimaran south east of Gabo Island.
There are two categories:
Professional—for any trained individual or organisation within the SAR field
Non-professional—for any individual, group or organisation
Any person or organisation can nominate candidates for the SAR Awards by completing the official nomination form and emailing it to the National Search and Rescue council secretariat at nationalSARcouncil@amsa.gov.au
Nominations are open all year round. Submit your nomination by 12 July for it to be considered for the 2019 SAR Awards. The recipients will then be announced at the 43rd National Search and Rescue Council meeting in September 2019
To find out more about the NATSAR Awards, nominations or previous recipients, visit the National Search and Rescue Council website.