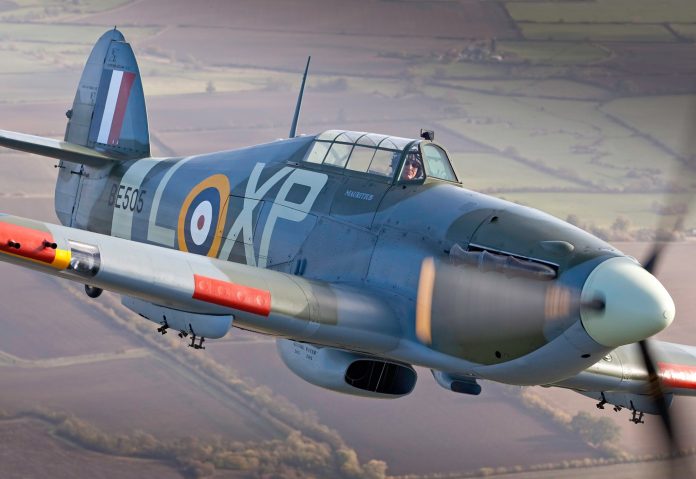 We don't generally publish advertisements in Flight Safety Australia but as high-octane daydream fuel this one is hard to beat. Last week specialist warbird brokers Platinum Fighter Sales put the world's only two seat Hawker Hurricane on the market. The aircraft is under construction by Hawker Restorations Limited, of Suffolk, England, and is a conversion of one of the company's earlier restorations. It will feature dual controls, a fuselage silhouette 'sympathetic' to the original single-seat design, and can be yours this northern autumn for £2.5 million ($A4.5 million).
The airframe was originally made in 1942 by Canadian Car and Foundry, which built Hurricanes under licence in Canada, but has flown only 152 hours since full restoration in 2009, making it essentially a new aircraft. The Rolls-Royce Merlin engine has a similar number of hours since overhaul.
Us daydreamers may in future be able to fly the unique two-seater without having to buy it. Hawker restoration says two-seater will offer a 'significant commercial opportunity' for adventure flights.
'The two-seater Spitfires that are currently offering passenger rides are fully booked for months in advance bringing in significant income and we believe the Hurricane will also generate significant interest capable of offsetting costs and providing an enviable return on Investment,' the restorer says.
Now to the serious point: the warbird sector is expert in the vexed aviation question of how to inspect, sustain and operate ageing aircraft. In 2013 Flight Safety Australia took a detailed look at the philosophies and techniques used by warbird operators to keep the glorious history of aviation alive and flying. The lessons learned operating Sabres, Meteors and Spitfires are equally applicable to Cessnas, Pipers and Beechcraft.