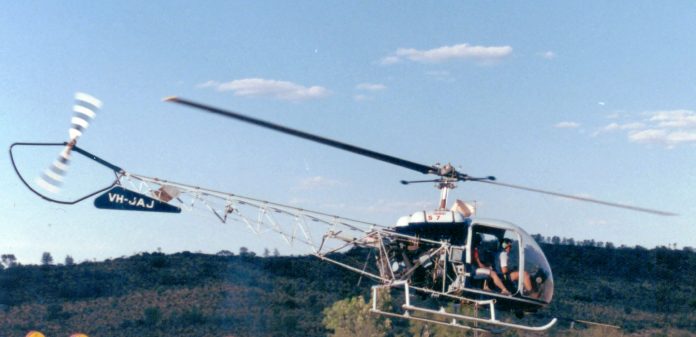 Simon Pettit tells of a less-than-VIP experience in an oldie-but-goodie story from our 2010 Close Calls Special
I was flying tourists around Kings Canyon, as a new pilot in a trusty Kawasaki KH-4, trying like everyone else to build those valuable flight hours. The usual dreams of some cushy flying job back in the real world – maybe a rescue bird, or executive chopper for some undemanding billionaire – were my constant companion, and I read anything I could lay my hands on to do with flying.
I had time to be very diligent in my duties. My aircraft was always spotless and greased often. Anyone who's flown Bell 47s (of which the KH-4 is a variant) knows just how hard you have to work to keep them clean. As the days and flight hours passed, my confidence grew … not only on the aviation side, but also in people skills. I was soon to find out what an asset confidence and calmness, without arrogance, could be.
The flying was basic and as check rides came and went and I was trusted with more duties and more interesting flights. I really felt there was no other life for me. I knew I would always be in aviation.
This day it was a VIP flight of some influential people. The resort management were adamant that all courtesies and best behaviour be on display, as these people were part of the big wheel. I pressed my uniform, put on new bars, polished my shoes and spent several hours the night before meticulously cleaning my chopper. I even painted out any scratches inside. Then I washed the seat covers and deodorised the cab. I had our route picked and planned to the minute. I would show just how professional I was. She was beautiful. We were ready.
During the passenger brief I noticed that one of the VIPs seemed vacant and not with it, so I made sure she understood what I had said. The VIPs were loaded and secured. I climbed in and went through my checks as light banter around the cab made a nice relaxer. We pulled into the hover and made a courtesy radio call of intentions to any other aircraft in the area. All good, so off we went; nice and smooth: cyclic, pedals, trim. I could hear my instructor. 'Attitude, ball,' etc. I was flying like a legend today, smooth, precise. We levelled off at 700 ft for a while before starting a gentle climb to 2000 ft, when I caught the smell of fried eggs and bacon.
I jokingly said 'you must have had a great breakfast. I bet it was eggs and bacon because I can smell the kitchen from here.' Whereupon … the VIP lady leans forward, tugs the back of my neatly-pressed shirt and uses my back as her spew bag.
I reminded myself I was flying a helicopter. Regardless of temptation or sensation, I couldn't stop or turn round. Once more I could hear my instructor: 'aviate, navigate, communicate.'
The cabin stank. I was covered in warm vomit which had run down my back and around my waist to settle neatly in my shirt tuck. No prizes for guessing what happened next: VIP number two goes out in sympathy spraying VIP number one – and the whole rear cabin. I vented the cabin, then shut my mouth.
I continued the flight for 20 minutes. Every turn was foul. The smell settled during level flight, but whenever I turned it rose up again.
There were two more volcanic displays of what had been eaten and drunk the previous night before I settled the Kawasaki into a nice steady approach and an even gentler landing. My VIPs saw themselves out and disappeared into a waiting car. No apologies, no anything, not a peep.
I sat in my once pristine chopper covered in vomit while she ran down. No point in getting crazy now it was done. Nothing could change or reverse it. My people skills had been well tested. The aircraft stank, but it was on the ground in one piece. Soon after, my girlfriend nearly puked herself, when she delivered a clean uniform. I cleaned the cabin, cleaned myself and got ready for the next day. What else was I to do?
I am now very quick to ask my passengers, 'who has had a big night?' This is not your usual tale of daring deeds and great recoveries, I know. But in tourist flying anything can, and does, happen.
Flight Safety Australia: back in print
Flight Safety Australia is available now by subscription from the CASA Online Store for $39.95 for four issues a year, delivered to your door in Australia.
Subscribe by 25 August to receive the Spring 2019 issue. Subscribers after that date will receive the Summer issue as their first.
The first 900 subscribers get the gift of a kneeboard, a multitool or a fuel drain (their choice, stocks permitting) with their subscription.
Subscribe at shop.casa.gov.au