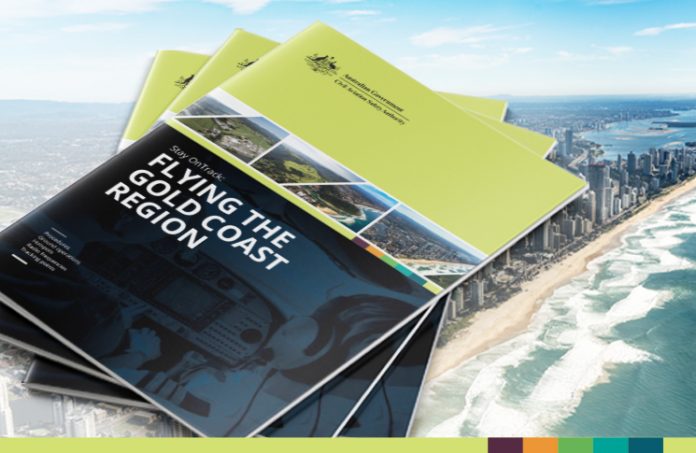 Flying into the Gold Coast is a unique experience – pilots with a range of flying skills share the airspace with a diverse mix of air traffic.
CASA recently developed a handy new booklet, Stay OnTrack: Flying the Gold Coast region for pilots to navigate this busy area.
'We've initially covered the Gold Coast after some feedback from a local flying school who were looking to assist pilots and students flying in and around the area,' Industry Relations section manager Kirstie Winter says.
'We've geared this guide to the visual flight rules [VFR] pilot. There's information about avoiding restricted airspace, runway incursions and the Bureau of Meteorology also provides information on what type of weather patterns pilots can expect.
'There's also info on airspace infringement hotspots, arrival and departure procedures, radio procedures and helicopter operations. This guide also complements our larger format wall charts which we also give to flying schools.'
Pilots still need to follow their flight planning requirements in checking documents such as charts and ERSA for updates to airspace and procedures as well as NOTAMS and weather briefings.
'There's a real diverse mix of air traffic in the area,' Kirstie says. 'Busy arrival and departure periods can create delays for clearances, especially coastal clearances and training flights. In addition, there are variations in speed and wake turbulence to consider.
'A lifesaver helicopter is also active during Spring and Summer with low-level coastal patrols a few times each day.
'Parachute operations also land on Kirra Beach so when chutes are in the air, coastal transits can expect delays or alternatively may be offered the western VFR route.
'And the airport also hosts a number of flying schools. Their aircraft regularly do touch-and-go circuits, as well as flights to the southern training area, so light aircraft traffic can make the airspace congested.'
If pilots are in any doubt about local procedures, they should call a local operator or ATC for advice.
Work has commenced on guides for other Australian locations, but COVID-19 has unfortunately slowed things down.
'We are working behind the scenes to get information and content ready,' Kirstie says.
'We want to ensure we get the right information that will assist pilots in other locations. Once we can cross borders again, we will start work on getting the images we need to help with visual references.'
The Gold Coast booklet is available in print from the CASA online store for $2.95 and on the CASA website.